Millie Bobby Brown Deactivated Her Twitter After Her Images Were Used in Homophobic Memes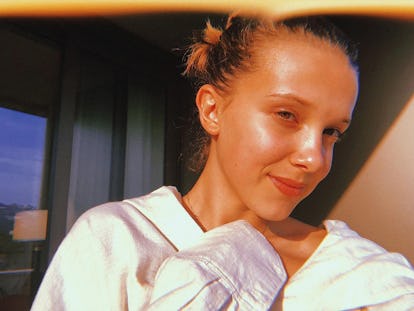 Millie Bobby Brown may not have real-life superhero powers—unlike her Stranger Things character Eleven—but she is just as wildly precocious off-screen. The 14-year-old has used her platform to spread love, raising awareness for gun control, the American Civil Liberties Union, and the Gay and Lesbian Alliance Against Defamation. But even with all that goodwill, Brown has become the target of a homophobic meme. Now she's deactivated her Twitter account as a result.
While Brown hasn't commented directly on leaving Twitter, she did post a selfie an hour ago on her Instagram stories with the caption "Good vibes only." What Brown didn't share is how she found herself at the center of homophobic quotes she never spoke mounted atop photoshopped images of her. For those who've yet to see them: Back in November of 2017 the homophobic meme began with a fake story about one person's "experience" running into her.
"It's time to share my story," one user tweeted, "One day I saw Millie Bobby Brown in the mall and i asked for a selfie and she said, 'I don't take selfies with f-gs, homo sex is sin' and broke my iPhone X. I couldn't stop crying I'm so ashamed. #TakeDownMillieBobbyBrown" Even though the same user later called it a "joke," the inexplicable smear campaign against the teenager began and started spreading.
Fast-forward to this past weekend: When Pride Month festivities started, the meme recirculated, this time seemingly as "an iconic meme/joke between stan/gay Twitter," as one user pointed out.
Even if the hateful meme was appropriated by gay people as a joke, though, that doesn't make it any more okay that Brown—a 14-year-old—is the subject of hateful jokes and fake stories that could easily be taken as truth. Many were quick to point this out in Brown's defense.
It also couldn't be more ironic that Brown, a person who launched an anti-bullying Twitter account to spread more "love," is being targeted by hateful memes. "Be sure to taste your words before you spit them out," she tweeted last July. She later explained the account to The Wrap, saying, "Don't let it stop you from living your life… We need to stop bullying and cyber bullying. It's ruining people's lives. And I think that creating the account was for me and a lot of other people."
Related: Millie Bobby Brown to Star as Sherlock Holmes's Kid Sister In Multi-Film Deal