Millie Bobby Brown Stood In for Cardi B at a Maroon 5 Concert, Rap Verse and All
Even though she had to wake up early for algebra the next morning.
---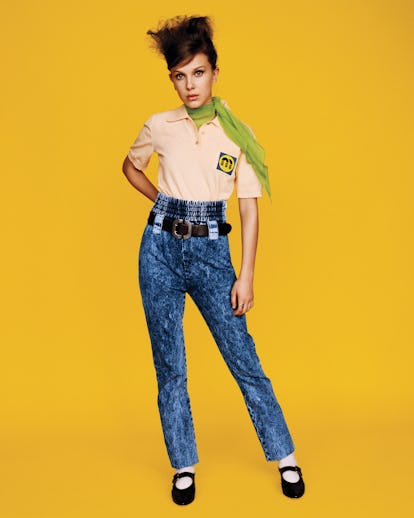 Photograph by Alasdair McLellan; Styled by Melanie Ward.
If you ever had the chance to scroll through Millie Bobby Brown's illustrious YouTube page, where the then-11-year-old actress posted videos of herself covering songs by Ed Sheeran, John Legend, and Adele, you might assume that her surprise performance at a Maroon 5 concert in Nashville on Sunday night was a soulful accompaniment to Adam Levine. Instead, Brown lived up to the promise she posted on her Instagram Stories from backstage at the show, that she was "about to do something epic": She stood in for none other than Cardi B when it came time for the rapper's verse on the song "Girls Like You"—and managed not to miss a single beat.
Brown is quite the Cardi fan girl; she saw her perform at Coachella, reacted with such disappointment to the news that she wouldn't be meeting her at the Time 100 Gala that she literally dropped her jaw, and was part of the star-studded roster of those who made a cameo in the video for "Girls Like You"—and that was all just this past year. When she took the stage of the Bridgestone Arena over the weekend, she wore a similar ensemble to that in the video—a pair of tiny sunglasses and her now signature double buns—and also stuck with her signature enthusiasm throughout the entire verse.
That began with Cardi's line "Not too long ago, I was dancing for dollars," and continued up until the song finished, since Brown stuck around onstage to bounce around with Levine, after he gave her a high five. And that's all the more impressive considering, as the 14-year-old later noted on Instagram, from her bed around 1:30 a.m., she had to wake up for school, starting off with algebra, in a matter of hours.
Before going to sleep, though, Brown naturally posted a video of the performance on Instagram, where the comments section promptly flooded with reactions like, "YAAASSSSS I'M DEAD!!!!!" (from Behati Prinsloo, who's married to Levine); "MILLIE!!!!!!! YES" (from her Stranger Things costar Noah Schnapp); "Amazing ??" (from Liam Payne); "Lit!!!! ???" (from Paris Hilton); and "legend" (from Hailey Baldwin. Brown also took some time to give a brief recap of the night on her Instagram Stories, noting that she "was not nervous" about performing with "such incredible people," whom she referred to as "truly family."
Lastly, Brown also reposted a video of herself rapping taken from the crowd, which she captioned with "imma do that again some time." It seems like only a matter of time, then, before she pulls a similar move for another of her "dear friend[s]," Drake. (She did, after all, appear in one of his music videos just last month.)
Related: Every Famous Woman's Cameo in Cardi B and Maroon 5's "Girls Like You" Video, Ranked by Shock Level
Millie Bobby Brown Is Already One Of Hollywood's Most Stylish Starlets at 13 Years Old
Millie Bobby Brown arrives at the BAFTA Los Angeles TV Tea presented by BBC and Jaguar at SLS Hotel on August 23, 2014 in Beverly Hills, California.

Getty
Millie Brown attends the Premiere of Netflix's Stranger Things at Mack Sennett Studios on July 11, 2016 in Los Angeles, California.

Getty
Millie Bobby Brown visits "The Tonight Show Starring Jimmy Fallon" at Rockefeller Center on August 31, 2016 in New York City.

Getty
Millie Bobby Brown enters "The Late Show With Stephen Colbert" taping at the Ed Sullivan Theater on September 13, 2016 in New York City.

Getty
Millie Bobby Brown at the ICM Partners Pre-Emmy Brunch on September 17, 2016 in Santa Monica, California.

Getty
Millie Bobby Brown attends the BBC America BAFTA Los Angeles TV Tea Party 2016 at The London Hotel on September 17, 2016 in West Hollywood, California.

Getty
Millie Bobby Brown attends the 68th Annual Primetime Emmy Awards Governors Ball at Microsoft Theater on September 18, 2016 in Los Angeles, California.

Getty
Millie Bobby Brown attends UNICEF's 70th Anniversary Event at United Nations Headquarters on December 12, 2016 in New York City.

Getty
Millie Bobby Brown attends The BAFTA Tea Party at Four Seasons Hotel Los Angeles at Beverly Hills on January 7, 2017 in Los Angeles, California.

Getty
Millie Bobby Brown arrives to the 74th Annual Golden Globe Awards held at the Beverly Hilton Hotel on January 8, 2017.

Getty
Millie Bobby Brown attends the 23rd Annual Screen Actors Guild Awards at The Shrine Expo Hall on January 29, 2017 in Los Angeles, California.

Getty
Millie Bobby Brown attends the Calvin Klein Collection Front Row during New York Fashion Week on February 10, 2017 in New York City.

Getty
Millie Bobby Brown poses in the press room at the 2017 MTV Movie and TV Awards at The Shrine Auditorium on May 7, 2017 in Los Angeles, California.

Getty
Millie Bobby Brown attends the SAG-AFTRA Foundation Conversations: "Stranger Things" at SAG-AFTRA Foundation Robin Williams Center on June 5, 2017 in New York City.

Getty
Millie Bobby Brown attends Netflix's "Stranger Things" For Your Consideration event at Netflix FYSee Space on June 6, 2017 in Beverly Hills, California.

Getty