Millie Bobby Brown Speaks Out Against Bullying at the 2018 MTV Movie & TV Awards
The 14-year-old actress recently quit Twitter due to cyberbullying.
---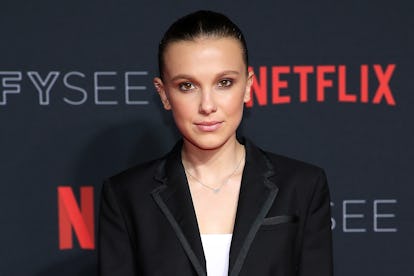 Phillip Faraone/Getty Images
One week after deactivating her Twitter account due to cyberbullying, Millie Bobby Brown is speaking out against the experience. During the 2018 Movie & TV Awards on Saturday—which the 14-year-old could not attend due to a knee injury—Brown appeared in a video message to accept the award for Best Performance in a Show. In the video, the Stranger Things star took a moment to thank her fans and said that her breakout role as Eleven in the Netflix series has "changed my life in the most incredible ways." She also denounced bullying one week after Internet trolls turned her image into a homophobic meme.
"Finally, since I know there are many young people watching this—and even to the adults, too—they could probably use the reminder that I was taught: If you don't have anything nice to say, just don't say it," she said to a rousing applause. "There should be no space in this world for bullying, and I'm not going to tolerate it, and neither should any of you." Brown continued, "If you need a reminder of how worthy you are and to rise above the hate, message me on Instagram."
Brown has not commented directly about the use of her image as a homophobic meme—something that started with a hashtag #TakeDownMillieBobbyBrown last year, but picked up again in full force this June, which is denoted as Pride Month—but she has spoken about cyberbullying in the past, even creating an anti-bullying account to "spread love" last year. "We need to stop bullying and cyberbullying," Brown said in 2017. "It's ruining people's lives. And I think that creating the [anti-bullying] account was for me and a lot of other people."
See Brown's full acceptance speech, below.
Related: Millie Bobby Brown Supported the March For Our Lives With A Jean Jacket And Passionate Speech