Ming Lee Simmons, Daughter of Kimora Lee and Russell Simmons, Balances AP Classes With Modeling Gigs
Meet the latest celebrity offspring pursuing a modeling career.
---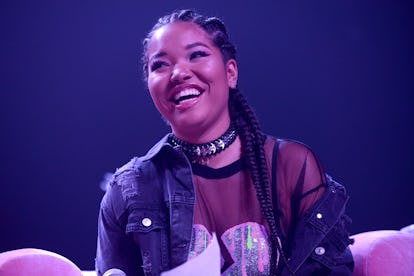 Scott Dudelson
Mother-daughter modeling duos seem to be the norm these days—just ask the Hadids, Cindy Crawford, or Christie Brinkley. But, back in the heyday of Kimora Lee Simmons's Baby Phat and Baby Phat Girlz, Ming Lee Simmons and her younger sister Aoki Lee were something like pioneers of the teeny bopper catwalk set, strutting their stuff literally as soon as they could walk. The rarity of feeling at home at a fashion show isn't lost on Ming. "I grew up on the runway, walking with my mom and sister at the end of every Baby Phat show during fashion week in New York," she said. "I've been in ads with my mom and sister since I was 2 years old. I'm only now realizing how uncommon that is and I'm deeply appreciative of those experiences."
Ming, now 17-years-old, is Kimora's eldest daughter with ex-husband Russell Simmons (they also share Aoki Lee, who is 15-years-old) and is now balancing AP classes with runway walks. Kimora, on the other hand, is the type of stage mom that you might expect from the supermodel who was once Tyra Banks's roommate—and she knows it might not be easy for her daughter. "We go to castings together, which I think is okay, but it's got to be weird if your mom is me. Maybe it helps, maybe it hurts, we don't know," said Kimora. One benefit to having Kimora Lee Simmons as your mom, however? Her clothes. "I definitely steal all of her vintage pieces from 10 years ago…and the new ones too," said Ming. Added Kimora, "She's the first born so she thinks that means she's the only child." But, looking at the two of them together, it's clear that their bond is more than skin deep. "She has my high pitched voice, so that's fun. It's important to remember where you came from to know where you're going. I look at her and that's where I'm from and then she looks at me and sees in some ways that's where she's going," said Kimora. Ming agreed, "Where she's at in life, I want to be there at some point in the future."
But for now, the teenager is a senior in high school, where she makes her own sartorial decisions despite a fairly strict school uniform—though she says she often gets "feedback" about her interpretations of the blazer-polo-skirt combo. Ming's favorite designer is Off-White and she loves the '90s athleisure trend, so it would make sense that a tube top, denim, chokers, and oversized jean jackets would be her go-to look—one that she says is often sourced from Instagram—and Kimora's old modeling days. "I like to go back and look at my mom's portfolio or old clips of her on the runway. Modeling was different back then, clearly—but I still pick up some tips," Ming said.
Another way that Ming is following in both her mom and dad's footsteps is in the business area. Though she says she wants to major in pre-law come September when she'll be a freshman at an as-yet undecided college, designing and owning a company, just like mom, may also be in the cards. "I definitely want to try designing, because I think that I might be good at it. I take after my parents, so the ideal modeling job is for a brand or business that you own," Ming said. "If I was going to make my own label I would always start with my mom first. I think she's really developed and changed her style, and every time she changes she inspires the world in a different way."
Related: The Most Stunning Mother-Daughter Duos, from Madonna and Lourdes to Cindy and Kaia
9 Famous Kids Who Ruled the Runway at New York Fashion Week 2017