Watch Natasha Lyonne's Super-Surrealist Directorial Debut, Which Chloë Sevigny Screened "74 Times"
Kenzo's fifth short film, Cabiria, Charity, Chastity, stars Lyonne's longtime friend Maya Rudolph speaking in gibberish.
---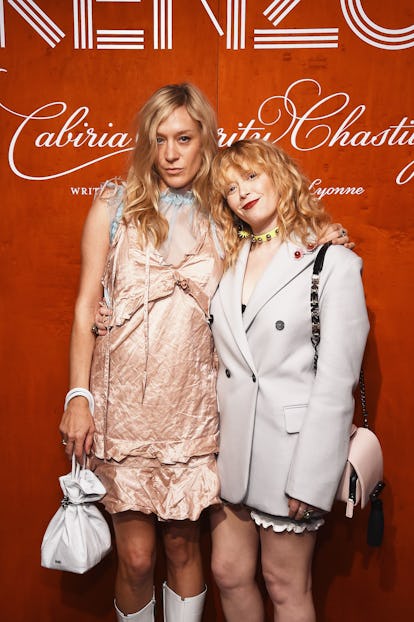 Ilya S. Savenok
Cabiria, Charity, Chastity, a surrealist short film Natasha Lyonne directed for Kenzo, came out today. A week ago, when I called Lyonne to talk about the film that marks her directorial debut after 32 years in front of the camera as an actress, she had expressed concern that I hadn't been allowed to see her then-unreleased project beforehand: "I don't know if I care enough to, unprompted, think of cute things to say," she said.
But then, all of a sudden, that turned to animated delight. "It's actually a great surrealist exercise to have a conversation with an interviewer who's never seen the movie and has no idea what you're talking about and how important the movie is—it's really on-theme for the film, so maybe that's something worth writing about," she said. "I'm being dead serious—I think that could be very funny."
Now having seen Lyonne's film not once, but twice, I can also add that the premiere itself was a great surrealist exercise. When I watched it the second time around with Kim Gordon, Chloë Sevigny, a significant portion of Lyonne's costars from Orange Is the New Black, and the rest who made it out on Wednesday night—aka the grand finale of New York Fashion Week, to Public Arts in the basement of the Public Hotel—the room was so packed that much of the crowd couldn't see the subtitles translating the invented language that makes up much of the film's dialogue.
Though it could probably pass for Italian if spoken by the man in the Red Room in Twin Peaks, it's in fact complete "gibberish," words made up by the film's star and Lyonne's longtime friend, Maya Rudolph. "Frankly, it was born out of a mean-spirited, child-like, punk impetus of, 'What is a short film? Who's really watching them?'" Lyonne explained during a Q&A before the screening.
Rudolph, who plays Chastity, a mix between Giulietta Masina of Fellini's La Strada and Shirley MacLaine of Bob Fosse's Sweet Charity, wasn't the only friend Lyonne cast—the film also includes Lyonne's boyfriend, Fred Armisen, and her old pal Macaulay Culkin, both of whom show up in face paint. The most instrumental friend, though, never appears on screen: According to Lyonne, Sevigny, a recent actress-turned-filmmaker herself, watched the film "74 times" before that night's premiere. (Armisen may be her boyfriend, she said, but Sevigny is her "husband.")
"It's been very intimate—she's showed it a lot to Chloë, but she's kept it pretty private," Humberto Leon, Kenzo's co-creative director said after the screening of working with Lyonne, whom he first met over a decade ago through Sevigny; they hit it off at a barbecue. (Waris Ahluwalia briefly interrupted to proclaim how excited he was to finally see the film—he hadn't seen it yet, either, despite the fact that he appears in it.)
Not that Lyonne's "pretty private" process has at all bothered Leon or his co-creative director, Carol Lim, with whom he's now put out five short films under the brand's name. "There's no formula—we try to experiment with it. We've built it in a way where we can just do new things and try them out," Leon said. "I try to look at these as films that could possibly stand the test of time, not just fashion films that are about the brand. In fact, I think the less people think about the clothing when they're watching, the better."
More importantly to Leon, though, Lyonne now seems to have caught the "directing bug," just like Carrie Brownstein, who directed their last short film (which Lyonne appears in, and which also happened to be Brownstein's first).
"She was so at home and at ease, and it was so cool," Leon said. "She was like, This is what I want to do now—I want to direct."
Related: Kenzo Recruits Your Moms, Carrie Brownstein and Natasha Lyonne, For Its Latest Viral Video
See W's most popular videos: