Three Canadian Brands Changing Natural Skincare, and, Yes, Maple Syrup Is a Key Ingredient
You don't have to move to Canada to enjoy the benefits of these three natural beauty brands that will help you cope with growing anxiety and stress.
---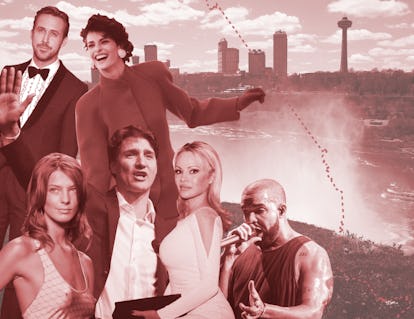 No matter what side of the party line your political allegiance lies, there's one thing we can probably all agree on: The current news cycle is peak stressful. If the pressure to stay sane despite the latest nightmare from Washington is showing up on your skin, it may be time for a little mental (and physical) escape. Luckily there's a blooming beauty mecca right up north—right there in friendly, neighborly Canada.
Both skincare enthusiasts and newbies alike are increasingly savvier, more conscious consumers, looking for holistic alternatives in their skin, hair and makeup options. Canada not only has the natural resources to bolster the interest, but a crop of beauty entrepreneurs who offer impressive natural skincare products.
It's no secret that there's a direct link between what's going on in your brain and what's showing up on your face. "The mind and skin are integrally connected," said Michelle Henry, a clinical instructor of dermatology at the Weill Cornell Graduate School of Medical Sciences. When you are stressed, your body releases stress hormones including cortisol, which can stimulate the skin's oil glands, making you prone to pimples.
"Political uncertainty and instability causes much fear and anxiety. Constant fear and anxiety causes the body to exist in a continuous "fight or flight" mode, which is detrimental to the entire body including the skin," Henry continued.
Dr. Amy Wechsler, the renowned New York dermatologist, further explains that due to the increased cortisol production when we're stressed, collagen is broken down more quickly, leading to lines and wrinkles. There is also what's referred to as "transepidermal water loss" because the skin's barrier does not work as well. "This causes dry, sensitive skin. The skin cells don't turn over as in sync and as well, so the build up causes a sallow, grayish hue to the skin," said Wechsler.
She, in turn, suggests focusing on a nighttime routine that will help relax the mind for better sleep. "The healing molecules are highest during sleep, and cortisol is at its lowest then," says Wechsler.
Our heightened stress levels may be why there is such a growing interest in natural beauty solutions: "I think that when we are stressed, there is a desire to remove any extraneous and unnecessary elements from our lives. In skincare, this translates to natural ingredients without unnecessary chemicals," Henry said.
Meanwhile, Canadian brands have figured out products that might make natural skincare more stress-free and achievable. Here's three brands to consider:
Province Apothecary
Just about all of the organic, raw ingredients packed into these small batch formulas are sourced from Canadian provinces. The organic Nova Scotian algae (seaweed) in the Detoxifying + Clarifying Clay Mask is high in antioxidants, renews damaged skin cells, restores aging skin and reduces redness and irritation. Also in the mask is a Canadian staple— maple syrup!—sourced from Quebec. It's also antioxidant rich and a great humectant for the skin.
The suggestion is to implement a daily face massage to help clear your mind, improve the tone and texture of your skin, while softening fine lines and draining the lymphatic system. Province Apothecary's founder Julie Clark created a video demonstrating exactly how to do the two-minute treatment.
And! If you need a quick mental clarity break, try an aromatherapy roll-on: Focus Now and Calm Down.
Saje Natural Wellness
After more than 20 years as a household name in Canada, one of the O.G.s in the natural beauty movement is making its U.S. debut this month with a lineup of necessities for instant calming.
The brand's co-founder, Kate Ross LeBlanc, suggests layering the Bliss Mist toner under the Chamomile Smile moisturizer to help settle the mind and skin. "While I wait for the Chamomile Smile to soak in, I take what we call a 'Saje Breath' with our Energy remedy, which means rolling the blend into my hands then rubbing together and covering my face with my hands while taking three big deep breaths," said LeBlanc, who uses this method to boosts her energy for the day.
Graydon Skincare
Hailing from Toronto, one of, if not the largest skincare hub in Canada, this baby of a brand (only 3-years-old!) makes "plant powered" skincare that's focused on using easily recognizable, superfood ingredients that are as powerful when used topically as they are in your green juice.
"Our ingredient lists are fairly easy to understand and it makes our customers feel good that they can recognize our active plant oils, extracts and butters such as Canadian grown blueberries, broccoli, kale, carrot, turmeric, lavender, oats and hemp," said brand founder Graydon Moffat.
The chlorophyll-filled Green Cream, loaded with antioxidants and anti-inflammatories will detox all the stress signs of the day, week, or past 127 days.
Getting away, if only temporarily, from constant environmental and mental stressors, and experiencing these brands first hand, may offer one path to healthy skin, a clear mind and riding out the current political tidal wave. And if not, turn off the cable news every now and then.
Related: After Trump, a Question: To Canada, or not to Canada?
Uzo Aduba, Rebecca Hall, Anya Taylor-Joy, and More Perform the '90s Favorite "You Oughta Know" by Canadian Musician Alanis Morissette