Do You Have a Shaman On Speed-Dial Yet? Meet the Power Gurus of the New New Age
Meet the shamans, seers, and other high-vibing figures of the New New Age. "If you're with a shaman who is not really a shaman, it's more like a spa day," said one prominent guru who works with Gwyneth Paltrow.
---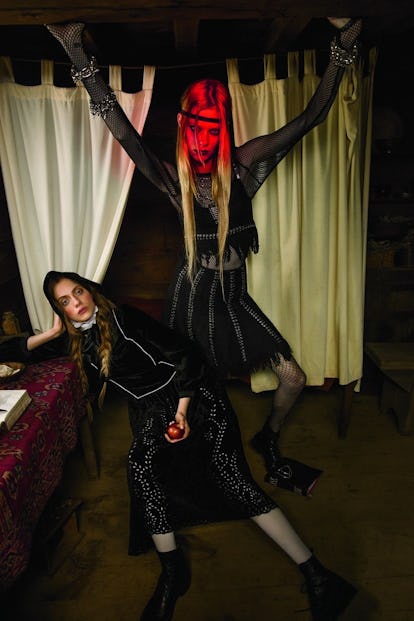 When Karen Elson and Jack White got married in a canoe floating down the Amazon River and a shaman was their officiant, the ceremony seemed appropriately eccentric for the rock 'n' roll couple. As if the far-flung setting wasn't otherworldly enough, the sanctification of their marriage by a medicine man only made the scene even more surreal.
That was back in 2005. These days, you'll find shamans not just in the rainforests of Peru, but in airy, light-filled Soho studios, at hotel spa houses, outside your front door—even on Skype. Indeed, spiritual healing and its practitioners are becoming more mainstream, which of course raises the metaphorical eyebrow: what's all this mumbo jumbo about?
Various cultures around the globe have their own unique forms and terms for shamanism, from Native Americans to the Norse. And while the word 'shaman' itself derives from an ancient Asian Tungusic language, it's become an all-around designation for someone whose intuitive vibes are turned up a little higher than the rest of ours, and practices with that ability.
Mystics, healers, spiritual guides…whatever the label, scores of influencers, power execs, Hollywood fixtures, and other A-listers seem to rely on the guidance of one nowadays. A shaman is the life coach-slash-therapist of the new New Age—or as Colleen McCann calls these times, "Ancient Future." McCann, a humorous and animated 37-year-old who happens to be Goop's "house shaman," is a former fashion stylist.
Fall 2016, the Season of the Witch
Loewe bag; Marc Jacobs shoes.

Photographs by Inez and Vinoodh, Styled by Edward Enninful
Valentino jacket and gown; Stuart Weitzman boots.

Photographs by Inez and Vinoodh, Styled by Edward Enninful
Miu Miu coat and skirt. Heather Huey bonnet; Caroline Constas neck collar (both throughout).

Photographs by Inez and Vinoodh, Styled by Edward Enninful
From left: DKNY jacket; Morgenthal Frederics sunglasses. Prada cape; J.W. Anderson dress and corset; the Frye Company boots. Chanel dress and brooches. Gucci jacket, shirt, and skirt.

Photographs by Inez and Vinoodh, Styled by Edward Enninful
Clockwise, from left: Kenzo dress and top; the Frye Company boots. Junya Watanabe Comme des Garcons jacket, T-shirt, and leggings; Louis Vuitton boots. Philosophy di Lorenzo Serafini dress; Daang Goodman for Tripp NYC fishnet shirt; Mugler skirt. Prada dress, harness, and charm necklace; Oliver Peoples The Row sunglasses.

Photographs by Inez and Vinoodh, Styled by Edward Enninful
Louis Vuitton jacket, dress, and pants; Inez and Vinoodh ring (throughout) and earring. Beauty note: Banish the wattle with StriVectin TL Advanced Light Tightening Neck Cream.

Photographs by Inez and Vinoodh, Styled by Edward Enninful
Dsquared2 jacket and skirt.

Photographs by Inez and Vinoodh, Styled by Edward Enninful
Chanel dress; Wolford tights; the Frye Company boots.

Photographs by Inez and Vinoodh, Styled by Edward Enninful
Michael Kors Collection cardigan; Daang Goodman for Tripp NYC fishnet shirt (throughout); Rosamosario bra; Moncler Grenoble skirt; (right wrist) Robert Lee Morris bracelet; (rings, right hand, from left) Louis Vuitton, King Baby, Louis Vuitton; (left wrist) King Baby bracelet; (left hand) Jennifer Fisher ring; Alexander Wang boots. Agent Provocateur tights (throughout). Beauty note: Legs look enchanting, thanks to Guerlain Les DElices de Bain Perfumed Body Lotion. Pictured here and throughout: Patrick Dougherty's What the Birds Know, 2015 (a site-specific installation commissioned by the Peabody Essex Museum).

Photographs by Inez and Vinoodh, Styled by Edward Enninful
Versace coat; Etro dress; (necklaces, from top, throughout) stylist's own, Chrome Hearts, Stylist's own, Lauren Klassen, Chrome Hearts, Isabel Marant; Balenciaga boots. Beauty note: Give the evil eye with Covergirl the Super Sizer Fibers by LashBlast Mascara in Very Black.

Photographs by Inez and Vinoodh, Styled by Edward Enninful
Giorgio Armani cape and jumpsuit; (from top) Gigi Burris Millinery hat, Horisaki Design & Handel hat; Haider Ackermann boots.

Photographs by Inez and Vinoodh, Styled by Edward Enninful
Blumarine dress; Bottega Veneta bra top; I.D. Sarrieri briefs; Stuart Weitzman boots.

Photographs by Inez and Vinoodh, Styled by Edward Enninful
From left: Alberta Ferretti dress; Wolford tights; the Frye Company boots. Alexander Wang bra top, skirt, and boots; (bracelets, right wrist, from top) Robert Lee Morris, Isabel Marant, Chrome Hearts; (bracelets, left wrist, from top) Wendy Nichol, King Baby, Isabel Marant. Beauty note: Cast a different spell with Chanel Rouge Allure Velvet Lipstick in Demoniaque.

Photographs by Inez and Vinoodh, Styled by Edward Enninful
Balmain bodysuit; bag from Galaxy Army NavY, New York; Balenciaga boots.

Photographs by Inez and Vinoodh, Styled by Edward Enninful
Vetements shirt, jeans, and boots.

Photographs by Inez and Vinoodh, Styled by Edward Enninful
From left: Marc Jacobs jacket, dress, and briefs. Marc Jacobs jacket, T-shirt, and jeans; Inez and Vinoodh earring. Marc Jacobs gown. Beauty note: For phenomenal skin, use Olay Regenerist Luminous Light Hydrating Lotion.

Photographs by Inez and Vinoodh, Styled by Edward Enninful
From left: Fenty Puma by Rihanna jumpsuit; Balenciaga boots. Jacquemus jacket and pants; Michael Kors Collection boots. Beauty note: Conjure good hair with Oribe Bright Blonde Radiance & Repair Treatment.

Photographs by Inez and Vinoodh, Styled by Edward Enninful
Chloe overalls and sweater; Louis Vuitton boots. beauty note: glow in the dark with giorgio armani prima smart moisture serum.

Photographs by Inez and Vinoodh, Styled by Edward Enninful
Alexander McQueen gown; Stuart Weitzman boots.

Photographs by Inez and Vinoodh, Styled by Edward Enninful
Photographs by Inez and Vinoodh, Styled by Edward Enninful
From left: Viktor & Rolf gown. Azzedine Alaia dress; Tia Mazza veil; Mokuba ribbon (around neck); Inez and Vinoodh ring. For stores, prices, and more, go to Wmag.com/where-to-buy-september-2016.

Hair by Malcolm Edwards at Art Partner; makeup by Dick Page for Shiseido at Jed Root; manicures by Karrie Welch at Anchor Artists. Models: Isabella Emmack at DNA Model Management; Lexi Boling at IMG Models; Jamie Bochert at the Lions NY; and Odette Pavlova at Next Management.

Photographs by Inez and Vinoodh, Styled by Edward Enninful
Christopher Kane dress; Daang Goodman for Tripp NYC fishnet shirt; Louis Vuitton rings; Agent Provocateur tights; Balenciaga boots.

PRODUCTION BY V.l.m. productions; executive producer: stephanie bargas; production coordinator: eva harte; Studio Coordinator: Tucker Birbilis; Lighting Director: Jodokus Driessen; Studio Manager: Marc Kroop; Digital Technician: Brian Anderson; Photography Assistant: Joe Hume; fashion assistants: ryann foulke, dena giannini, sam walker; hair assistant: sophie anderson; makeup assistant: gina daddona; special thanks to the City of Salem, Massachusetts; Mayor Kimberley Driscoll; Winter Island Park in Salem; forest river park in salem; salem pioneer village 1630; The City of Salem Parks, Recreation & Community Services department; Salem Maritime National Historic Site; Destination Salem; Peabody Essex Museum; and Patrick Dougherty at stickwork.net

Photographs by Inez and Vinoodh, Styled by Edward Enninful
She came out of the mystics' closet, so to speak, when her sixth sense kicked into high gear sometime in her early 30s. "I started hearing voices, there were ghosts in my bedroom" she claimed. "I'd walk into a crowded restaurant, and anyone I'd zero in on, I'd hear and feel stuff. I felt like I couldn't go out in public."
After years of training in various modalities, McCann has cultivated a happy medium—pun intended—for combining her past work in fashion with what she considers her spiritual calling. In addition to traveling between New York and L.A. to practice shamanic healing rituals, crystal readings, and workshops, she also offers "closet cleansing" sessions.
"The closet is a conduit to the soul, and a tangible vehicle for healthy spiritual change," she explained. "We can look at what colors and silhouettes are best for your body type and complexion, and also address what your energetic power color is, and what items make you radiant."
With McCann's guidance, you might end up tossing those bandage dresses you keep hoping will play up your sexy side, as you accept you're really all about "La Vie Bohème" (think Ulla Johnson, not Herve Leger). And that ex-boyfriend's t-shirt you've been holding onto? Sure, it may be perfectly worn-in, but it could also be the source of some negative juju. "Let's bring tranquility and balance to your energetic and physical body, as well as your wardrobe, personal space, career and relationships by getting rid of what no longer serves inside or out," McCann said.
10 Natural Products That Will Make You a Knockout Beauty
"A silver rich, illuminating, facial mist with hyaluronic acid with scientifically proven skin protecting copper peptides. The fragrance is BEYOND! I almost wish it were a perfume."
Amly Silver Rich Face Mist, $52, amlybotanicals.com
"I have breast cancer in my family so I have been on a natural deodorant quest since I was a teenager, to date this is my favorite. I like that there are two formulas, one with lavender and one without."
Agent Nateur N3 Deodorant, $21, agentnateur.com
"Odacité is a remarkable brand that has become very very dear to me. I have seen it transform skin including mine. I personally have almost the entire rainbow of boosters, but even just adding one to your regime that targets your skin goal will yield impressive results."
Odacité CaR Wild Carrot Vital Glow Serum Concentrate, $55, nordstrom.com
Lumity Vitamins, $105, lumitylife.com
"The day complex contributes to collagen and elastin formation and repairs oxidative damage. The night complex naturally stimulates the release of Human Growth Hormone which is essential for building muscle, bone density and healthy tissue. In the morning it puts your cells in action and at night in state of repair."
"Before I opened the store I was in a meeting and the most beautiful fragrance was in the air. I had to stop the meeting because I could not concentrate and need
ELLIS BROOKLYN Fable Eau de Parfum, $100, sephora.com
"I apply these in a heart shape on my cheeks for the perfect flush of color. There is something that is so joyous about putting little hearts on your face every morning. You truly can't help but smile."
Vapour Aaur Multi Use Stain, $36, vapourbeauty.com
"I admired the founder April Gargiulo before I feel in love with the product. The integrity with which the brand is created is truly worth all of the hype. Once I tried it I knew it was special. I had a glow and vitality that hooked me, but then I woke up with smooth, soft, clear skin, which is when I made a permanent place on my shelf for it."
Vintner's Daughter Active Botanical Serum, $185, net-a-porter.com
"Pearl is the primary ingredient in Moon Juice's runaway hit Beauty Dust. It is an excellent source of biocompatible minerals and amino acids. It has been know to inhibit the production of melanin, which is key for me because I am prone to melasma. Constant use can also eliminate blemishes and the glow is really sublime. Pearl also supports cardiovascular function as well as skeletal tissue and bones."
Moon Juice Pearl Dust, $40, moonjuiceshop.com
"Skin likes to be happy and it is a natural mimic, essentially exosomes are the love notes that skin cells pass to each other making them fell good and respond in kind. Exosomes are not new, they are a part of our existing biology. What is new is the advancement in how to culture and use them. Exo pioneered the method for duplicating the exosomes that deliver the messaged that promote skin perfection."
Exo Bio.Digital Perfection Moisturizer, $118, exoskinsimple.com
A view of Cayli Cavaco Reck's new shop, Knockout Beauty in New York City.

Photo by Matt Licari.
There's also the spiritual healer who goes by the name Shaman Durek, who began his training at 11 and has been practicing on others since he was 15. Today he works with a roster of high-profile clients including chief executives, members of royal families, entertainers and creatives, and perhaps most visibly Gwyneth Paltrow. (See a common thread here?)
Shaman Durek claims there's no such thing as a typical session, as it always depends on the client, and indeed, the services on his website vary from general shamanic healing to soul retrievals and home-clearing ceremonies—all of which he travels the world to practice (and he Skypes, too). Thanks in part to his influential supporters and global reach, he's become one of the most high profile individuals in his field at building a prominent brand for himself. Approaching his work from a business standpoint (ie., charging set prices) wasn't an easy evolution, though.
"I could barely afford my lifestyle. In my life, I was always helping people, but I wasn't able to take a break and go lay on the beach. I didn't have the money to do that," he said.
Meanwhile, Deborah Hanekamp, who goes by Mama Medicine, has been practicing as a spiritual healer for the last 13 years, but only established legit fees for her medicine reading sessions four years ago ($225). It took relating her profession to conventional medicine to reinforce that sense of worth.
"Ok, I have studied as much as a doctor has for my work, but there's no degree for it. But I can charge this amount, and feel like it's not too much asking for this kind of thing," she said.
In her airy, sunlit studio in New York's Soho neighborhood, Hanekamp's typical 75-minute sessions comprise a face-to-face aura reading, followed by a cleansing ceremony: a multi-sensory fusion of sounds, chanting, incenses, and crystals, while you recline on a table, eyes covered. Afterwards, Hanekamp sends you home with some "spiritual homework," and your own prescription for a healing bath soak.
Of course the trendiness of shamanism comes with its own baggage too, namely a lot of bunk and misconceptions. "I tell people I'm a shaman, and they ask me when my next ayahuasca ceremony is," said McCann, adding, "I am not an ayahuascera, I'm not trained, I do not feel called to it. That is not my bag, but I will send you to someone that I trust that does it…but it's their first thought."
Ayahuasca doesn't exist in Shaman Durek's bag of tricks, either. "If you're with a shaman who is real, you're going to feel something in your body, without any kind of medicine. That shaman will be able to shock your system with electricity, they'll be able to get spirits to touch you. But if you're with a shaman who is not really a shaman, it's more like a spa day," he said.
Au Naturale: 15 Editor-Approved Natural Beauty Products To Buy Now
"I know this does not sound particularly glamorous, but I love Aēsop's Herbal Deodorant (which I first encountered in the bathroom at Karen Lord Pilates). More than once, a random stranger has stopped me to ask, "What fragrance are you wearing?". – Alix Browne, Features Director
Aēsop Herbal Deodorant, $35, aesop.com
"I could never find a mascara that gives my lashes some tint and hold without looking done, until I tried KJ. The fact that the ingredients are super safe for my eyes makes it that much better." – Mia Adorante, Beauty and Health Editor
Kjaer Weis Mascara, $38, kjaerweis.com
"A couple years ago, my hair stylist clued me in to Loma's hair serum. It keeps my hair healthy and shiny, protecting it from heat damage — especially on humid days where I flat-iron it into submission. And it smells great" – Katherine Cusumano, Assistant Editor
Loma Nourishing Oil Treatment, $20, lomaforhair.com
"I keep a jar of coconut oil from Whole Foods in my fridge and use it in everything from my hair to my legs. Not only does it add shine and moisture, but it also smells really good. I can't tell you how many times people have noticed over my expensive perfume." – Emilia Petrarca, Digital Associate Features Editor
365 Organic Virgin Coconut Oil, $5, 365bywholefoods.com
"I am loyal to Bite Beauty lipsticks and lip liners because the colors are rich and the lipsticks smell nice. I use Bite's neutral colors as eye shadow and blush. I think I stock half the colors Bite makes." – Elizabeth Gall, Research Manager
Bite Beauty Amuse Bouche Lipstick, $26, sephora.com
"My favorite natural based product has to be the Oat Cleansing Facial Polish from Naturopathica. I was recommended by my angel-aesthetician from Heyday to incorporate this cleanser into my daily routine and it has made such a difference. The 3-in-1 polish acts as a cleanser, scrub and mask which leaves my skin glowing and feeling amazing. Plus nothing beats the healthy conscious the brand gives me." – Courtney Costello, Fashion Market Assistant
Naturopathica Oat Cleansing Facial Polish, $52, naturopathica.com
"This Australian brand's products are both sulfate- and paraben-free, and almost entirely organic. I have been addicted to the shampoos and conditioners (all of them) since they launched on Net-a-Porter." – Sarah Leon, Digital Editorial Director
Original & Mineral Shampoo and Conditioner, $28, net-a-porter.com
"I swear by using Rahda Beauty's Vitamin C serum, it regenerates skin cells and has noticeably changed the complexion of my skin!" – Grace Fuller, Jewelry Editor
"I always love having my nails painted and after a friend introduced me to Côte nail polish, I have been hooked. Not only do my nails feel like they can breathe under the polish, but they have an great assortments of colors!" – Christy Key, Fashion Assistant
Côte Nail Polish, $18, coteshop.co
"I cannot rave enough about Violets Are Blue facial serum! I reach for this soothing oil with evening primrose and rosehip anytime my skin is feeling like it needs some extra TLC. I have all my friends addicted to it as well." – Kristin Auble, Research Director
Violets Are Blue Facial Serum, $48, violetsareblueskincare.com
"I don't know why it took me so long to make the switch to all-natural deodorant. Now the thought of using harmful ingredients like aluminum and parabens to keep from sweating seems insane. Admittedly, the natural options don't work as well—I still perspire a bit with them—but this one works the best, smells great, and is chemical-free!" – Karen Nelson, Senior Features Editor
Lavanila Sport Luxe deodorant, $16, sephora.com
"Your undereye skin is your thinnest layer of skin, so I'm always careful as to what products I use. After going through much trial and error, I finally found Whamisa's eye essence cream. It uses a natural fermentation process and aloe vera to hydrate and reduce fine lines – it is a miracle worker and you see results in a week!" – Gillian Sagansky, Contributing Editor
Whamisa Organic Flowers Eye Essence, $40, glowrecipe.com
"This product is my favorite thing in my makeup bag! It makes my skin feel so soft the next day, but I love the refreshing feeling it gives my face while I use it." – Alexandra Pastore, Fashion Assistant
Herbivore Moon Fruit Superfruit Night Treatment, $58, sephora.com
"It's literally amazing. It contains salicylic acid which helps tighten pores and gets rid of blemishes, but also contains lactic acid which helps counter balance the salicylic so you don't dry out. It's all natural and non abrasive so you can mix it with water or a use as a gentle cleanser and it gives immediate results." – Paige Viti, Video Assistant
Èminence Strawberry Rhubarb Dermafoliant, $48, eminenceorganics.com
"Ever since I have started double cleansing at night, finding the right oil cleanser has been key. Not only is One Love's cleanser gentle on my skin, but it leaves my skin feeling insanely soft and super clean." – Beauty Assistant, Nada Abouarrage
One Love Organics Vitamin B Cleansing Oil & Makeup Remover, $42, shopfollain.com
Although that's an option, too. At the Faena Hotel in Miami Beach, its Tierra Santa Healing House collaborated with Carlos Gomez, a Mexico-based shaman, to incorporate aspects of his healing and cleansing rituals into its menu of services. The Tree of Life Vibrations treatment, for example, is a fusion of massage, sound, and "good vibes," as singing bowls of various sizes are positioned at different points on the body. The resulting reverberations have a peculiar, yet powerfully relaxing effect. There's also the popular "copaleada" cleansing ritual, an all-around pre-treatment primer which, along with more sound and vibration elements, uses copal incense to alleviate blocked energies.
A few hours at a spa may not be enough to "shock the system" or spark one's journey towards deeper spiritual healing, but you'll very likely float out the door with a rejuvenated, calmer sense of well being. And who doesn't need that these days?
"Things are shifting in every way, shape, and form: socially, economically, politically, globally, technologically. How things have been going, and where we are now—it's just not working anymore," said McCann, offering her own rationale for why spiritual healing practices have been on the rise.
She doesn't call out any one event in particular, but let's consider the whiplash of last year's election alone; it doesn't take a mystic to declare that these are strange times, for sure.
"People are looking for more, and some of these shamanic practices are bringing people focus, healing, and answers." In that case, hopefully there's enough good vibes to go around.
Related: Are You Obsessed with Crystals, Too? How Crystals Went From New Age Curiosity to Mainstream Sensation
Watch: Anya Taylor-Joy Is a Real Scaredy-Cat, Especially When It Comes to Revolving Doors