A New Study Exposes the Dearth of Black Writers In Hollywood
It finds that only 4.8% of Hollywood television writers are black.
---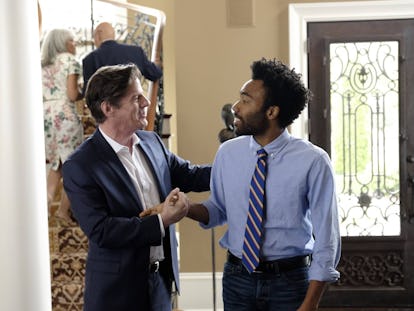 Atlanta/FX Networks
Breaking down the demographic of the writers' room in terms of race and gender, a new study from Color of Change has exposed the dearth of black writers in Hollywood, and the ways in which systemic exclusion of people of color in writers' rooms affects how television shows—which hold the key to shaping the perceptions of millions of viewers—handle sensitive subjects such as incarceration and immigration on screen.
In Race in the Writers' Room: How Hollywood Whitewashes the Stories That Shape America, 234 broadcast, cable and streaming scripted series were examined by Darnell Hunt, UCLA dean of social sciences and professor of sociology and African American studies, who found that out of 3,817 staffed television writers in the 2016-17 season, only 4.8 percent of them are black. Ninety-one percent of showrunners are white, while only 5.1 percent are black; across 18 networks, two-thirds of them do not have any black writers working on their shows at all.
Record-breaking Emmy and Golden Globe wins by black writers, directors, and actors support the big-picture illusion that Hollywood has become more progressive recently, but the study finds that 86 percent of writers are white, and the narrative of an increasing inclusion of black writers is still a myth. While series like Insecure, Atlanta, Master of None and Transparent are gaining popularity and viewership, Hollywood is also leaning on just a few shows to do the work of representation for the industry.
Even the streaming services that create the largest amounts of content are not immune to the epidemic of excluding people of color from the creation process. Netflix, which has been both praised and criticized for its representation of incarcerated women of color in the series Orange Is The New Black, produces the most original content in comparison to just about every TV network in Hollywood, but is also among the list of networks that produce 90 percent of shows without a black writer, or with just one in the room.
The Race in the Writers' Room study also finds that at Hulu, not a single series employed a black writer this season, and at AMC, Showtime, and TBS there was either one black writer or none at all. At CBS, 23 out of 25 series had either zero or one black writer, as well as 14 out of 15 CW series. Many of these networks produce programming that is heralded as diverse and inclusive such as Crazy Ex-Girlfriend or Jane The Virgin, both on the CW, while also creating programming that portrays ethnic minorities in offensive stereotypical representations (CBS' The Big Bang Theory and Showtime's Homeland have been heavily criticized for insensitive stereotypes for years). The contradiction is stark, and when writers' rooms do not include ethnic minorities, women, or LGBTQ people, such dehumanizing representations can result onscreen.
The series that promote progressive, or even just inoffensive, complex representations of black people and culture are shows like Issa Rae's Insecure or Donald Glover's Atlanta, which are also included in the 5.1 percent of series led by black showrunners. In these series' nuanced representation of black life, the issue of systemic racism and injustice is addressed by the characters and their subplots within the shows. The study links the dearth of black writers and showrunners to onscreen narratives that routinely reject or inaccurately portray the facts of racial profiling and police brutality in the U.S., as well as the failings of the criminal justice system. Consumers learn about different cultures via what they see on their screens, and Race in the Writers' Room documents the ways in which Hollywood shapes perceptions with the content it produces.
Race in the Writers' Room also reveals that among the 5.1 percent of series run by black showrunners, white writers are included in those writers' rooms, but 69 percent of shows led by white showrunners have no black writers in the room at all. Numerous black writers were interviewed for the study to emphasize the isolation of being a black writer in a mostly white writers' room. "The writers' room is an ecosystem… It's kind of paramount for people to run things in order to shape that ecosystem. Otherwise, you can find yourself at the mercy… of an ecosystem that feels hostile to your humanity and definitely your creativity," said one writer.
Another writer disclosed an experience with a showrunner, "[The showrunner admitted that I] was actually going to start costing the production money [now that he had been on staff for two seasons] and they needed to find another person of color who will be cheaper."
According to the study, an average writers' room hires anywhere from 9 to 12 writers, but can hold as many as 17, which means there can be up to 17 opportunities per series for showrunners to hire multiple writers of color and women, and keep them staffed for the subsequent seasons if the show is renewed. The showrunner of a series holds the power to hire or fire new writers, and when there are hardly any showrunners of color to begin with, the systemic process of the exclusion of people of color from the top down—that is to say, from the network, advertising, showrunner, and writer levels—goes unchecked.
The study ends with calls for direct changes within the networks, including hiring more black writers and producing more progressive content about black life and culture, and advocates for structural change outside of television networks. It asks journalists and industry organizations like the Screen Actors Guild and Writers' Guild of America to leverage their power for progress.
Update: A representative of Showtime has reached out to W in regards to the findings of the Color of Change study with the following response.
"The report says they examined 7 of our shows… We have 12+, and based on these findings, the report must have not included shows like I'm Dying Up Here, White Famous and Shameless among others, all who have black writers, and in the case of White Famous which is currently on the air, has multiple black writers and also multiple EPs and directors of color. We're confused by these findings and have reached out to the creators of the report to ask what shows were examined on our network as it doesn't seem entirely accurate for Showtime."
Related: Issa Rae Is Making a New '90s Period Drama for HBO
See W's most popular videos: