New Year's Eve: How Mia Moretti, Sita Abella and Some of the World's Hottest DJs Are Spending the Night
From Brooklyn to Berlin, six DJs share their New Year's Eve plans.
---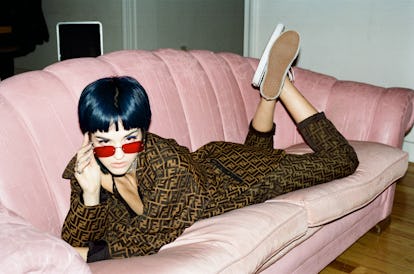 For most, New Year's Eve is a day of relaxation. With the exception of Ryan Seacrest, Mariah Carey and whoever is in charge of dropping the ball in Times Square, everyone will be in off duty mode today, celebrating with friends and anticipating the coming year. But one group of night dwellers who'll be working late into the evening, way past midnight, will be DJs. They'll be in charge of spinning the soundtracks to some of the best parties around the world and kicking off the new year with a bang. Here, six of them, from Brooklyn to Berlin, share their plans.
"This year I am going to play at a club in Zürich in the early morning, but at midnight I will be sleeping in my hotel room. That's how it's been for the last ten years. I've always been either alone in my hotel room preparing for the live gig, or backstage talking to my band members or managers. I really appreciate that my job forces me to celebrate New Years alone. It is always easier and it feels honest. I also don't like to party at midnight; it is way too early for me, and it stresses me out. Berlin parties don't even start until we are already hours into January 1st. After my gig ends in Zürich at 4 a.m., I'll fly straight to Berlin for the parties.
"I don't have plans for New Year's Eve yet, so I'm very intrigued how 'my plan' is going to turn out—maybe looking at the stars or maybe in a club? I prefer to not plan anything. The best plans are the ones that aren't planned. As soon as the new year begins, I will head to Colombia, where I will perform with the Martinez Brothers in Cartagena!
"My band, the Dolls, has a gig in Jamaica at the Goldeneye Hotel, so I'll be ringing in 2018 from the middle of the Caribbean with good people, good music, and good vibes only."
"For a DJ, New Year's Eve is most of the time both a challenging schedule boosting your serotonin and a cash machine. You want to play three or four gigs in 24 hours to make yourself as visible as possible before your January detox. For the first time in years, I dodn't feel the need to overplay, so I've chosen not to play at all, and rather just to be visible for my love and closest friends in Paris, honoring the invitation of a very close cinema producer."
Martinez Brothers, New York
"We are ringing in the New Year with our good friend DJ Jamie Jones at Space Club in Miami, and then coming back to New York City to play the Cityfox rave in Brooklyn on January 1. We haven't spent New Year's Eve in New York, which is our hometown, in we can't even remember how long. We are always away DJ'ing somewhere, so we're just really looking forward to being in the city and seeing where the night takes us."
La Fleur, Berlin
"This New Years Eve I'm playing in my living room aka Watergate club in Berlin. I am a resident there so I have about one gig a month at the club. Usually I spend New Year's Eve wherever my gig is that night, and often I've been by myself (unless it's in an exotic place and friends want to tag along!) So therefore I am extra excited to spend New Year's Eve on home turf this year, and I'll have a nice dinner with friends before my gig. I'm playing 4 -7 a.m. on the main floor in the club so I hope my friends will stay awake that long and join me into the night!"
New Year's Eve 2018: 15 Dazzling, High Fashion, Sorta Tipsy Inspiration Images to Get Your Party Started
Bend it like Bundchen in June 2005's "Hothouse Flower," photographed by Juergen Teller and styled by Jane How.

Juergen Teller
Up the ante à la Karlie Kloss in April 2012's "Drama Queen," photographed by Craig McDean and styled by Lori Goldstein.

Craig McDean
Shine bright like a Christoph Steinmeyer skull from July 2010's "Gloria Takes Manhattan," photographed by Juergen Teller.

Juergen Teller
Overdosing on accessories in March 2012's "The Night Is Young," photographed by Mario Sorrenti and styled by Edward Enninful.

Sorrenti Mario
Flooded with feathers in June 2010's "Best in Show," photographed by Craig McDean and styled by Alex White.

Craig McDean
Getting graphic in March 2012's "The Night Is Young," photographed by Mario Sorrenti and styled by Edward Enninful.

Sorrenti Mario
Going for the gold in April 2011's "One of a Kind," photographed by Craig McDean and styled by Alex White.

Craig McDean
Channeling Tippi in April 2013's "A Muse You Can Use," photographed by Willy Vanderperre and styled by Olivier Rizzo.

Vanderperre Willy
Taking it all off in April 2009's "Lush Hour," photographed by Stephen Lewis and styled by Marcus Teo.

Stephen L. Lewis
Beyonce in July 2011's "FIERCE, FEARLESS, FEMALE.", photographed by Patrick Demarchelier and styled by Alex White.

Patrick Demarchelier
Edie Campbell in March 2016's "Blurred Lines", photographed by Alasdair McLellan and styled by Edward Enninful.

MCLELLAN ALASDAIR
Lily Donaldson in January 2012's "Best In Class", photographed by Emma Summerton and styled by Edward Enninful.

Summerton Emma
Laura Dern in September 2007's "Fashion Party", photographed by Juergen Teller and styled by Camilla Nickerson.

Teller Juergen
Anna Cleveland in September 2015's "Back in the Lime Light", photographed by Mert Alas and Marcus Piggott and styled by Edward Enninful.

ALAS MERT AND PIGGOTT MARCUS
Charlize Theron in August 2017's "Bond Ambition", photographed by Alasdair McLellan and styled by Edward Enninful.

ALASDAIR MCLELLAN
Watch: Ring in The New Year By Popping Bottles With Your Favorite Celebs
Ring in The New Year By Popping Bottles With Your Favorite Celebs