Breaking Down New York Fashion Week's Best, Wildest, and Most Unexpected Parties
From the most fun to the best food.
---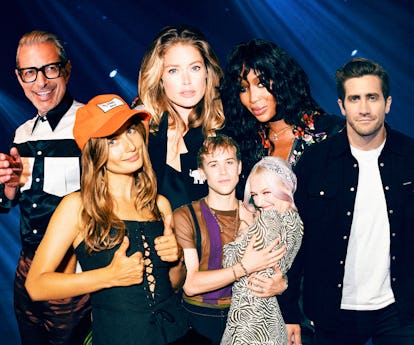 Well, we did it. We've officially finished another New York Fashion Week. This season, the Spring 2019 collections kicked off with a onslaught of extreme weather, and plenty of truly outstanding fashion moments worth trekking around the city for. Of course, there were also plenty of parties to keep the fashion crowd out well past their bedtimes, making those 10 a.m. shows a sometimes very difficult proposition. By now, you've surely heard about a few of the week's notable affairs: Ralph Lauren's Central Park takeover, Nicki Minaj and Cardi B's showdown at the Plaza, et al. But there was more to this week's party scene than a stiletto smackdown and Blake Lively wearing yet another suit. Here, we hand out fashion week superlatives for the most notable parties of the week.
Most Unexpected: The Unveiling of RH New York
Yes, this was a party to celebrate the opening of a new Restoration Hardware store, and yes, it is considered part of New York Fashion Week. Hear us out: this was no typical store opening. Yes, there were plenty of celebrities roaming around, including Karlie Kloss, Nina Agdal, and Maria Sharapova, but the real highlight here was the overall experience. Each floor of the giant Meatpacking location featured a different attraction, from a Cipriani bellini bar to caviar and mini bottles of vodka, all leading to the rooftop, which featured copious amounts of rosé and glorious views of the city. All in all, it was the ultimate pre-game to that evening's Tom Ford show.
Best Guest List: Tiffany & Co. Knot On My Planet Dinner
By day three of fashion week, it can start to seem like you've seen the same faces over and over again, so an unexpected guest list is most welcome. Tiffany & Co delivered on Saturday night as the brand celebrated its 2018 Save the Wild Collection in support of the #KnotOnMyPlanet campaign benefiting the Elephant Crisis Fund and Wildlife Conservation Network. Not only was it for a good cause, but the dinner, held at Barbuto, delivered a truly fun and eclectic crowd, with all kinds, from Internet popstar Poppy to young Hollywood ingenues like Rowan Blanchard and Tommy Dorfman to mega-supermodels like Naomi Campbell and Doutzen Kroes, accounted for.
Best Photo Opp: Frame x Jordan Barrett Dinner
Listen, everyone loves a Instagram photo opp—even top models. And what better way to ensure a tag than with some custom merch? For their annual fashion week dinner, Frame Denim—who in the past has gifted attendees with custom jean jackets, leather vests, and engraved chopsticks—presented each guest with a baseball cap with a personalized play on host Jordan Barrett's Instagram handle: @iblamejordan. The already very photogenic Indochine setting didn't hurt, either.
Best Food: KENZO "The Everything" Premiere
Kenzo hosted a viewing part-slash-basement rager for the premiere of their new film, "The Everything," and like all good film premieres, the screening boasted plenty of popcorn and candy to keep viewers satiated. But that was just the appetizer: on the way out, guests were handed a bento box of pickled cucumbers, spicy noodles, and soy sauce chicken, cooked personally by Humberto Leon's mother, Wendy Leon. That's certainly one way to keep party-goers happy.
Most Likely to Be Confused For the Victoria's Secret Fashion Show Casting: Saks Fifth Avenue Celebrates AdR Book: Beyond Fashion
Yes, models at fashion week events is not exactly groundbreaking. But when nearly half the current roster of Victoria's Secret Angels are in attendance, that's noteworthy. Saks Fifth Avenue managed to wrangle the biggest coup of VS models as they hosted a dinner for Anna Dello Russo's new book at the soon-to-be-opened hotspot Wayan. Among the models who have previously donned the famous wings who were in attendance: Stella Maxwell, Sara Sampaio, Grace Elizabeth, Irina Shayk, Cindy Bruna, Josephine Skriver, and Nadine Leopold.
Least Pretentious/Most Fun: Rodarte's Spring 2019 After Party
After presenting New York Fashion Week's dreamiest collection (in a graveyard in the pouring rain, no less), designers Kate and Laura Mulleavy then went on to host the season's most down-to-earth party. For an extremely ruffled collection, this party was no frills: just an open room at the Jane Hotel, some throwback hits, and a dozen Dominos pizzas. And wouldn't you know, it ended up being the most fun dance party of the week, with all pretension and worries left at the door. I mean, where else could you see an Academy Award winner (hi, Brie Larson) cutting loose while wearing a Hawaiian print shirt? It was, in a word, rad.
Best in Class: Calvin Klein Women Fragrance Launch Dinner
After sending Kaia Gerber down the runway in a graduation cap, Calvin Klein proved itself to be top of class, at least in terms of parties, by hosted a star-studded dinner at Balthazar to celebrate the launch of their new fragrance. Among the A-listers in attendance: fragrance face Saoirse Ronan, Jeff Goldblum, Rami Malek, Laura Dern, Jake Gyllenhaal, Judith Light, Katherine Langford, and plenty more. There was so much schmoozing to be had that no one seemed to mind that the cocktail hour ran an hour past dinnertime. That's the sign of a truly great party.