Milla Jovovich, Kenzo's New Muse, Reminisces on The Fifth Element and Fashion Week's Former Love of Champagne at 10 a.m.
The model-slash-actress reflects on the past and the present, including her new film with Humberto Leon.
---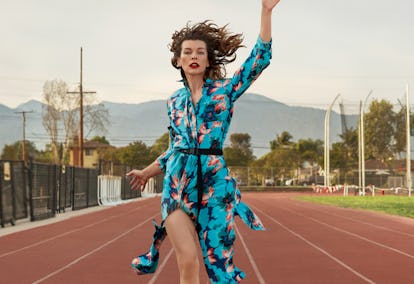 Photo by Ethan James Green, courtesy of Kenzo
Milla Jovovich continues to reign supreme as the onscreen icon of combining sci-fi and fashion. This point was made clear when, on a recent afternoon, two decades after she starred in The Fifth Element, the model-slash-actress just so happened to be on her way to a military base to do some training for her next supernatural action film when it came time to talk her latest fashion project, The Everything. The new short film, which premieres on Friday, during New York Fashion Week, stars Jovovich as the matriarch of a family of so-called "freaks" with secret superpowers that they end up unleashing on a school dance—much, of course, to her pleasure. Oh, and they all happen to be wearing Kenzo's fall/winter 2018 collection while doing so—though you can count on Jovovich to keep the film from feeling anything like an advertisement.
While in the past Kenzo's creative directors Carol Lim and Humberto Leon have handed the camera over to names like Natasha Lyonne and Carrie Brownstein, this time around saw Leon make his own directorial debut, enlisting everyone from Spike Jonze to his mom, Wendy Leon, to join the cast. Before heading to New York to party with Leon and co., and then off to South Africa to shoot one of her next films, Jovovich made time to talk teaming up with Kenzo and reminisce on fashion weeks of yore, when the champagne would start flowing at 10 a.m.
How did you first get involved with The Everything?
Everybody kind of knows everybody in the fashion industry, just because you see people around, and I've been to Kenzo shows and always been a big fan of the brand. But I actually first officially met Humberto on the project earlier this summer. He'd called me and described the script, and I just thought it sounded so crazy—I hadn't heard anything like it. I loved the idea of these kids with these bizarre, almost useless superpowers that they just have to come to terms with, and actually, in the end, find this amazing thing to do with them, which is to unite the family. Especially for me, being a mom, it's a really cool concept, but I feel like so many people can relate to that feeling of always struggling with yourself, and learning to embrace and love and do something interesting with the parts of yourself that don't fit in.
Did you also have trouble fitting in when you were growing up?
Definitely—I was a foreigner and an immigrant. My family grew up without any money and was always moving around, so it was always kind of a struggle. My dad was going to medical school, and my mom, who'd been a very famous actress in Russia in the '70s, was just trying to figure it out. So going from school to school and having a weird name, I always felt like I was coming in mid-sentence, and I didn't really have a chance to make and keep friends. Also, my generation was raised very differently; my peers and I are raising our kids to be much more open in comparison to the '80s—and much more politically correct. At least I hope. At my daughter's school, I know the kids are so respectful and sweet, and there's no bullying. It's a completely different world from what I grew up in, and I definitely felt a lot of that kind of aggression back then, which made me fall back on my after-school stuff. To me, school was just something I had to do because I had to. I always had my eye on the sort of distant horizon of what my future was, and I had to, because I wasn't popular and didn't have many friends, so my only way to kind of survive and keep my spirit and ego intact was to look to the future.
You were so young when you started working with photographers like Richard Avedon. Were the kids you went to school with aware of that?
I was 11 and in elementary school when I started working, but at that point, I was already kind of more grown up. This was more when I was 6, 7, and 8, when, by the way, I didn't know how to speak English, because I'd just moved to America [from London, after leaving the Soviet Union]. So kids made fun of me at school for that. I actually remember hearing it but not understanding it, too, which is sort of trip since it's now like my first language. [Laughs] So by the time I was 11, I was over it, in the sense that I didn't care and I was cool. I listened to the music I liked; I read a lot of books; and I started working, so I made friends with people outside of school, like hair and makeup artists. I mean, bullies would still try and eff with me, but I'd just be like, Whatever, bring it. And then, of course, when it became clear I wasn't easy to pick on, most of the time we'd just become friends.
You've said that you wanted to be a superhero growing up, so this plot is sort of perfect for you. Which power seen in the film would you most want to have?
Funnily enough, I always wanted the power to fly and the power to turn myself into anything, so I think it's very apropos that I became an actress, because you actually can kind of do that. You know, I'd love to not have to blow-dry my hair, so I'd take either the ability to change your hair, like Kodi [Smit-McPhee], or shoes, like Alexandra Shipp. Listen, hanging out with all of these incredible young actors on set was so fun—we all just had a blast. Regina Hall and I actually didn't have a scene together, even though we play each other's best friend, so we just improvised one because we were like, We have to hang out! And then it was amazing to reconnect with Spike Jonze, who I've met quite a few times in my life, so we've known each over the past 25-plus years. But I just love working with and supporting new artists. When you're young and in this industry, there are so many things that can jar you and send you into these strange dark spirals, so I really enjoy meeting young people and supporting them. I try to give them really good vibes and be cool, so hopefully they have good memories and see how to not pay attention to the people who treat you badly or don't come to set on time or treat everybody like they're below them. It starts from the top down, so if people know me and I'm super friendly, that's a trickle down effect, and the kids see that being successful doesn't mean being an asshole. So I try to make a good impression that hopefully lasts.
Did anyone do that for you early on in your career?
I was definitely inspired by Amanda Plummer, who I worked with on Million Dollar Hotel [released in 2000, directed by Wim Wenders and co-written by Bono]. I'd never seen an actress be so free with her choices, and deliver so many beautiful, different options with each take. I was absolutely fascinated by her craft and inspired by her ability to not hold back. And then I've been an admirer of Sarah Polley ever since I worked with her on The Claim [also released in 2000]. I remember feeling that she was wise beyond her years. I was so struck by her love of storytelling and investment into the entire process of filmmaking—I knew early on that she'd venture into directing, which of course she has. I'm so thankful for both of them, because, you know, I've worked with some pretty, pretty hefty names, and without saying any in particular, I've experienced quite a lot of actors not being the nicest people and not making me feel comfortable. I've been acting for a while now, so at a certain point, it became very clear to me that, in the end, it's like shooting yourself in the foot to have an attitude. You're not going to do your best work when you're feeling self-conscious on set. At least for me, I know I work best when I'm feeling happy and confident.
At what point in your career did you start getting to have a say in what you wear in movies? You've designed your own costumes quite a few times.
Always—even with The Fifth Element [for which Jean-Paul Gaultier famously designed more than 1,000 costumes, including Jovovich's so-called ACE bandage outfit]. Luc [Besson] and I began with talking about the costumes, and the whole idea of bandages just came out of our conversations, because it was like, Well, what could I be wearing? I was playing a tech subject that people needed to have access to, but I was also a humanoid and a woman who needed a bit of modesty, so we had the idea of covering me with bandages, which Luc gave to Gaultier to design the outfit.
So Gaultier was actually receptive to your ideas, even though you were still in your teens?
Well, it was coming from the director. But he was definitely receptive. He actually knew me before he knew Luc, and he's just the sweetest guy. And I always end up having those conversations, because I do so many action-oriented films, so the costume almost has to be a response to my role. I just ask a lot of questions, like, "What would happen if I moved like this?"
Were you actually comfortable in that bandage dress?
How old was I, 19? I was fine. I mean, I probably wouldn't be as comfortable today. [Laughs] But then, I was in the best shape of my life.
What's the most uncomfortable thing you've had to wear in your career?
You know, for the most part, everything in fashion is extremely uncomfortable. There are things like corsets and jewels that weigh a ton, and everything is too tight on the arms, since I'm built very sporty. I've never been like a bird, or like a fit model in any way, shape, or form, so of course I never fit into anything, and everything always has to be adjusted. With film, I guess it would be when I played Joan of Arc [in 1999]; I had to wear full armor, which was not comfortable to try to take an afternoon nap in. [Laughs] Now, especially with the big action films, I have really nice trailers on set, but back when I was doing The Claim, with Sarah Polley, I was jammed into, like, four rooms in one. It was this small period piece we filmed in the mountains. It was freezing, but trying to to get in a trailer in a 19th-century dress with petticoats and hoops and a corset, you know—just forget about trying to get into the tiny toilet.
That definitely sounds less cozy than Kenzo.
Oh, the clothes in this [film] were super comfortable. I love the jeans and little sweater I wore, and the dress I wore to the prom thing. Though, of course, we shot in L.A. in the height of summer heat, so in the end no one was comfortable wearing fall/winter wool and sweaters. But at least we could move around!
Is your style at all similar to your character's?
Obviously Georgie is much more glamorous.
I mean, you're pretty glamorous yourself.
[Laughs] Thank you. Well, the jeans look was very close to my personal style, though maybe not the sweater, because I live in L.A. But you know, when you become a parent, personal style pretty much becomes relative to the moment. It's like, Is the baby at school? How quickly can I throw this together? The days of hanging out in closet and trying stuff on are long gone, so you go to the tried-and-true things, like the one pair of jeans you know look great or a pair of heels instead of sneakers. I have an amazing pair of white Prada pumps that are my little guilty pleasure if I go anywhere adult-y. But that's very rare—it's usually jeans and a T-shirt, maybe a cute vintage jacket.
Milla Jovovich, Now 41, Has Always Had a Unique Sense of Style
Jovovich looked chic in a classic black pantsuit look with a white blouse and red scarf wrapped around her neck.

Getty Images
While attending the NATO/ShoWest Convention in Las Vegas, the model looked fresh faced and adorable in a black lace and cotton blouse, grey wool mini skirt and black velvet booties.

Getty Images
The model and actress glowed effortlessly as she attended a performance if Hamlet on Broadway in a cream mini dress accessorized with cream closed toe pumps.

Getty Images
Jovovich was stunning in a flesh-tone sequin slip dress at the Tommy Hilfiger 'Rock Style' Exhibit at the Metropolitan Museum of Art. Only accessorized with a small tan clutch, she kept her look minimal and sleek.

Getty Images
At the 19th Annual CFDA Awards, the actress dazzled in a lace and tulle mid-length dress. For an extra touch of glamour she paired her dress with a crystal necklace and simple strap sandals.

Getty Images
Jovovich wore a pastel yellow, one-shoulder maxi dress at the 2002 Cannes De Grisogono dinner. She completed her look with a purple stone necklace and bronze sandals.

Getty Images
The star donned a nude and black polka dot cocktail dress at the Loreal Legends Gala benefiting the Ovarian Cancer Research Fund.

Getty Images
At the world premiere of 'Resident Evil: Extinction,' the mommy-to-be stunned on the red carpet dressed in brown silk maxi dress.

Getty images
Jovovich wowed in a dramatic strapless turquoise gown and coordinating statement necklace and clutch bag at the closing ceremony of the 61st annual Cannes International Film Festival.

Getty Images
Milla Jovovich was a vision in burgundy at the 2009 American Museum of Natural History's Museum dance.

Getty Images
Jovovich donned a vibrant orange silk gown with long draping sleeves at the 14th annual Hollywood Awards Gala. The gown featured a jeweled belt detailing and asymmetrical neckline.

Getty Images
The star hit the red carpet of the Three Musketeers London premiere in a show-stopping glittering Salvatore Ferragamo gown complete with a sexy cowl neckline and thigh high split.

Getty Images
At the 2012 DreamBall Gala, Jovovich rocked a spectacular Armani strapless snakeskin print gown. She completed her look with a pair of green and silver statement earning and a small black and silver clutch.

Getty Images
Going for a sleek and sexy look at the 66th annual Cannes Film Festival, Milla Jovovich opted for Prada dress that featured a black backless spaghetti strap top and a navy, embellished floor-length skirt.

Getty Images
All eyes were on the actress at the amfAR's 20th Annual Cinema Against Aids in a blush Valentino Couture gown, which featured shimmering floral beaded embroidery, ruffled skirt and plunging neckline.

Getty Images
The very next year, Jovovich looked exquisite in a black Chanel Haute Couture embellished gown with nude feather sleeves at the amfAR's 21st Cinema Against Aids Gala.

Getty Images
The actress showed off her baby bump in a ultra-chic maternity styled red Donna Karan cutout gown at the amfAR LA Inspiration Gala in Hollywood.

Getty Image
At the 2016 American Music Awards, Jovovich wore a sexy black Elie Saab star-patterned sequin gown with a plunging neckline and thigh-high split.

Getty Images
Do you have any beauty go-tos?
Dry shampoo! Always. It's a lifesaver. Again, I have to blow-dry my hair, and I go to the gym and sweat every day, so for the most part I just wear my it up. When I do blow-dry it, near the end of the week, I'll do it really well, take my time, and then have that dry shampoo in my purse, ready to attack the weekend. [Laughs]
Are you ready for New York Fashion Week?
I'm ready for the Kenzo party, but I think that's all I'm going to. I have to leave for South Africa for a movie the day after I get back.
Does that feel more like a blessing or a curse? Do you like Fashion Week?
Um…[Pauses] Listen, I love to watch shows. It's fun and stuff, for sure, but to be honest, for me, going to the shows is always a bit of a zoo. There are photographers and interviews, and you always have to be aware of your hair and makeup, which gets a little stressful. You know, in a way, I've always found beauty to be the hardest part of my job. Doing the action is fun because I get to be dirty all the time. [Laughs] But when I have to clean up and wear a nice dress and have my nails done and perfect makeup, I'm always scared to move, because I might break a sweat and then everything's going to come tumbling down. My favorite was actually when I had a clothing line and did a presentation. I loved being on the other side—I could just pull my hair back, not have makeup on, and just do the work. [Laughs]
What's most different about Fashion Week now, versus when you were starting out?
Oh, there used to champagne at every show at, like, 10 a.m., so you can imagine what the girls would be like by noon—even though they'd still have seven more shows to do before the end of the day. So when I was 22 or whatever—which, wow, was 20 years ago—it was a lot of fun. Of course, you paid for it the next day, but you were 22, so it was okay, you were fine. Then, after a couple of years of girls passing out and falling and tripping on the runway—a lot of whom were also underage—they cut the alcohol out. That was one of those great non-PC moments from the past I remember: underage drinking! At work! [Laughs]
Do you wish you had social media back then, or do you feel like you were spared?
I would have loved to have Instagram. Are you kidding? I would have loooved to have Instagram when I was younger. Now I'm a mom and stuff, but my Instagram would have been so off the chain when I was in my 20s, you know, shooting Fifth Element, going to Fashion Week, turning 21, drinking champagne at 10 in the morning. [Laughs] My Instagram would have been poppin'. Back then, it was, like, crazy Milla. Now it's all, like, Kids! Face paint!
Who are some of your favorite people to follow?
I only really follow people I know, like old friends from the fashion industry, or people I admire. I follow a lot of gardeners, and a lot of really wonderful painters, but the only celebrities I follow are the ones I know personally. I don't follow, like, Kendall Jenner or Kim Kardashian or anything like that, just because I don't really know them, you know? I actually find a lot of new music on there too; I just discovered this band Parcels, who are like these 21-year-old boys from Australia who play the most amazing electronic punk music. I actually did a video with them, a horror film, that's out in October. There are so many, others, too, like NoMBe, who's this half-German, half-African-American artist; Sohn, who makes super-rad electronic music; and this kid Roosevelt, who makes this very late-'80s-style music, but with some irony to it, which, of course, we didn't have. And for the most part, I actually end up talking to these kids, just striking up conversations.
You were definitely an early adopter—you've had an Instagram since 2011.
Instagram's definitely my favorite type of social media. The whole Facebook thing is reconnecting with people, but I'm like, If I haven't talked to you in 10 years, there's probably a reason. Like, I'm still best friends with my friend I met when we were 7 years old. And then there's too much writing, which is the same with Twitter. I read books, but I just get overwhelmed reading all these little blurbs. I guess I'm still part of the old generation that's not wired that way.
I love how your Twitter is basically all links to Instagram, except for you asking for help with your printer.
I know. For some reason I couldn't get in touch with any of my friends that were tech-savvy, and I couldn't find it online, and then I was like, You know what? There are always so many people online who have an answer to everything—maybe a human would actually tell me. Then, of course, as soon as I did it, I was like, Oh, my God, oops, I haven't tweeted in so long. But I did get help! [Laughs]