Nicki Minaj Declares Her Undying Love for Kylie Jenner
While acknowledging that, yes, Kylie did a 180 when she saw her on the VMAs red carpet.
---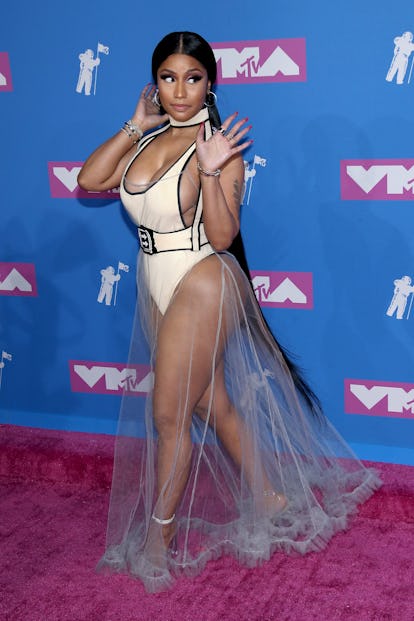 Paul Zimmerman/Getty Images
In addition to having a new album, Nicki Minaj also has her own radio show. She also has a nearly full-time job managing the drama that's exploded between her and Travis Scott, which took off even before the VMAs did on Monday. (To recap: Scott's own new album, ASTROWORLD, pushed Minaj out of the No. 1 spot on the Billboard 200 chart, prompting a Twitter storm of backlash from Minaj, in which she compared herself to Harriet Tubman, and apparently criticized Scott and Kylie Jenner's newborn, Stormi.)
So on Thursday, with the VMAs safely in the past, Minaj addressed the comments head-on in the fifth episode of Queen Radio. After greeting the haters—"Critics, hi, I know you're tuned in"—and dragging Scott a bit more, she made it clear that there is one thing that she doesn't hate about Scott: his partner, Kylie Jenner. (Never mind that acrimonious tweet she posted over the weekend claiming Scott got ahead, in part, because Jenner had promoted his tour as a chance to see her and Stormi—or the video of Jenner, who reportedly asked not to be seated near Minaj, spotting her on the red carpet at the VMAs and promptly doing a 180.)
"TMZ posted a video saying Kylie Jenner avoided me at the red carpet. It was funny, and I thought it was cute. I said it on the last show, and I'll say it again: I f–king love Kylie, and that's never gonna change," she said on air, according to E! News. "She has been put in a little awkward situation, but this isn't real life—this is entertainment. I love Kylie, and so do my fans," she continued, adding that she also "f—ing love[s]" Kylie's sister Kim Kardashian, and had her on the first episode of Queen Radio.
While Jenner has yet to comment, Minaj had no shortage of words addressing the situation. "We're not going to make something that it's not. We're not going to start any dumbass cat fights for your entertainment. This is strictly music, between musicians," she said. "She supported her man like she should. Me and my fans are not feeding into this."
As for Scott, her words regarding him were, predictably enough, nowhere near as kind. (Suffice to say that his manager was the lucky winner of her so-called Cock Sucka of the Day Award.) She did, however, squeeze in some more praise when it came to the subject of Kanye West—and, perplexingly enough, one Margaret Thatcher.
Related: Everything You Didn't See on TV at the MTV VMAs 2018, From Ariana Grande's PDA to Kylie Jenner's Selfies