Nicky Hilton, Carey Mulligan and Sofia Coppola All Trekked to Governor's Island for an Over-the-Top Party
It was for Cartier's "Evening of Enchantment" extravaganza.
---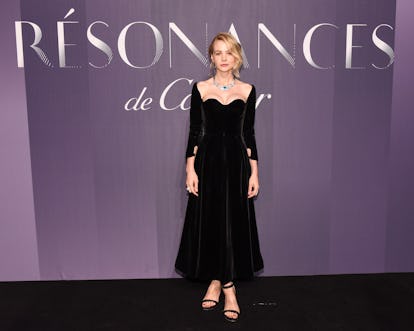 Zach Hilty/BFA.com
There are plenty of glamorous spots within the city of Manhattan to throw an over the top gala. But when you want to go truly above and beyond, you take it to a far more remote island.
On Tuesday night, Cartier did just that on Governor's Island, hosting a so-called "Evening of Enchantment" to toast its new high jewelry collection, Résonances de Cartier, just off the Southern tip of New York City.
And it certainly was an Evening of Enchantment—but first you had to get there. Rather than planes, trains, and automobiles, the fine jewelry house opted for chauffeured black cars, a ferry-ride complete with miniature bottles of its own branded Champagne, and a charming, old-fashion trolley covered in the Cartier logo, natch. It was a far-reaching journey made all the more comical when you factor in the couture gowns and millions of dollars of diamonds packed into the state-issued ferry, not to mention the famous faces—including Carey Mulligan, Sofia Coppola, Diane Kruger, and Nicky Hilton Rothschild—more familiar with private jets than old-school trolley rides.
"The last time was I was on a ferry actually was when I came out here for a school field trip with my daughter," said Carolyn Murphy, dressed in Proenza Schouler. "It was a long time ago and it was cold. Now it is October and 70-something degrees and I'm wearing the most beautiful jewelry, so I can't complain."
Yes, there certainly was no lack of sparkle here, even before heading inside to the spacious structure created just for the event, which featured sprawling views and housed a bevy of models showing off some very pricey baubles.
"My first memory of Cartier would be my nana's tank [watch], and I actually have that now. And they kindly bought me a tank years later, and I bought my daughter a Love ring for her sixteenth birthday last year," Murphy continued. "She does [steal my jewelry], but she's not allowed to steal my tank."
Nearby, actress Sofia Boutella was admiring her borrowed jewels for the night, a talisman-esque pendant necklace. "It has some sort of 1920s feel and vibe, and I love vintage jewelry," she said. "I don't know if I'm a 'crystals as healing' type of person, but I'm into anything that makes me feel in the moment. I was in the Sahara Desert when I was a kid and this very old woman was making jewelry and she told me how they are shields more than anything, and it can absorb negative energy."
Boutella paused to take in the event space's grand entrance, flanked by waiters in tuxedos. "I love to be surprised, so I'm excited about this," she said. "I've been to quite a few crazy events. I just went to my friend's birthday in Italy and we went to a very old city where they showed us how wine and pasta were made back in the day, so I thought that was pretty cool. But this is quite exotic, as well."
Once inside, there was no pasta—wine, on the other hand, was plenty flowing—but rather a three-course menu prepared by Blue Hill chef Dan Barber, including individual tins of caviar for each guest and hefty portions of filet mignon, which were served at long, modern tables, each named for a different precious stone. Post-dinner, mini desserts were passed as Andra Day performed a quick set—because what is an island jaunt without a little music?
It also served as some appropriately uber fancy exit music for those who opted to duck out early and begin the trek home.
Related: Inside the Glamorous, Extravagant, and Totally Over-the-Top World of Monaco High Society
The Best Advice Sofia Coppola Received From Her Dad, Francis Ford Coppola: "Don't Wait for Permission"