Nicole Kidman Opens Up About the "Massive Grief" of Her Two Miscarriages While Married to Tom Cruise
She says it's an issue that isn't talked about enough.
---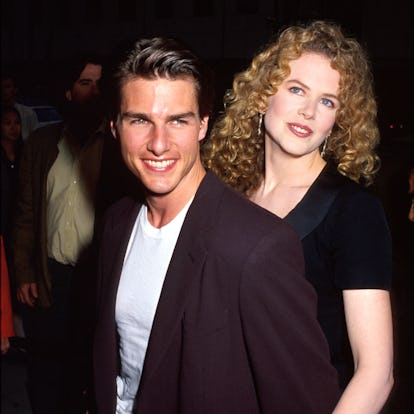 DMI/Getty Images
While married to Tom Cruise, Nicole Kidman experienced devastating complications in two pregnancies. The first, when she was just 23 and newly married to Cruise, was an ectopic pregnancy, while the second was a miscarriage and occurred about a decade later, shortly before the pair filed for divorce, in 2001. In her new cover interview for the July 2018 issue of Tatler, Kidman spoke about these instances, as well as her happier experiences of actually becoming a mother to Isabella and Connor, her adopted children with Cruise, and Sunday and Faith, her biological children with husband Keith Urban.
"I know the yearning," Kidman said of wanting to become a mother, according to Yahoo!. "That yearning. It's a huge, aching yearning. And the loss! The loss of a miscarriage is not talked about enough. That's massive grief to certain women." But, upon finally becoming a mother, Kidman said, "There's an enormous amount of pain and an enormous amount of joy on the other side of it. The flip side of going through so much yearning and pain to get there is the feeling of 'Ahhhh!' when you have the child."
Despite the roller-coaster of emotions that comes with being a parent, however, the Oscar winner admitted that she credited her kids for much of her recent success—and tried to tell them so by giving Sunday and Faith some of the awards she's won in the past year, for her role in Big Little Lies. "I said to my oldest: 'You can put this on your shelf,' and she said, 'No, my shelf is full, I don't want that,'" Kidman told Tatler, laughing. "Her shelf is full of snow globes and certificates and books, you know, bits and pieces and knick-knacks. I totally get it. You don't want some trophy your mum's won sitting up there. The little one was like, 'I WANT IT!'"
The 50-year-old first shared her experience with miscarriage in a 2007 interview with Marie Claire. "I had a miscarriage at the end of my marriage, but I had an ectopic pregnancy at the beginning of my marriage. It was incredibly traumatic for me. Sometimes you share your grief," she said at the time, adding that she was still hopeful she would be able to carry a baby to term. "What will be will be. It's in God's hands," she said, and in fact, she and Urban would go on to welcome Sunday less than a year after the interview was published.
Related: Nicole Kidman Could Go on "Survivor" and Crush It