Nicole Kidman Reveals the Romantic Gesture That Convinced Her to Marry Keith Urban
It only took a rom-com-worthy gesture from Urban to convince her.
---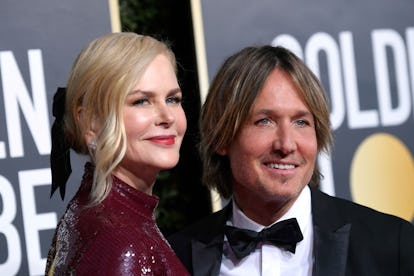 Frazer Harrison/Getty Images
Only Nicole Kidman and Keith Urban could make even the most cold-hearted cynic believe that true love exists.
Not only do they appear on red carpets together looking like one of Hollywood's most in-love couples, but this week, Kidman also revealed exactly what it took to seal the deal in their relationship, and it sounds like something straight out of a romantic comedy. Before Urban came along, the Golden Globe nominee had famously been married to Tom Cruise for 11 years before divorcing in 2001, and was not-so-famously engaged to Lenny Kravitz, who she dated from 2002 to 2003. Then, in 2005, everything changed.
In a new interview with People, Kidman opened up about how she realized she was in love with the country singer after about six months of dating. "It was my [38th] birthday, and he stood outside with gardenias at 5 a.m. on my stoop in New York," she said. "That is when I went, 'This is the man I hope I get to marry.'"
But Urban didn't just show up with flowers: He took the romance one step further and had Kidman jump on the back of his motorcycle, and drove all the way upstate to Woodstock, where the two stayed for a mini vacation. Kidman recalled the memory as "intense," but insisted that the romantic gesture of sneaking up to her apartment in the middle of the night with flowers and a secretly planned trip upstate meant that Urban was "my kinda guy!"
"I believed by that point he was the love of my life," she admitted. "Maybe that's because I am deeply romantic, or I'm an actress, or I have strong faith as well, but I just believed, 'Oh, okay, here he is.'" A year later, the two were married in their native Australia, and now, almost 13 years after that, they share two young daughters they're currently raising in Nashville. This sort of picturesque love story between the actress and the country musician shouldn't come as too much of a surprise when you remember that they keep the magic alive by not texting each other (FaceTime is okay, though).
Related: Nicole Kidman Says Her Kids Were "Shocked" by Her Appearance in Destroyer