October Horoscopes: Twitter's Favorite Astrologers Share How to Start Fall Off Right
Get through this month's chaos with the help of the Astro Poets.
---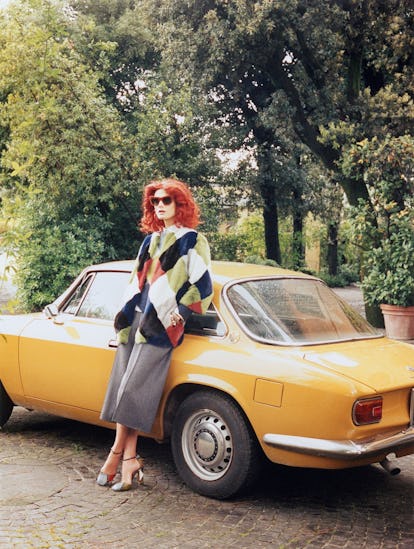 There is a lot of chaos and confusion swirling around in the ether this month, as you'll see in your October horoscope. The good news is that the full moon in Aries on October 13 will bring it all to the surface and mark the start of something new. Depending on where you land in the zodiac, that may mean a new job, relationship, or personal ritual. Take time to set intentions and be more mindful than usual this October. Toward the end of the month, on the 28th, the new Scorpio moon will breathe much needed passion into all of us. It will have more to do with ambition than romance, although you may find that is exactly what you need as the days get shorter.
With you in the stars and on Earth, The Astro Poets
Aries
October will bring several new people and relationships into your life. They may not be romantic necessarily, but they will be charged with intensity and passion. You're a fire sign who is great at beginnings. Where you sometimes falter is following projects and ideas through. Try to remember this as you surround yourself with the new and get closer to the life you imagine for yourself. The middle may not be as exciting as the beginning but it is equally, if not more, important. Around the middle of the month you will be moved to get back in touch with an old friend. Tell them your secret.
Taurus
You will be such a romantic this month. These instincts will be most pronounced in the beginning of October, as you've decided to commit yourself fully to a relationship in ways you'd been resisting. You've had many relationships going on in various stages of development over the past few months. But with the increasing chill in the air, you're feeling ready to get cozy and settle down. You will find yourself becoming extra tender and loving. This may mean cooking for your lover and even serving them meals in bed. It's exciting for you to feel this way, so enjoy it. By the end of the month, you will be more focused on your career than love, so take the time now to be the big-hearted and caring lover you were meant to be.
Valentino hand-beaded tulle gown. Prada socks and shoes.

Photographer: Ryan McGinley Stylist: Edward Enninful
Louis Vuitton sequin-embellished silk and polyester dress.

Photographer: Ryan McGinley Stylist: Edward Enninful
Nina Ricci fringe-detail viscose gown. Model's own earring.

Beauty note: Skin keeps its youthful texture with Lancôme Rénergie Lift Multi-Action SPF 15 Lifting and Firming Cream.

Photographer: Ryan McGinley Stylist: Edward Enninful
Alexander McQueen silk organza dress. Céline pumps.

Beauty note: Bare arms proudly with Lancôme Nutrix Royal Body Lipid-Enriched Lotion.

Photographer: Ryan McGinley Stylist: Edward Enninful
Etro silk gown. Prada socks and shoes.

Photographer: Ryan McGinley Stylist: Edward Enninful
Gucci coral-embroidered silk gown. Model's own nose ring.

Beauty note: Lips get a hint of color with Lancôme Baume in Love in Rose in Love.

Photographer: Ryan McGinley Stylist: Edward Enninful
Bottega Veneta fringe-detail silk jersey dress. Shaun Leane sterling silver, enamel, pearl, and diamond earring (on right ear); Celine pumps.

Photographer: Ryan McGinley Stylist: Edward Enninful
Christopher Kane PVC and silk tank top. Dior satin duchesse and silk skirt. Jennifer Behr Swarovski Elements crystal-detail headband; Prada socks and shoes; model's own earrings.

Photographer: Ryan McGinley Stylist: Edward Enninful
Alberta Ferretti silk chiffon dress. Shaun Leane sterling silver, enamel, pearl, and diamond earring (on right ear); Prada socks and shoes.

Hair by Jimmy Paul for Bumble and bumble; makeup by Dick Page for Shiseido; manicure by Tracylee for Sally Hansen at Tim Howard Management. Model: Daria Werbowy at IMG. Set design by Gerard Santos at the Magnet Agency. Produced by Larry McCrudden for the Custom Family. Lighting design by Christopher Bisagni Studio. Digital technician: Travis Drennen. Photography assistants: John Ciamillo, Matt Marchese, Ehren Joseph. Fashion assistants: Jack Borkett, Kate Gingold.

Photographer: Ryan McGinley Stylist: Edward Enninful
Gemini
What you've been looking for isn't a person but a feeling only you can manifest. It's time to ask yourself if you want to continue on the career path you're on. The answer may not be immediate or clear but continuing to ask the question will itself bring you clarity. There is much confusion swirling around you this month in both your romantic and platonic relationships. Don't make any rash decisions and make sure you're communicating as clearly as possible—which, for you, may involve saying things multiple times, and in different ways.
Cancer
The start of the month will bring some travel for you. You will venture out of your safe domestic space in search of a mental break or a professional opportunity (or maybe both). Although you do love to be indoors, surrounded by your beautiful collections, these trips will give you some much-needed perspective on life. Now is the time to ask yourself: Am I living my days the way I want to? If you find that the answer is no, then you must make space to create change so that you can truly be happy. In terms of love, you are as committed as ever and will seek out new opportunities to show your no. 1 lover that you care. That might mean a small gift of jewelry, with a tender inscription. Whatever you do, do it with your heart and the results will be magnificent. Your heart truly is your greatest resource.
Leo
You're preparing for what you think will be a big shift in your emotional life. There are many voices around you and it may not help to listen to any of them. This month, try to stay grounded within your core—which is golden and incredibly fast. Try to slow down. Try to allow yourself at least one hour in the day where you do nothing but think about the future, which will arrive despite all of your fears. Spend as much time alone as possible. Don't worry about who you've forgotten to message. Everything and everyone will still be there when you return.
Virgo
You will feel rather positive this month, as you have some clarity on your love life. You know how you feel, and you will act accordingly. This may mean that you have to break some hearts along the way, but if that means that communication has been honest and clear, then all the better. You will be even more sure of what you want professionally. And you will find yourself making firm decisions about who you want in your career moving forward. You are such a kind person, but now is the time to see that you can be both kind and true to your career goals at once. Put yourself first sometimes this month and the rewards will be great. You've earned every incredible thing coming your way.
Libra
October truly is your month, though that doesn't mean it will be easy. In fact, you'll get caught up playing mind games with several people you love and wouldn't expect. Be prepared, and try to shut it down as early as possible. Remember that showing need is not weakness or lack of will, but true honesty. Somewhere near the middle of the month, you will be compelled to take a romantic risk that may not promise anything but momentary pleasure. Do it. Do not despair about the past. It has nothing to do with you now.
Big Cozy Sweaters Are (Still) the Ultimate Fall Fashion Essential
Jennifer Lopez photographed by Inez and Vinoodh for W Magazine, May 2016.

Inez and Vinoodh
Casil Mcarthur photographed by Steven Meisel for W Magazine, September 2016.

Steven Meisel
Photograph by Craig McDean for W Magazine, June 2009.

Craig McDean
Lindsay Lohan photographed by Brigitte Lacombe for W Magazine, January 2018.

Brigitte Lacombe
Photograph by Maripol for W Magazine, May 2018.

Maripol
Photograph by Dario Catellani for W Magazine, May 2018.

Dario Catellani
Sara Grace Wallerstedt photographed by Paolo Roversi for W Magazine, March 2018.

Paolo Roversi
Letitia Wright photographed by Alasdair McLellan for W Magazine, May 2018.

Alasdair McLellan
Guinevere Van Seenus photographed by Mert and Marcus for W Magazine, September 2013.

Mert and Marcus
Katy Perry photographed by Mario Sorrenti for W Magazine, November 2013.

Mario Sorrenti
Photograph by Michael Thompson for W Magazine, October 2006.

Michael Thompson
Jourdan Dunn photographed by Alasdair McLellan for W Magazine, June 2015.

Alasdair McLellan
Sadie Sink photographed by Katie Mccurdy, and styled by Caroline Grosso, for W Magazine.

Katie Mccurdy
Barbara Palvin photographed by Claudia Knoepfel and Stefan Indlekofer for W Magazine, June 2010.

Claudia Knoepfel and Stefan Indlekofer
Linn Arvidsson and Ashleigh Good photographed by Jamie Hawkesworth for W Magazine, April 2014.

Jamie Hawkesworth
Finn B photographed by Harley Weir for W Magazine, April 2018.

Harley Weir
Photograph by Craig McDean for W Magazine, August 2014.

Craig McDean
Behati Prinsloo photographed by Michael Thompson for W Magazine, July 2006.

Michael Thompson
Photograph by Craig McDean for W Magazine, December 2012.

Craig McDean
Photograph by Tyrone Lebon for W Magazine, December 2014.

Tyrone Lebon
Scorpio
This month, you'll be in touch with your independence. You're lucky because you're always surrounded by people who truly love you (you wouldn't have it any other way). This allows you to go out on your own when necessary, because you know whoever is waiting for you will be there when you get back. Still, as you spend some time by yourself this month, remember not to take your oldest friendships for granted. Even—and especially—your most intimate relationships need work and care to be maintained. Remember this truth as you answer the call of the open road.
Sagittarius
You're coming into October after being greatly tested by the speed of last month. You do not feel balanced, but you are moving forward. Sometimes moving forward looks like this—without any obvious optimism, and without much fanfare. However, you are the archer, after all. You are prepared for this. All the weapons you need are within your imagination, which does not see you stuck in this chaotic place you now find yourself in for long. The bad news is no one will save you. The good news is you definitely can save yourself without anyone's help.
Capricorn
You love to ebb and flow with the fall cycles, and to be in tune with the natural world. This month may bring you opportunities to bring these cycles into your workplace. You will be looking to engage your work life with larger forces. Moreover, feelings of interconnectedness of all living things will start to influence your creativity in important ways. In terms of love, you will feel an opening for a new level of trust to enter. You might be shocked when it happens, but we promise you'll be happy about it later. It can be hard for you to be vulnerable, but the payoff will be huge.
Aquarius
You may begin to think you've reached a limit at work, but don't do anything irrational—you're just tired. You need to remind yourself that what you do is important, and that people care. You need to set aside a few nights this month where you reconnect to your goals by not going out and distracting yourself with people and drinks. You're strong enough to do this, although you will be tempted to deviate and indulge. The time for indulgence will come. Make this a time for focus and deliberate intentions. The color green will help you do this.
Pisces
Lately, you've been feeling like you need to shield yourself from the outside world. At work, you will want to show only the parts of yourself that are safest. This is always the case, and especially for you, but this month, you will want your most secret self to stay hidden and safe. All of this will be good for your productivity, but it will cause you some stress. Let's face it: You aren't always so sure what your longterm career goals actually are. What's most important this October is for you to keep working, as your destiny will always find you.
Related: Ask the Astro Poets: What Do I Do If I'm in Love With My Best Friend?