Olivia Wilde on Why Women Need to Support Each Other in the Age of Trump and Harvey Weinstein
The actress opened up at the annual Through Her Lens: The Tribeca Chanel Women's Filmmaker Program luncheon in New York on Tuesday about how "a few powerful people who may be sociopaths" won't stop women in Hollywood any longer.
---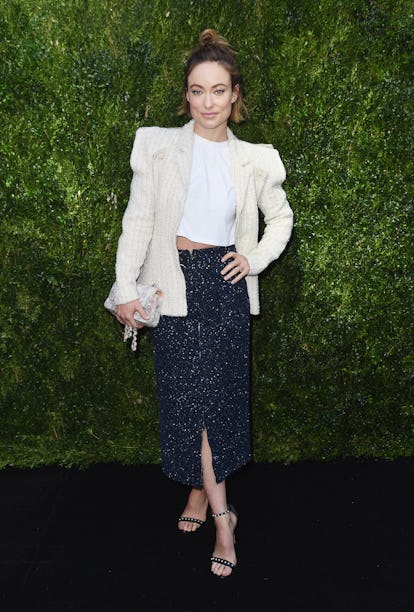 Nicholas Hunt
In the aftermath of the New York Times' explosive report about Harvey Weinstein's history of sexual harassment, countless women in Hollywood have come forward with their own stories of misconduct in the film industry. This made a gathering of famous women in Hollywood on Tuesday for the Through Her Lens: The Tribeca Chanel Women's Filmmaker Program Annual Luncheon all the more poignant.
Held at New York's Locanda Verde restaurant, the midday affair saw the likes of Dakota Fanning, Rachel Weisz, Elizabeth Olsen, Kyra Sedgwick, Grace Gummer, Christina Ricci, Cynthia Nixon, Zosia Mamet, Rebecca Hall, and Natasha Lyonne came–in their finest Chanel, of course–to mark the kick-off to the third annual workshop which celebrates five rising female filmmakers and provides them with project support, master classes, one-on-one mentorship, peer-to-peer sessions, and will award $100,000 for project development and production.
"This event is always incredible because it is a chance to gather with all of these inspiring, fierce women, and to recognize that there is this community of female filmmakers who are as motivated as ever," said Olivia Wilde. "The talent isn't new, the will isn't new; the way has been obstructed and slowly being less so. I always come away from this feeling inspired."
The actress had been a frequent attendee at the event, having shown during the Tribeca Film Festival herself. "I have produced a few documentaries that have been in Tribeca over the years. I remember coming to this lunch two years ago and Jane [Rosenthal] standing up and referring to me as a filmmaker and a producer. For some reason, that moment really clicked for me that I was allowed to own that. Often we are so self-effacing and accommodating—not as women, but as people—that it takes someone encouraging you to self-identify in line with your aspirations."
In light of the recent Harvey Weinstein news, the sense of community among the female set was something particularly worth celebrating.
"[Community] is always important. Maybe now more than ever, we will refuse to put up with any bullshit," said Wilde. "There's a sense of overcoming whatever fear was holding people back in terms of—I would never want to put words into other people's mouths, but personally, I'm ready to not be motivated by fear ever again in my life, professionally and otherwise. This business belongs to all of us, and filmmaking is an artform that can not be commodified and monopolized by a few powerful people who may be sociopaths.
"Don't you feel like in women in film and women not in film that there is a sense of women reaching out to one another and saying, 'I'm here for you as a community, I'm here for you as a sister, and I've got your back?' That is a systemic issue that we have to address in several ways," she continued. "Young women, girls, are so close and have real intimate friendships. Then something happens. I don't know if it is in high-school, or I suspect it is more in college, when men and jobs become this thing to compete over, and women turn away from each other and forget about that sisterhood. The fact the 53 percent of white women in this country voted for Trump should have been a huge alarm bell for all of us that we have to change the way we relate to one another."
As Wilde surveyed the packed room of powerful women milling about, she noted how she will apply that mentality about the importance of female relationships to her own daughter, who just celebrated her first birthday over the weekend.
"Just always reminding her that women around her are there to support her and she should be there to support them, and reminding her of a global sisterhood," she said. "Society will inflict upon her all of the negativity that is inevitable somehow still, but personally I can instill her with such a strong foundation that she'll have the tools to withstand that. Also, just to continue to remind her of the beauty of female support and how good it feels to maintain that community."
Related: Olivia Wilde on Motherhood and Why It's Important to Stay Woke About Beauty
Olivia Wilde Reveals Her Cinematic Crush