How Oprah Transformed Into Mrs. Which in A Wrinkle in Time, According to the Movie's Makeup Artist Derrick Rutledge
The makeup artist broke down her most memorable, elaborate look.
---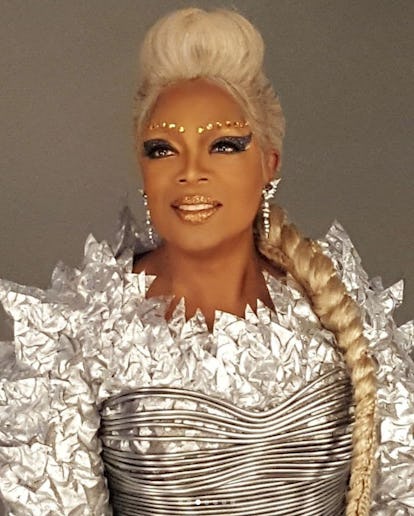 Courtesy of Instagram/@derrick4mkup
A Wrinkle in Time, which debuted this past weekend, has everything you could ask for: dynamic female leads (from Oprah Winfrey to Reese Witherspoon and Mindy Kaling), a powerful female director (Ava Duvernay), an original song by Sade (her first in 7 years!), jaw-dropping fashion moments (read more here), and to top it all off, some of the best beauty beats we've witnessed on-screen in quite some time.
Take Oprah, who plays "Mrs. Which," for instance: In the film, she wears bedazzled eyebrows and glitter lips, amongst other outrageous trends. And now, thanks to the movie's makeup artist Derrick Rutledge, we know how her transformative beauty look came together.
Rutledge broke down the secret to one of Mrs. Which's most memorable looks from the film (sparkly copper lips, gold studded brows, and dark gray, glitter-emblazoned lids) in a recent Instagram post, explaining that he used a color palette consisting of gold, copper, orange, and black to complement what she was wearing.
"In order to make #Oprah eyes appear larger, I had to make the brows disappear," he wrote, adding that for this he used an Elmer's Glue Stick and rubbed it generously onto the brows before brushing them up and allowing them to dry before setting with powder. Then, Rutledge said he used a darker foundation shade along the bridge and down the sides of Oprah's nose, as well as anywhere else you'd contour to create depth. For even more definition, he used an orange peach-toned blush to "give the face color and healthiness."
As for her next-level winged liner, Rutledge admitted it took several attempts before he got it to where he wanted it. "I first drew it with a brown pencil, then once I got the pattern I liked, I traced it in [with] liquid liner, then filled it in with a Black Creme Grease paint, followed by Delicately pressing Black Iridescent Glitter on top," he explained. Once her brows were canceled out, it was time to bedazzle them with rhinestones. To get them to stick to the skin, Rutledge revealed he used spirit gum dotted on the back of each stone, which he then placed on top of tiny black dots he'd drawn beforehand to pinpoint where to put them.
Lastly, he broke down how he achieved her gorgeous glitter lip, which he says he's been asked about over and over (no surprise there). "After tracing the #Lip with A Chestnut pencil and filling it in with an Orange matte lip color, I Then had glitter in the 4 colors mentioned above, mixed them, and with a Flat Head Brush, carefully pressed the glitter over the entire lip," he muses. (Rutledge told The Cut he used glitter by Lit Cosmetics{: rel=nofollow} for this look.)
Related: A Wrinkle in Time Costume Designer Paco Delgado Explains How He Achieved Otherworldly Looks