Pamela Anderson Wrote a Letter to Kanye West Asking Him to Help Julian Assange
She included a post-script asking his wife Kim Kardashian to consider going fur free.
---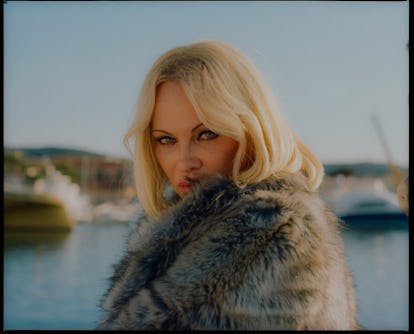 Kanye West has been causing quite a stir on Twitter in recent weeks, and apparently, Pamela Anderson thinks that means the rapper can help with a legal case close to her heart: that of Julian Assange. According to TMZ, Anderson has written a letter to West, asking him to give her friend some publicity and claiming the WikiLeaks founder is being tortured.
The letter, which TMZ obtained and published, begins, "Hi Kanye, hope you are well. I was wondering about your thoughts on Julian Assange. I support him and I know you value free speech—visibility is good for him especially in America. Where they are trying to put him away for life or worse for exposing corruption in governments. I think they are trying to kill him. It is torture."
Anderson goes on to describe Assange's current living conditions—"he's been locked in a small room for almost six years in London at the Ecuadorian Embassy. And he now can have no visitors. No phone calls or Internet. They are squeezing him,"—before explaining the fight she's leading to free him. She writes, "He is genius. A real world leader that young people love. So I want to seek more voices and share more about his fight. Public support could set him free. Media is monopolized so some brave voices are the only hope to break through."
Anderson also references West's recent crusade for "free thinking" on social media, appealing to his refusal to filter himself on his Twitter feed. "I've always supported your 'no filter'—you speak your mind. And you make an impact," she writes. "I'm sure a lot of people feel like you—they just are stuck in what society says is [okay] to say."
The Baywatch actress ends the note by imploring West to contact her via her social media or read about Assange's life ("I think you'd admire him," she says), before finally concluding with a post-script mentioning Kim Kardashian and thanking her for going "#FurFree," a reference to an open note the 50-year-old previously wrote to Kardashian about the dangers of the fur industry.
Though West has yet to publicly respond, it's clear at this point that no topic is off limits when it comes to the rapper's social media presence. Meanwhile, Anderson continues to tweet out his song "Ye vs. the People" and other messages of support for Assange, directed at West.
Related: Pamela Anderson, Uncensored, on Activism, Feminism, Family and Love