Did Paris Hilton Just Reignite Her Feud With Kim Kardashian Over a Photoshoot?
It all has to do with a photoshoot.
---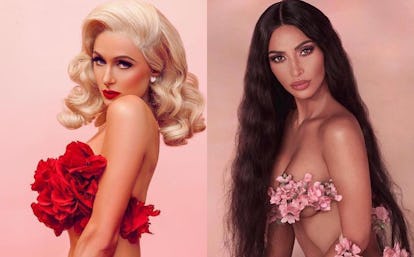 instagram.com/parishilton/instagram.com/kimkardashian
This year, as all things aughts cycled back, so did Kim Kardashian and Paris Hilton's friendship. Or did it? After Kardashian shared her latest photoshoot, Hilton seemingly reignited their feud.
It all started four days ago, when Kardashian shared the images for her new KKW Beauty collection, inspired by the cherry blossom. "My new ? @kkwbeauty Classic Blossom Collection ? is almost here and is inspired by my love for the pretty pink-colored Cherry Blossom trees," the reality TV star and mom of three wrote on Instagram in the caption of one photo. "(Chi's baby shower was cherry blossom themed!) ? The collection includes a 10-pan eyeshadow palette, 3 blushes, 8 lipsticks and 3 lip liners in shades of pretty pinks and berries ? So excited for you guys to get this beautiful collection!"
The premise for the images looked familiar to Hilton, though. That's because she did a similar naked photoshoot with roses strategically placed over her body one year ago. The experience must have been fresh in Hilton's memory, because she took the opportunity to point out the fact that she did a flower shoot first. "Love these photos I shot last year with the incredibly talented @BrendanForbes," she coyly wrote. It was in her hashtags, though, where she took more aim at Kardashian. She captioned her own photo with a fire emoji and "#iconic" before adding a crown emoji, suggesting that she's the queen.
Fan account @paris2000s shared the side by side comparison, writing, "and once again the OG #ParisHilton getting copied by #KimKardashian for her new fragrance launch. — history will be retweeted ?"
Of course this could all just be a coincidence, but let's be real: Hilton is a master of innocently throwing shade. When the same fan account posted a video of Lindsay Lohan calling Hilton a "c-nt," Hilton commented on the post, "#pathologicalliar." That came after Hilton revealed that Lohan won't be receiving an invite to her upcoming wedding to Chris Zylka, explaining the decision with "If you don't have anything nice to say, don't say anything at all."
Meanwhile, Hilton has shared that Kardashian will be receiving an invite. She recently talked up her frenemy—before this photoshoot—when discussing her decision to play a Kardashian clone in the Yeezy 6 campaign. "[Kim and I] have known each other since we were little girls. It was a fun thing to do," she said. She also applauded Kardashian after the Instagram star got Donald Trump to grant clemency to Alice Marie Johnson. "I'm so proud of her," Hilton said. "What she did was so incredible." Her Cherry Blossom shoot, however, is apparently another story.