Paris Hilton Will Not Be Inviting Lindsay Lohan to Her Wedding
"If you don't have anything nice to say, don't say anything at all."
---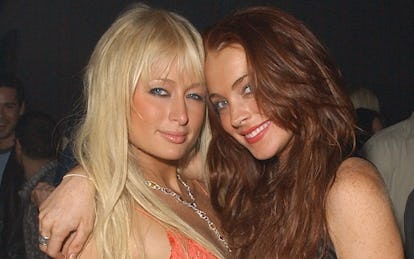 Michael Caulfield/WireImage for BWR Public Relations
In many ways, the world we live in today couldn't be more different from the one we inhabited a decade ago; one thing that hasn't changed: Paris Hilton and Lindsay Lohan's feud. Ever since 2006, when a video of the heiress laughing at her friend Brandon Davis calling the actress a "fire crotch" went viral, the pair have publicly thrown shade every now and then. The latest? Hilton offering an update on their nonexistent relationship.
When asked by TMZ whether or not Lohan would be invited to Hilton's upcoming wedding with Chris Zylka, Hilton replied with a laugh, "If you don't have anything nice to say, don't say anything at all"—a stance she later confirmed on Twitter. But would she attend Lohan's wedding if the actress, who is not engaged at the moment, ever had plans to get married? "Nah, I'm very busy." That's certainly true. In between planning for her wedding and modeling for Yeezy, Hilton has been DJing across the world, preparing for her musical comeback, and contemplating a return to reality TV. "We've been getting a lot of calls and a lot of offers from different networks, pitching that show, so maybe," she recently said.
As for the status of her relationship with Lohan these days, Hilton diplomatically said, "I don't have any drama with anyone but I choose to not surround myself with certain people. Life is too short."
One person who definitely will be on the guest list should she chose to RSVP is Kim Kardashian, Hilton's former closet organizer (not assistant). "I'm so proud of her," Hilton said of her BFF, who recently successfully petitioned president Donald Trump to grant clemency to first-time offender Alice Johnson, who had been serving a non-violent drug offense since 1996. "What she did was so incredible. That woman did not deserve to be there. The fact that Kim stood up for her and got her out is a miracle and shows the power of someone who can really use their voice to help someone in need. So I really applaud her."
This isn't the first time Hilton has celebrated Kardashian's accomplishments. Last year, after the two rekindled their friendship, Hilton told ES Magazine, "I love Kim. Basically we've been friends since we were born. I'm so proud of her, and everything she's achieved. Her family is beautiful, the little boy and girl, and I'm really happy for her." The aughts really are back.
Related: Paris Hilton Invented Everything You're Doing in 2017, and She Knows It
Paris Hilton's 20 Most Iconic 2000s Looks, From Juicy Couture to Rhinestones
Paris Hilton celebrates her 21st Birthday Party at the Stork Rooms in London wearing a chainmail halter dress and rhinestone choker necklace.

Dave Benett/Getty Images
Paris Hilton interviews the designer Jeremy Scott backstage while wearing a Von Dutch t-shirt and pink Juicy Couture sweatpants with her flip phone on the belt.

L. Cohen/Getty Images
Paris Hilton arrives at 'Guy's Club' in Los Angeles wearing a "Got blow," tank top, low-waist pants, and a rhinestone belt.

Getty Images
Paris Hilton poses with Nicole Richie in matching denim suits (and nothing underneath) outside The Lounge club in West Hollywood.

Getty Images
Paris Hilton shops Kim Kardashian in Sydney, Australia. They both wear white and carry oversized metallic Louis Vuitton bags and sunglasses.

PhotoNews International Inc./Getty Images
Paris Hilton wears all the trends: A New York Dolls shirt, fishnet tights, platform boots, arm warmers, a rhinestone, choker, and tinted lenses outside the Sunset Marquis.
Paris Hilton wears a Pony tank top, hat, and sweatband paired with a very miniature mini skirt to a party for the photographer Jamel Shabazz in Los Angeles.

Amy Graves/Getty Images
Paris Hilton wears a shirt that says, "I love shoes, bags, and boys," while out in New York City with her dog.

James Devaney/Getty Images
Paris Hilton wears a tiara and carries a pink Barbie bag at the Palazzo Suites at the Rio Hotel in Las Vegas, Nevada.

J. Vespa/Getty Images
Paris Hilton wears track pants on the red carpet during the Gen Art: Fresh Faces in Fashion event in Los Angeles.

J. Vespa/Getty Images
Paris Hilton discards her fur coat to show off a "Savage art" top while at a performance of The Pussycat Dolls in Hollywood.

Chris Polk/Getty Images
Paris Hilton dances at Light Nightclub in the Las Vegas Bellagio Hotel wearing a black slip dress with rhinestone trim and fishnet garters.

Denise Truscello/Getty Images
Paris Hilton poses in a cabana at the Cannes Film Festival wearing a bikini, fur coat, Dior choker, and oversized sunglasses.

J. Vespa/Getty Images
Paris Hilton wore a blue rhinestone dress and tiara to the New York celebration of her 21st birthday at Studio 54.

Ron Galella, Ltd./Getty Images
Paris Hilton wore a see-through pink dress and tiara to the California celebration of her 21st birthday at the GQ Lounge in Los Angeles.

J. Vespa/Getty Images
Paris Hilton attends an Armani Jeans and Vibe party wearing extremely low-waist, lace-up pants, a red one-shoulder top, and a matching beret.

Evan Agostini/Getty Images
Paris Hilton holds her late dog, Tinkerbell while wearing a pink Adidas tracksuit following the 2003 Golden Globes awards ceremony.

Amy Graves/Getty Images
Paris Hilton attends the premiere of "How High" in New York wearing an "I adore Dior" shirt with Eloise on it.

Ron Galella, Ltd./Getty Images
Paris Hilton wears an American flag chainmail halter top and denim skirt to a party celebrating Francois Nars' new book, "Makeup Your Mind."

Sylvain Gaboury/Getty Images
Last but not least: Paris Hilton wears a black slip dress, fur coat, and cowboy hat on the red carpet in the 2000s.

Ron Galella/Getty Images