Paris Fashion Week Confirms It: Men Are Monsters
Designers are literally sending out male models dressed as dogs and pigs.
---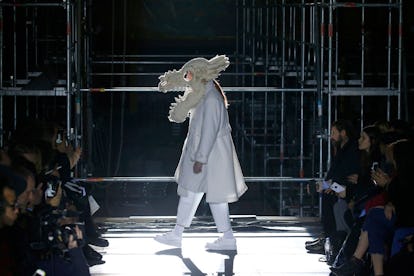 Estrop/Getty Images
Were we ever so young as last season at Paris Fashion Week, when the most notable, controversial trend from the shows was the now tame-seeming elf shoes? That was at the end of September 2017—in other words, just a week or two before the earth-shattering exposé of Harvey Weinstein. And since then, the deluge of monstrous men brought to light has hardly stopped.
Oh, how art imitates life. The biggest trend to emerge so far at Paris Men's Fashion Week these past few days is, well, a series of monstrous men wearing fashion down a runway. Julien David was the first to cause a scene with his fall 2018 collection on models wearing eerie, at times snarling latex dog masks on their heads. Opting for a presentation rather than a runway show, David let his pack loose to laze and lounge in a scene littered with whiskey bottles, video games, exercise equipment, and couches rampant with manspreading. "I wanted to take a step and look at the sociological aspect—how we behave," David told Vogue Runway, explaining that he was "just study[ing] the human species." (Interestingly enough, women, who have been featured in his men's shows the past two seasons, were missing from this rather unflattering study.)
Meanwhile, having already covered fantasy monsters last season, Walter Van Beirendonck got explicit, emblazoning the men who walked his show with the word "pig" in addition to dressing them up as the creatures. Sure, the pastel pink porcine outfit was actually quite cute, but when seen alongside its S&M counterparts—which featured a gross third hole cutout—Van Beirendonck was probably a little too on the nose. (The peephole might have been playfully provocative when Rick Owens did it two years ago, but certainly not today, and not when it's surrounded by prints with words like "monster," "daddy," and "gangbang.")
And is it any surprise that Rei Kawakubo at Comme des Garçons Homme Plus has so far had the most artful take on the trend? In quite a departure from the disco lights she turned on last season, the designer topped off nearly half of her models with giant, alarming masks weighed down by devil horns and oversized fangs. Not only were her monsters walking among men who didn't appear in the least threatening, but Kawakubo's playfulness had a powerful subtext: Her creatures were in fact dinosaur skeletons, which the hopeful among us could interpret as the coming extinction of an antiquated breed of masculinity.
How Street Style Stars Do Paris Fashion Week:
Related: The Women of Saturday Night Live Welcome Men To Hell with a Catchy New Song