A Brazilian Bikini Designer's Guide To the Ultimate Beach Day
Patricia Bonaldi breaks down the perfect summer day, from exercise to a Caipirinhas.
---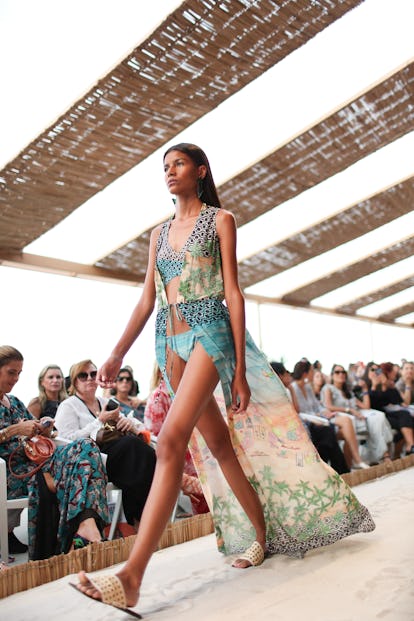 Patricia Bonaldi established her brand PatBO in 2012 in her native Brazil after beginning her career designing glamorous custom gowns. So, it is no surprise that her swimwear, like her dresses, are sophisticated, colorful, and embellished with detailed embroidery done by the women of her hometown, Uberlândia. The bikini designer confidently mixes textures, colors, and materials making each of her pieces a fun—and wearable—piece of art. Being Brazilian, Bonaldi knows particularly well what women want to wear on the beach—especially women who are bold and want to make a statement on the sand. Here, the designer shares her insider beach tips.
What is your favorite beach?
São Miguel, a very beautiful and peaceful beach in Macei, Algoas. Located in the northeast of Brazil, the contrast between the white sand beach and crisp blue water brings together a breathtaking landscape. If you ever have the chance to visit, I recommend exploring the natural pools that appear during low tide.
What is your favorite thing to do pre- and post- beach?
I like to start the day off with some exercise, like a quick walk. Afterwards, I usually get a massage, to continue relaxing after a peaceful day at the beach.
Do you prefer the pool or the beach?
Beach! I like to feel the sensation of immensity from the ocean. In fact, my hometown of Uberlândia doesn't have any beaches close by, so I have always been drawn to it.
What do you always bring to the beach?
A bag with SkinCeuticals oil free sunscreen for body, face, and hair, Caudalie grape water to refresh the skin, sunglasses, and my cell phone.
How does your favorite beach inspire your work?
It's such a peaceful and serene beach, so when I'm there I allow myself to disconnect and focus on the things in my imagination.
How would you style your swimsuit from the beach to a night out?
In Brazil, a day at the beach means you're allowed to wear your swimsuit all day, so I typically add a long wrap skirt, a clutch, and flats.
What is your ultimate do and don't at the beach?
Everyone should relax and have some cocktails, preferably a Caipirinhas or Clericot, and never wear heels to the beach, ever.
Which swimsuit reference has influenced you most?
My collection includes a variety of swim silhouettes, for every type of woman. Recently, the Brazilian artist, Tarsila Do Amaral's bold use of color and unique view on tropicalism inspired my upcoming Resort 2018 collection. Tarsila is a profound and well-known Brazilian artist whose work was central to the Brazilian Modernist Art Movement. I've always liked and felt inspired by her work.
What is your favorite memory at the beach?
New Year's Eve. I gathered my closest friends in a beach house in Maceio. It was a weekend filled with amazing memories including midnight fireworks on the beach.
What are you reading this summer?
Mindfulness by Gill Hasson.
What are three songs on your summer playlist?
"Mas Que Nada" by Seu Jorge,"Tarde em Itapuã" by Toquinho, and "Wouldn't It Be Nice" by the Beach Boys.
Nicole Kidman Could Go on "Survivor" and Crush It
The Ultimate Guide to Summer's Best Swimsuits