7 Inventive New Picture Books No Adult Would Be Ashamed to Read
Especially not you, Thomas Markle.
---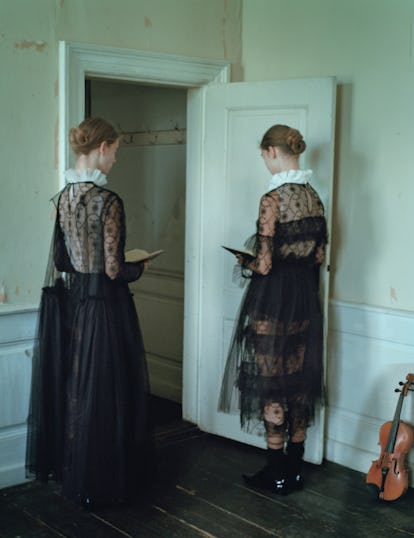 Photographs by Tim Walker, Styled by Jacob K
Picture books may be synonymous with children's books, but we—and perhaps Meghan Markle's father—beg to differ. In fact, here are seven recently published illustrated books from authors and artists who elevate the medium in vibrant and unexpected ways. Decode a playful tribute to William Steig's inventive C D B! with collaborators Molly Young and Joana Avillez; meet a gender fluid prince who wears gowns in Jen Wang's graphic novel; or revisit 40 years of Aline Kominsky-Crumb's gloriously NSFW comics. Here's some summer reading that's easy on the eyes, but not necessarily the mind.
D C-T! by Joana Avillez and Molly Young
In 1987, William Steig published C D B!, a delightful illustrated puzzle book that invited readers to decode its messages by reading its letters aloud ("C D B!" = "See the bee!"). Nearly 30 years later, writer Molly Young and illustrator Joana Avillez are paying homage to Steig's beloved book with D C-T! ("The City!"), a similarly phonetic wordplay adventure through New York City. One on page, toked-up bodega shopper is asked "R U I?"; on another, local icon Fran Lebowitz smoking inside a restaurant is captioned "D-V-N B-A-V-R." See if you can decode the page we include here.
Artist Kaye Blegvad is a prolific maker of jewelry, home accessories, and apparel. Other times, she illustrates books. In her latest, Dog Years, she relays living with depression to taking care of a bad dog. Her trademark black-and-white watercolor-esque images fill the pages of this beautifully bound book. It's perfect for creative folks, dog lovers, or anyone who wishes to feel less alone.
Women harbor some nasty, unhygienic habits that they wouldn't admit in real life. For an anonymous book, however, all the grossness is unleashed. This breezy and hilarious book depicts anecdotes of women and the unmentionable things they love doing with their pubic hair, boogers, bodily fluids, and more—all with the deepest of satisfaction, thanks to illustrator Tallulah Pomeroy's flagrant images of women going unabashedly wild.
Before there were the outspoken girls of Broad City, there was "the Bunch," underground comics artist Aline Kominsky-Crumb's irreverent comic-strip alter-ego. Nothing was off limits for the Bunch, who was often depicted on all fours, on the toilet, and many other stereotypically "unladylike" positions. This new book collects four decades of Kominsky-Crumb's intimate, witty, and unfettered work with the Bunch—and places the artist squarely in the "ahead of her time" category.
In true fairytale fashion, this is a story so astounding that film rights have already been acquired. The graphic novel follows a gender fluid teenage prince Sebastian who dons fabulous gowns at night. His best friend Frances, who designs all of his outfits, however, lives in secrecy at his request. But as Sebastian's style status begins to rise, Frances begins to yearn for recognition of her own. We can't wait to see this stunning comic translated for the big screen.
Cake by Maira Kalman and Barbara Scott-Goodman
Maira Kalman has a gift for telling wide-ranging stories through her artwork; her illustrations have appeared everywhere from The New Yorker to a plethora of beloved children's books. In this year's Cake, Kalman collaborates with food writer Barbara Scott-Goodman for a delicious, visually-pleasing take on the dessert cookbook. Whether you're inspired by the decadent images or the recipes, this book is pretty sweet.
After writing bestselling novels like The Kite Runner and A Thousand Splendid Suns, author Khaled Hosseini presents a short, illustrated novel written in response to the Syrian refugee crisis. In Sea Prayer, a father tells his sleeping son tales of his childhood in Syria to pass time as they journey to their new home and uncertain future. It's a work that proves the power of images when words just aren't enough.