Why Supermarket Shopping Bags Are So Fashion Right Now
The humble plastic tote goes luxury.
---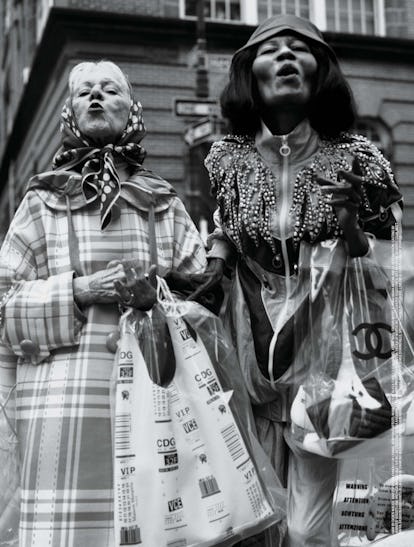 Photograph by Oliver Hadlee Pearch, Styled by Sara Moonves; Hair by Didier Malige; Makeup by Emi Kaneko for chanel at Bryant Artists; Manicures by Alicia Torello for chanel at The Wall Group; Models: Anna Maria Mitoni and Gladys Mathon; Casting by Jennifer Venditti and michele mansoor at JV8 Inc; retouching by ana barreira at aly studio; Produced by Kalena Yiaueki at North Six; Photography Assistants: Jeff Pearson, Eduardo Silva, Matt Baffa; Fashion Assistants: Allia Alliata, diamond Buchanan; Production Assistants: Mat Silwa, Matt Asti, Jorge Dorinsville; Special thanks to Vivid Kid, Lemons & Olives, Ludlow Studios
When it was announced that Phoebe Philo would be leaving Céline back in December, fashion fans everywhere began to mourn the end of an era as they prepared to say goodbye to one of the industry's most beloved designers. This is, after all, the woman who ushered in the "ugly footwear" era with furry Birkenstock-like sandals, made pajama-dressing so cool that Kanye West donned a silk shirt on tour, and made a plaid traditionally seen on classic laundry bags a must-have print. When everyone else zigs, Philo zags—and she's not leaving her post without creating one last unexpected trend.
For Spring 2018, the designer, who has made quite a few cult It bags over the years, showed a new kind of carryall on the runway: a clear plastic shopping bag, not at all unlike the one you might find at the grocery store. The only difference here? The word "Céline" emblazoned across the front. Chic.
Philo wasn't the only one turning to the food market for inspiration, however. The same season, Balenciaga showed its own so-called "Supermarket Shoppers," albeit done in lambskin to mimic the shiny material rather than your run-of-the-mill plastic (the $1,000 price tag certainly reflects this crucial change). At Chanel, Karl Lagerfeld matched models' transparent hats, gloves, and boots with totes made special with the house's signature quilting and touches of neon hues. And just last month, during London Fashion Week, Christopher Bailey sent out his final collection for Burberry with a handful of swingy totes, perfect for a particularly fancy trip to the farmers' market.
As the quirky pieces begin to hit stores, it's no surprise that they quickly popped up on the street style set this season. Fashion favorites like Sylvia Haghjoo, Natasha Goldenberg, Irina Linovich, and Alicia Herbeth have all donned a designer bag, drawing attention to both their outfits and the innermost contents of their bag. (Would you be shocked to hear that it's all impeccably curated? Nary a stray tampon or uncapped lipstick in sight.)
It certainly has infiltrated the fashion set, but it begs the question: Will celebrities next hop on the trend? Changes are looking unlikely. First of all, the contents of the bags of the rich and famous are reserved solely for full-page features in US Weekly. And second, giving off the appearance that you do your own shopping? That's an assistant's job.
Related: It Model Sara Grace Wallerstedt Emerges Into the Light as a High-Fashion Punk