Prince Ernst-August Married Ekaterina Malysheva in Germany Despite His Father's Objections
Prince Ernst-August married the Russian-born fashion designer, but the groom's father refused to give his blessing.
---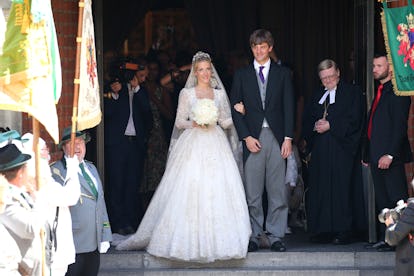 Gisela Schober
The German House of Hanover hasn't technically ruled over a kingdom in over a century, but the deposed royal family can still churn up some imperial drama and drag a good chunk of the rest of European royalty into it. Over the weekend, Prince Ernst August of Hanover, Jr. married his longtime girlfriend Ekaterina Malysheva, a Russian-born designer of catsuits, in a lavish televised ceremony that kicked of ten days of planned celebrations. Though, the event was somewhat overshadowed by the groom's father Prince Ernst August of Hanover, Sr.'s last minute decision to publicly oppose the marriage and decision not to attend.
If you're familiar with the name Prince Ernst August of Hanover, Sr.'s name it may be because he's the estranged husband of Princess Caroline of Monaco (yes, Grace Kelly's eldest daughter). The couple wed in 1999, but have been separated since 2009 (Ernst Jr. is the product of his father's first marriage to Swiss heiress Chantal Hochuli). Caroline didn't attend either, but seemed to signal her support by allowing her children, the groom's glamorous step and half-siblings, to attend.
Ernst Sr.'s public disapproval had nothing to do with his son's choice of bride, so hopefully any possible reconciliation won't lead to any awkward family holidays. Thirty-three-year-old Ernst Jr. and 31-year-old Malysheva had been dating for about eight years after reportedly meeting at a party in London. Though born in Russia, Malysheva was raised in the Czech Republic and studied fashion in London. Her colorful high end catsuit line, Ekat, is a festival girl favorite and has been worn by the like of Sienna Miller and Miley Cyrus. Malysheva herself got the idea for the line after she was complimented on her own catsuits while attending Burning Man.
She also once shared her Halloween tips and style secrets with W (amongst the things she always has in her bag: "lots of other crap I don't need.").
So, she might not be your traditional prince's bride, but Ernst Sr.'s seems to be fine with the actual pairing.
What he's really upset with is his property. Basically, the man wants his castle.
Back in 2004, when Ernst, a cousin of Queen Elizabeth II, was dealing with tax issues he passed a lot of his property over to his son and would now like it back, thank you very much.
"The decision was not easy for me because it concerns my son," he told a German newspaper while making his intent to snub the nuptials public. "But I am constrained to preserve the interests of the House of Hanover and the property, including cultural property, which has been its property for centuries."
Amongst those properties is the Marienburg castle which once served as the center of Government for the former Kingdom of Hanover (one of several independent Kingdoms that now make up the country we know as Germany). The younger Ernst refused to give it back, and, actually held his wedding dinner at that castle.
Now, as for the actual wedding, Ernst and Ekaterina held a lowkey civil ceremony last Thursday on July 6th, but kicked off the big shebang with the televised church ceremony at Hanover's Market Church before 600 guests, according to People.
The bride wore a traditional gown created by her friend Sandra Mansour, but her ensemble included a special royal touch. People reports that her veil was topped with, "a diadem created for the May 1913 wedding of Princess Victoria Luise, daughter of Germany's last Kaiser, for her wedding to Ernst August III, the groom's great-grandfather."
After the ceremony the couple departed in a horse drawn carriage while being heralded by a 100-member honor guard. Later they rejoined guests for lunch at Herrenhauser Gardens and then held a formal dinner at the castle the groom's father so earnestly wants back.
Guests included, Princess Alexandra of Hanover, the groom's 17-year-old half-sister and the result of Ernst Jr. and Caroline's marriage. Princess Caroline's jet setting children from her previous marriage to Italian socialite Stefano Casiraghi also attended with their glamorous spouses. That squad included Prince Andrea Casiraghi and wife Tatiana Santo Domingo, Prince Pierre Casiraghi and wife Beatrice Borromeo (who had their own lavish wedding just two summers ago), and Princess Charlotte Casiraghi.
Other attendees included the groom's brother Prince Christian of Hanover and his fiancee Alessadra de Osma, Prince Georg Friedrich Ferdinand Prince of Prussia and his wife Princess Sophie of Prussia, Prince Maximilian Andreas Markgraf von Baden and his wife Valerie Isabella Habsburg-Lothringen, and Elisabeth of Thurn and Taxis.
Though, fathers staying off the guest list seems to be something of a House of Hanover tradition. Prince Ernst Sr's first marriage was also snubbed by his father.
Related: The Most Photogenic, Adventurous Socialite Weddings of the Summer So Far
From Kate Middleton and Prince William to Charles and Diana (and Camilla), a Brief History of British Royal Weddings—And Their Attending Scandals
Original diva Queen Victoria might not have been the first bride to wear white, but she was the one who made a white gown something of a protocol. Victoria commissioned a white lace dress for her 1840 wedding to Prince Albert, intending to support the struggling lace-making industry and best showcase the textile. Further, she destroyed the pattern for her dress so it could not be replicated, and she decreed no one else could wear white to her wedding. After the ceremony, she and Albert—for whom London's Victoria and Albert museum is named—traveled to Windsor Castle for the night; though Albert had hoped to take a two-week honeymoon with his new wife, already the reigning queen, Victoria told him she could not take that much time off from work and they limited their vacation to just a few days.

Heritage Images/Getty Images
On April 26, 1923, Elizabeth Bowes Lyon married George VI, who would go on to become king—and she, the Queen Mother, giving birth to Elizabeth II in 1926. Queen Mary, George's mother, lent her daughter-in-law the lace veil she wore for the occasion. British designer Madame Handley Seymour made the dress—custom dictated it must be a British creation—but its silhouette was based on those of Jeanne Lanvin, then very much in vogue.

Universal History Archive/Getty Images
Between Victoria, which stars Jenna Coleman as the titular monarch, and The Crown, with Claire Foy as Elizabeth II, British royals' romances have been the subject of much pop culture fascination lately. Elizabeth, who was crowned queen in 1953, wore an elaborate dress by Norman Hartnell for her 1947 wedding to Phillip Mountbatten. If she resembles someone out of a Botticelli painting, that's precisely what the designer intended with the delicate floral embroidery and 10,000 seed pearls sewn into the design. It was just two years after the end of World War II, and austerity measures were still in place rationing fabric, buttons, and types of trim, so, reportedly, young women all over England sent their clothing coupons to Princess Elizabeth; with her own savings, plus a 200-coupon bonus from the government, she was able to afford the dress, which took six months to make. (The Crown's reproduction cost a reported $37,000 and took seven weeks.)

Universal History Archive/Getty Images
Elizabeth's younger sister Princess Margaret married the photographer Antony Armstrong-Jones, a contributor to Vogue and Vanity Fair, on May 6, 1960. It was a lavish affair, costing a reported $65,000—not to mention the additional $115,000 of her seagoing honeymoon—that didn't do much to improve her reputation among her subjects. Margaret had previously been embroiled in scandal, engaging in an affair in the early '50s with Captain Peter Townsend, a war hero 15 years her elder, who happened to already be married. Townsend later divorced his wife, but Margaret was nevertheless unable to marry him because her religion—and the royal family's adherence to Catholicism—prohibited her from wedding someone who had previously been married. Still, her subsequent marriage to Armstrong-Jones ended in divorce in 1978.

AFP/Getty Images
When Charles, Prince of Wales, was 24 years old, he met Camilla Parker Bowles. But, according to biographer Sally Bedell Smith, the prince was not yet ready to commit to marriage and gendered double standards of the mid-20th century meant Charles was expected to marry a woman who could plausibly present herself as a virgin. Cue Diana: Though Charles remained enamored of Bowles, he ended up marrying Diana Spencer, a woman 13 years younger whose grandmothers had been ladies-in-waiting to Charles's grandmother, Elizabeth, the queen mother, in 1976. They divorced in 1996, after both had engaged in affairs (Charles, picking up his relationship with Bowles again); Diana died in a car crash in 1997.

Ron Bull/Getty Images
Andrew, Duke of York, the third child of Queen Elizabeth II, and Sarah Ferguson began their relationship in 1985 and married in 1986. They were both 26 years old. Her gown, by the designer Lindka Cierach, featured detailed iconography embroidered throughout, representing Andrew's naval service (anchors, waves), romantic symbols, and images drawn from Ferguson's own family crest. They divorced 10 years later.

Tim Graham/Getty Images
Prince Charles, currently next in line for the throne after his mother, Queen Elizabeth II, married his longtime romantic partner Camilla Parker Bowles in a civil ceremony on April 9, 2005. Bowles, now Duchess of Cornwall, wore a dress by British designer L.K.Bennett with a Phillip Treacy hat for the wedding and a Robinson Valentine ensemble for the service afterwards. The couple opted for a civil service in lieu of a full church wedding, presumably to avoid the controversy that could attend a religious ceremony, given the crown's stance on divorce. (Both Charles and Camilla, at this point, had divorced previous partners.)

ALASTAIR GRANT/Getty Images
In 2011, Prince William, Duke of Cambridge, the eldest son of Charles and Diana and the current second in line for the throne after his father, married longtime girlfriend Kate Middleton, now Catherine, Duchess of Cambridge, on April 29, 2011. (The media circus that surrounded the event just evidences the continued adulation of the British public, though the royal family no longer has any legislative power in the United Kingdom.) Middleton's dress, custom-designed by Sarah Burton for Alexander McQueen with its deep-v neck, long sleeves, high collar, and lace overlay, has inspired countless replicas; among the frontrunners for designers to create the gown were Victoria Beckham and Stella McCartney. Designers Karl Lagerfeld, Oscar de la Renta, and Vera Wang all praised the design, comparing it to royal weddings past like Elizabeth II and Diana. Also at the wedding: Kate's sister Pippa Middleton, whose own wedding is slated for this weekend and who drew headlines of her own with her clingy white dress, also by Alexander McQueen.

Clive Rose/GP/Getty Images
UNITED KINGDOM – JULY 18: The Wedding Of Tim Taylor To Lady Helen Windsor At St Georges Chapel Windsor. Wedding Dress By Catherine Walker (Photo by Tim Graham/Getty Images)

Tim Graham
See What's Trending in W Video: