Prince George Is Now Officially a British Style Icon at Five Years Old
The "Christopher Robin chic" toddler has joined Queen Elizabeth and Harry Styles on the Tatler's 2018 Best Dressed list.
---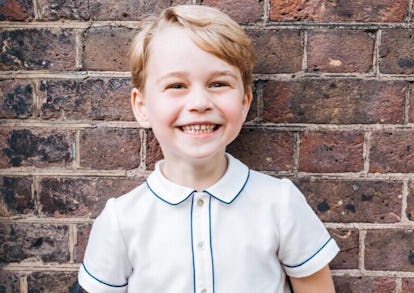 instagram.com/kensingtonroyal
For all of Prince George's recent efforts to forge his own path, from declining playtime with Princess Charlotte to making his public debut as a goth, on Thursday, he joined a host of his royal family members on Tatler's 2018 Best Dressed List—the magazine's, and at this point, the country's, annual sartorial ranking of Brits. He still certainly stands out from the rest, though, at the very least for simply being all of five years old.
Prince George has, to be fair, made quite a departure from the matching striped ensembles Prince Harry and Prince William could be seen in at that age, which hasn't escaped the former's notice: "I genuinely think she got satisfaction in dressing William and myself up in the most bizarre outfits. Also, shiny shoes," he said recently of their mother in this year's HBO documentary about Princess Diana.
If he's as bitter as Prince Harry sounds about that, William might have more to do with Prince George's typical adorable, uniform-like looks, which Tatler described as "Christopher Robin chic," than you may think. Typically, they've been chalked up to George's mom, Kate Middleton, who joined him on this year's list, landing the magazine's praise for sartorial quirks of the Duchess's that have previously brought her criticism, like carrying over her habit of rewearing dresses to this year's royal wedding.
Predictably enough, the list also includes newfound royal Meghan Markle. And on the other end of the age spectrum from Prince George is 92-year-old Queen Elizabeth II, who we must say has been particularly on point with her monochromatic looks as of late. (She even stole the spotlight from Markle during their first official engagement last month, when she turned up in a dazzlingly lime green number.)
Royals reigned over this year's list, with additions like Lady Amelia Windsor and Duchess Camilla of Cornwall (for "giving millinery a good name"). But a wide-ranging set of names was also thrown in there, too: Amal Clooney comes as no surprise, but it's definitely a milestone of sorts for Dua Lipa, the singer who made her mainstream breakthrough in 2017.
Harry Styles, on the other hand, just might take the cake when it comes to choice picks for keeping company with the Queen. Come to think of it, ever since Styles has become a Gucci convert, their respective senses of style has surprisingly come to resemble each other's more and more as of late.
And while there were royals aplenty, there was in fact at least one royally reckless oversight. Alas, Princess Anne. There's always next year.
Princess Anne Is a Modern Fashion Icon Hiding in Plain Sight
Princess Anne at the Chelsea Flower Show in London, two days after Meghan Markle and Prince Harry's royal wedding, May 2018.

Chris Jackson/Getty Images
Princess Anne on the grounds of Sandringham House, February 1970.

Central Press/Getty Images
Princess Anne with her arm in a sling after she fell off her horse in Kiev, Russia, for a championship competition, September 1973.

Tim Graham/Getty Images
Princess Anne on the opening day of the 2010 Olympic Games in London, July 2012.

Paul Gilham/Getty Images
Princess Anne on the grounds of the Windsor International Horse Trials in Windsor, May 2004.

Carl De Souza/Getty Images
Princess Anne on a visit to Kiev, Russia, September 1973.

Tim Graham/Getty Images
Princess Anne on the course of the first Gatcombe Park Horse Trials in Glouchestershire, August 1983.

David Levenson/Getty Images
Princess Anne at a theater in London, September 1973.

Tim Graham/Getty Images
Princess Anne at the Windsor Horse Trials in Windsor Great Park, May 1984.

David Levenson/Getty Images
Princess Anne at the Derby in Epsom, 1983.

Tim Graham/Getty Images
Princess Anne at Horse Trials in the U.K. with members of the Royal Canadian Mounted Police, 1968.

Jeremy Fletcher/Getty Images
Princess Anne with her cell phone and walkie-talkie at the Whatley Manor Horse Trials at Gatcombe Park in Stroud, September 2017.

Max Mumby/Indigo/Getty Images
Princess Anne at age 23, with her fiancé Captain Mark Phillips, at the London premiere of Jesus Christ Superstar, August 1973.

AFP/Getty Images
Princess Anne at John Smith's Grand National horse racing meeting in Liverpool, April 2011.

Max Mumby/Indigo/Getty Images
Princess Anne on a visit to the Ackworth Group of the Riding for the Disabled Association, June 1983.

PA Images/Getty Images
Princess Anne at St Giles' Cathedral's Thistle Service in Edinburgh, July 2016.

Max Mumby/Indigo/Getty Images
Princess Anne with Queen Elizabeth II and her grandson, Peter Phillips, at the baby's christening, December 1977.

Hulton Archive/Getty Images
Princess Anne in Gambia for Save the Children, February 1984.

Tim Graham/Getty Images
Princess Anne and her second husband Timothy Laurence at the 2016 Braemar Highland Gathering in Scotland, September 2016.

Mark Cuthbert/Getty Images
Princess Anne, pregnant with her daughter Zara, and her husband Mark Phillips, in Great Somerford, May 1981.

Tim Graham/Getty Images
Princess Anne on a visit to Zagorsk, Russia, May 1990.

Tim Graham/Getty Images
Princess Anne with her children Peter and Zara At the Royal Windsor Horse Show, May 1984.

Tim Graham/Getty Images
Princess Anne at a parade at Sandhurst Military Academy, August 1973.

Tim Graham/Getty Images
Princess Anne at the race course of the Cheltenham Festival, March 2017.

Max Mumby/Indigo/Getty Images
Princess Anne at the Save The Children Festival Of Trees in London, ca. 2000s.

Tim Graham/Getty Images
Related: Every Outfit Meghan Markle Has Worn Since Becoming the Duchess of Sussex
Princess Charlotte and Prince George Are the Ultimate Kid Jet-Setters
Catherine, Duchess of Cambridge, Prince William, Duke of Cambridge, Prince George of Cambridge and Princess Charlotte of Cambridge depart Victoria on October 1, 2016 in Victoria, Canada.

Getty
October in Victoria, British Columbia, can be a bit chilly, and young Princess Charlotte demonstrated that she knows the art of layering. Trading white ankle socks for warmer tights, the little Princess paired a burgundy cardigan over a floral printed dress (a signature of hers!) with of course, matching Mary-Janes.

Getty
Princess Charlotte of Cambridge and Prince George of Cambridge look out of the window of the plane as they arrive at Warsaw airport during an official visit to Poland. Prince George wears a blue and red checked button down shirt for his arrival in Europe.

Getty
A few days earlier, the young royals arrived in Warsaw, Poland, which was the first leg of their royal tour.

Getty
Prince George may be past his terrible twos, but the young royal did not seem as eagar as his younger sister to practice his royal wave and shake hands with German diplomats. However, he still looked the part by wearing on of his go-to pairings, a button-down shirt tucked into shorts, worn with a belt and black shoes.

Getty
Duchess Catherine looked fresh and lovely in an all-white ensemble, while Princess Charlotte stole the show in a red printed high-waist dress, with little white socks and red mary-jane shoes.

Getty
Last fall, the young royals performed had their first overseas adventure, accompanying Mum and Dad on an official Royal Tour of Canada. Charlotte's bow was a sweet touch, while Prince George's knee-socks were the perfect accessory for a growing toddler.

Getty
In Canada on her first Royal Tour last fall, Princess Charlotte received her first lessons in the royal wave, while dressed in a blue printed dress, white ankle socks, and blue mary-jane shoes.

Getty
The royal family is currently touring Germany, with stops in Berlin, Heidelberg, and Hamburg. Here, Prince William, little Prince George, Duchess Catherine, and Princess Charlotte arrive in Berlin to a red carpet welcome.

Getty
Prince George and Princess Charlotte arrive at Berlin's Tegel Airport during an official visit to Poland and Germany on July 19, 2017 in Berlin, Germany.

Karwai Tang
Duchess Catherine holds the hands of her two children, and walks with the young royals down the red carpet. She may have opted to dress Prince George and Princess Catherine in matching shades of blue in honor of Germany's flower, the cornflower.

Getty
Prince George and Prince William, Duke of Cambridge arrive at Warsaw airport ahead of their Royal Tour of Poland and Germany on July 17, 2017 in Warsaw, Poland.

Karwai Tang
Prince William, Duke of Cambridge, Catherine, Duchess of Cambridge, Prince George of Cambridge and Prince William, Duke of Cambridge arrive at Berlin Tegel Airport during an official visit to Poland and Germany on July 19, 2017 in Berlin, Germany.

Franziska Krug
Prince George, Princess Charlotte of Cambridge and Catherine, Duchess of Cambridge coordinated in pastel pinks and purples before departing from Hamburg airport on the last day of their official visit to Poland and Germany on July 21, 2017.

Karwai Tang
Prince George boards the helicopter in a button-down shirt and shorts.

Samir Hussein
Prince George, Princess Charlotte of Cambridge and Catherine, Duchess of Cambridge coordinated in pastel pinks and purples before departing from Hamburg airport on the last day of their official visit to Poland and Germany on July 21, 2017.

Pool/Samir Hussein