Prince George, Now Taking Ballet Classes, Is Taking After Princess Diana
The five-year-old is apparently "loving" it.
---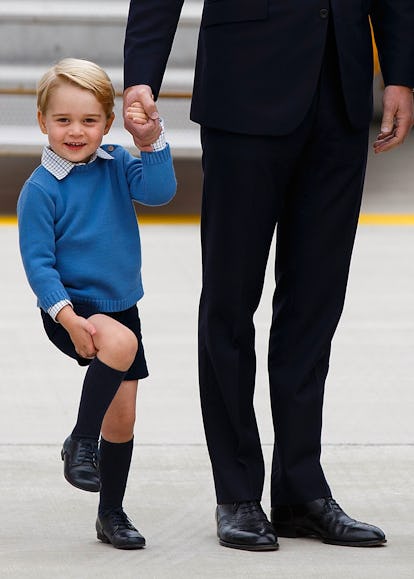 Andrew Chin/Getty Images
At all of five years old, Prince George has already officially become a British style icon. He's also already begun to make a name for himself in other fields as well, as Prince William shared last week during a reception for his and his wife Kate Middleton's "Teen Heroes." When it came time for William to greet Junior, a 14-year-old dancer and anti-bullying advocate, he also brought up another young dancer in his life, telling Junior, "George is doing dancing as well. He loves it."
Since last year, Prince George has attended Thomas's Battersea in London, where he goes by the modest moniker "George Cambridge." His parents reportedly weren't just attracted to the school because it's only four miles away from their home at Kensington Palace, but also because of its focus on physical activity, which can take up to 20 percent of the students' curriculum. In addition to the standard P.E., one of the classes the young Prince is taking this year—a long list including history, religious studies, French, computing, and technology—is ballet, for which apparently a live pianist is on hand to accompany the little dancers at every session. (They also adhere to the Royal Academy of Dance's Pre-Primary in Dance syllabus.)
While he's taking after Meghan Markle in the acting department, with a performance set for later in the school year, George's latest endeavor puts him much more in the realm of Prince William's late mother, Princess Diana, as William also pointed out to Junior. "My mother always used to dance—she loved dancing," he continued, adding some words of encouragement. "If it's something you love, you do what you love. Don't let anyone else tell you otherwise. Keep at it."
Diana's forays into dance may have been best showcased during her and John Travolta's memorable 15-minute takeover of the White House's dance floor in 1985, but they in fact date back to when she was a child ballet student who aspired to ballerina. When she shot up to 5'10" and became too tall to make it as a professional, she transferred that passion into activities like supporting the English National Ballet.
As for the rest of the family, it was just a matter of years ago that Prince George's parents donned grass skirts and joined the locals of Tuvalu in a spirited rendition of traditional South Pacific dance. Unfortunately, though, it's been decades since we've seen Queen Elizabeth square-dancing, as she so memorably did while on a visit to Ottawa in 1951.
Related: Rihanna Takes Inspiration From Princess Diana When She Wants to Send Her Exes a Message
Revisit Princess Diana's Best Style Moments on What Would Have Been Her 58th Birthday
Princess Diana outside her flat in Coleherne Court, London, December 1980. Photo by Jayne Fincher/Princess Diana Archive/Getty Images.

Princess Diana Archive
Princess Diana in a dress by Cojana with Prince Charles in the gardens of Buckingham Palace on the day they announced their engagement, February 1981. Photo by Tim Graham/Getty Images.

Tim Graham
Princess Diana with Prince Charles at Craigowan Lodge on the Balmoral Estate, May 1981. Photo by Tim Graham/Getty Images.

Tim Graham
Princess Diana at a polo match in Windsor after the Ascot races, June 1981. Photo by Tim Graham/Getty Images.

Tim Graham
A pregnant Princess Diana during a trip to the Isles of Scilly, April 1982. Photo by Kypros/Getty Images.

Kypros
Princess Diana wearing the colors of Canada during a state visit to Edmonton, Alberta, June 1983. Photo by Bettmann/Getty Images.

Bettmann
Princess Diana in a Smith's Lawn sweater with Prince Charles at a polo meeting at Windsor, June 1983. Photo by Jayne Fincher/Princess Diana Archive/Getty Images.

Princess Diana Archive
Princess Diana at the Melbourne airport, October 1985. Photo by Jayne Fincher/Getty Images.

Princess Diana Archive
Princess Diana on holiday in the south of France, 1985. Photo by Anwar Hussein/WireImage.

Anwar Hussein
Princess Diana in a Bruce Oldfield dress during a visit to Venice, May 1985. Photo by Tim Graham/Getty Images.

Tim Graham
Princess Diana outside Highgrove with her son Harry, July 1986. Photo by Tim Graham/Getty Images.

Tim Graham
Princess Diana on holiday in Majorca, Spain, August 1987. Photo by Georges De Keerle/Getty Images.

Georges De Keerle
Princess Diana at a Berlin Opera House gala performance in a gown by Catherine Walker, November 1987. Photo by Tim Graham/Getty Images.

Tim Graham
Princess Diana and Prince Charles at the Munich Opera House, November 1987. Photo by Tim Graham/Getty Images.

Tim Graham
Princess Diana at a state reception in Melbourne, October 1988. Photo by Jayne Fincher/Princess Diana Archive/Getty Images.

Princess Diana Archive
Princess Diana in a Catherine Walker gown at a dinner at the British Embassy in Paris during her official visit to France, November 1988. Photo by Georges De Keerle/Getty Images.

Georges De Keerle
Princess Diana in a Catherine Walker suit and a Philip Somerville hat in Kuwait City, United Arab Emirates during her official tour of the Gulf States, March 1989. Photo by Georges De Keerle/Getty Images.

Georges De Keerle
Princess Diana at St. Mary's Hospital in Paddington, London, March 1989. Photo by Georges De Keerle/Getty Images.

Georges De Keerle
Princess Diana in a dress by Catherine Walker at the London Coliseum for a performance of Swan Lake by the Bolshoi Ballet, July 1989. Photo by Tim Graham/Getty Images.

Tim Graham
Princess Diana at Claridges for a state banquet, July 1989. Photo by Julian Parker/UK Press via Getty Images.

Julian Parker
Princess Diana with her sons William and Harry at Wetherby School on Harry's first day, September 1989. Photo by Tim Graham/Getty Images.

Tim Graham
Princess Diana in Budapest during her official visit to Hungary, May 1990. Photo by Georges De Keerle/Getty Images.

Georges De Keerle
Princess Diana and her son Harry at Windsor Chapel for the wedding of Lady Helen Windsor and art dealer Tim Taylor, July 1992. Photo by Jayne Fincher/Getty Images.

Princess Diana Archive
Princess Diana in a gown by Christina Stambolian at the Serpentine Gallery in London, June 1994. Photo by Jayne Fincher/Getty Images.

Princess Diana Archive
Princess Diana with her sons William and Harry on the day Harry joined Eton, September 1995. Photo by Anwar Hussein/WireImage.

Anwar Hussein
Princess Diana in a Virgin Atlantic sweatshirt at the Chelsea Harbour Club in London, November 1995. Photo by Anwar Hussein/WireImage.

Anwar Hussein
Princess Diana at the Victor Chang Cardiac Research Institute dinner dance in Sydney, October 1996. Photo by Tim Graham/Getty Images.

Tim Graham
Princess Diana at the Chelsea Harbour Health Club in London, May 1997. Photo by Antony Jones/UK Press via Getty Images.

Antony Jones
Princess Diana in a Jacques Azagury dress at the English National Ballet performance of Swan Lake at the Royal Albert Hall in London, June 1997. Photo by Anwar Hussein/Getty Images.

Anwar Hussein