Does Princess Eugenie's Wedding Portrait Signal an End to Fergie and Philip's Feud?
No feud too great for a wedding!
---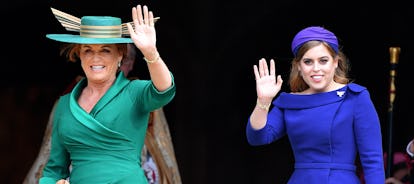 Photo by Pool/Max Mumby/Getty Images
Do weddings magically heal old wounds or are the royals just putting on a show of politeness? Either way, it's nice to see old enemies at least looking like they get along during these difficult times. In the official portraits from Princess Eugenie's royal wedding, the bride's mother, Sarah Ferguson (AKA Fergie), stands directly next to Britain's Prince Philip, the bride's paternal grandfather both looking at ease, or at least, as at ease as you can in formalwear. Indeed, it's the first time the two have been pictured together in the last 26 years, so the fact they're positioned next to each other comes as even more of a surprise.
For the uninitiated (it hasn't been covered on The Crown yet, so we forgive you), Sarah "Fergie" Ferguson and Prince Andrew, Philip and Queen Elizabeth's second son, had a rocky divorce that included some rather embarrassing episodes, and Prince Philip has reportedly never forgiven her. Their "feud" is longstanding and, given how much time the Windsors have to spend together, a little difficult to navigate, logistically. Who gets invited to which wedding, for instance, is always a guessing game. For the full story, read our explainer on the relationship here.
One especially odd detail: Fergie and Andrew live together, and have been living together on and off for the better part of two decades. There's even some speculation that the 97-year-old's dislike of his former daughter-in-law is the only thing keeping the pair from remarrying (of course, as with all rumors that start in the British tabloids, take it was a grain of salt). So, does this new picture at a royal wedding suggest a future, well, royal wedding?
Simple as it may seem to snap a photograph of the bride's family members together, this is the first time Fergie and Philip have been photographed together in over a quarter century, at least publicly. And, according to Page Six, "Philip has refused to publicly acknowledge his estranged ex-daughter-in-law since 1992." The Queen, to her credit, has maintained a much more civil relationship with Ferguson, even inviting her to her vacation home Balmoral along with her daughters, just as long as Philip isn't there.
Per People, the photo was taken inside the White Drawing Room inside Windsor Castle, apparently the Camp David of the royals. Thanks guys, can you do the Koreas next?
Related: Sarah "Fergie" Ferguson and Prince Philip's Feud: A History
Princess Eugenie's Royal Wedding: See What Everyone Wore, From Meghan Markle to Kate Moss
Meghan, Duchess of Cambridge arrives ahead of the wedding of Princess Eugenie of York to Jack Brooksbank at Windsor Castle on October 12, 2018, in Windsor, England.

WPA Pool
Kate Moss and Lila Grace Moss Hack ahead of the wedding of Princess Eugenie of York and Mr. Jack Brooksbank at St. George's Chapel on October 12, 2018, in Windsor, England.

WPA Pool
Demi Moore arrives ahead of the wedding of Princess Eugenie of York and Mr. Jack Brooksbank at St. George's Chapel on October 12, 2018, in Windsor, England.

WPA Pool
Holly Valance arrives ahead of the wedding of Princess Eugenie of York and Mr. Jack Brooksbank at St. George's Chapel on October 12, 2018, in Windsor, England.

WPA Pool
James Blunt and Sofia Wellesley arrive ahead of the wedding of Princess Eugenie of York and Mr. Jack Brooksbank at St. George's Chapel on October 12, 2018, in Windsor, England.

WPA Pool
Emma Joy Kitchener and Julian Fellowes arrive ahead of the wedding of Princess Eugenie of York to Jack Brooksbank at Windsor Castle on October 12, 2018, in Windsor, England.

WPA Pool
Pixie Geldof and George Barnett arrive ahead of the wedding of Princess Eugenie of York to Jack Brooksbank at Windsor Castle on October 12, 2018, in Windsor, England.

WPA Pool
Queen Elizabeth II arrives ahead of the wedding of Princess Eugenie of York and Mr. Jack Brooksbank at St. George's Chapel on October 12, 2018, in Windsor, England.

WPA Pool
Zara Tindall and Mike Tindall arrive ahead of the wedding of Princess Eugenie of York and Mr. Jack Brooksbank at St. George's Chapel on October 12, 2018, in Windsor, England.

WPA Pool
Liv Tyler arrives ahead of the wedding of Princess Eugenie of York to Jack Brooksbank at Windsor Castle on October 12, 2018, in Windsor, England.

WPA Pool
Princess Anne, Princess Royal and husband Timothy Laurence attend the wedding of Princess Eugenie of York to Jack Brooksbank at St. George's Chapel on October 12, 2018, in Windsor, England.

WPA Pool
Holly Branson arrives ahead of the wedding of Princess Eugenie of York to Jack Brooksbank at Windsor Castle on October 12, 2018, in Windsor, England.

WPA Pool
Peter Phillips and Autumn Phillips attend the wedding of Princess Eugenie of York to Jack Brooksbank at St. George's Chapel on October 12, 2018, in Windsor, England.

WPA Pool
Karoline Copping and Jimmy Carr arrive for the wedding of Princess Eugenie of York and Mr. Jack Brooksbank at St. George's Chapel on October 12, 2018, in Windsor, England.

WPA Pool
Tamara Beckwith arrives ahead of the wedding of Princess Eugenie of York and Mr. Jack Brooksbank at St. George's Chapel on October 12, 2018, in Windsor, England.

WPA Pool
Ellie Goulding arrives for the wedding of Princess Eugenie of York to Jack Brooksbank at St. George's Chapel on October 12, 2018, in Windsor, England.

WPA Pool
Chelsy Davy arrives ahead of the wedding of Princess Eugenie of York to Jack Brooksbank at Windsor Castle on October 12, 2018, in Windsor, England.

WPA Pool
Naomi Campbell and Debbie von Bismarck arrive ahead of the wedding of Princess Eugenie of York to Jack Brooksbank at Windsor Castle on October 12, 2018, in Windsor, England.

WPA Pool
Poppy Delevingne arrives ahead of the wedding of Princess Eugenie of York and Mr. Jack Brooksbank at St. George's Chapel on October 12, 2018, in Windsor, England.

WPA Pool
Catherine, Duchess of Cambridge and Prince William, Duke of Cambridge arrive ahead of the wedding of Princess Eugenie of York to Jack Brooksbank at Windsor Castle on October 12, 2018, in Windsor, England.

WPA Pool
James Matthews and wife Pippa Middleton arrive ahead of the wedding of Princess Eugenie of York and Jack Brooksbank at St. George's Chapel on October 12, 2018, in Windsor, England.

WPA Pool
Sarah, Duchess of York and Princess Beatrice arrive ahead of the wedding of Princess Eugenie of York and Jack Brooksbank at St. George's Chapel on October 12, 2018, in Windsor, England.

WPA Pool
Robbie Williams and Ayda Field attend the wedding of Princess Eugenie of York to Jack Brooksbank at St. George's Chapel on October 12, 2018, in Windsor, England.

WPA Pool
Cara Delevingne arrives ahead of the wedding of Princess Eugenie of York and Jack Brooksbank at St. George's Chapel on October 12, 2018, in Windsor, England.

WPA Pool