Sarah "Fergie" Ferguson and Prince Philip's Feud: A History
Princess Eugenie's wedding will force the pair into the same room.
---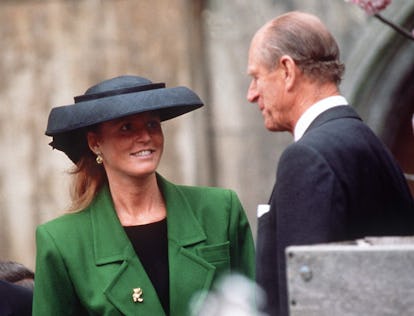 Tim Graham
Prince Philip has still not decided if he's attending the wedding of his granddaughter Princess Eugenie on Friday, and according to one tabloid report, he'll simply make his decision based on a "wake up and see how I feel" basis. Understandable for a 97-year-old, but no matter his decision, the day still shines a light onto one of the royal family's most bitter inside feuds: that between Philip and the mother of the bride, Sarah "Fergie" Ferguson. While Ferguson was, at one point, Philip's favored daughter-in-law, her scandal-plagued separation and divorce from Philip's son Prince Andrew was said to upset Philip the most. Even as Andrew and Fergie, in a twist that few on the outside still understand, continue to live together and carry on like an old married couple, and much of the rest of the family, including the Queen, have put their past issues with Ferguson behind them, Philip retains a deep grudge against the Duchess of York.
Screenwriters for The Crown could not have imagined better plotlines for future seasons, and the rest of the family has taken pains to make sure Philip rarely even has to consider the topic of Ferguson. Indeed, if the pair were to appear in the same family portrait at the wedding, it would be the first time they would have been pictured together in 26 years. Here, a rundown of the decades-long feud.
Days as the Favored Daughter-in-Law
While much of the royal family never knew what to make of Princess Diana's independent and headstrong ways, Ferguson, who married Andrew five years after Diana's wedding, seemed to have a far easier time fitting in at first. After all, she had grown up knowing Prince Philip primarily as her father's boss. Major Ronald Ferguson was the polo manager for Prince Philip (and later for Prince Charles), and it was through this connection that Ferguson and Prince Andrew originally met as children. According to a 1987 article in Vanity Fair, Philip and Ferguson shared a taste for a particular type of bawdy humor. Not only that, but he was immensely impressed by the Duchess's decision to learn how to pilot a plane in 1986, and by her obtaining a helicopter pilot license in 1987. Watchers of The Crown don't need a reminder of how important aviation is to the prince. Ferguson's close relationship with Philip's wife, Queen Elizabeth II, no doubt only cemented the bond. Ferguson was said to have private meals with the Queen regularly, considered a rare treat even within the family.
The Toe-Sucking Photos Seen Round the World
Despite having two children, strains in Fergie and Andrew's relationship became apparent by the early '90s, and reports of infidelity became tabloid press fodder. However, rocky lulls in a marriage aren't unknown to the royal family, and the Queen reportedly personally asked Ferguson to stick it out and give the union another chance. Even as the drama escalated in the press, Ferguson still lived within royal walls and vacationed with the family. Indeed, Ferguson was at Balmoral, the Queen's favored vacation home, when photos were published in the press of Ferguson's toes being sucked by the American businessman John Bryan while the two were on vacation together. According to one oft-repeated (but quite obviously never confirmed) telling, Prince Philip marched downstairs with a copy of a paper with the photos on the front page, handed it to Ferguson, and quipped, "There but for the grace of God go I." The Queen suggested that Ferguson return to London, and in effect exiled her from the family's inner circle. It would be four more years before Andrew and Ferguson officially divorced, but, by all accounts, any hopes that the marriage could have been rehabilitated ended that day. To dabble in a bit of extramarital fun is one thing in the royal family, but to get caught and have the evidence published on the front page of The Daily Mail is quite another. Especially in the eyes of Prince Philip.
Fergie's Days as a Punch Line
From her separation and well into this decade, Ferguson existed in something of a weird royal gray area that even the Duke of Windsor wouldn't envy. Despite retaining her title and continuing to be, technically, a member of the royal family, in the loosest sense, Ferguson's divorce settlement wasn't particularly lucrative. Her financial troubles were well documented, and she sought to make a living for herself through many odd jobs, including stints on what basically amounted to reality television and as a spokesperson for Weight Watchers. She even had a few brushes with the law, having once been accused of trying to sell access to her ex-husband. According to some reports, any sort of attempts to help or intervene by the crown were blocked by Philip.
A Strange Rekindling?
While Andrew and Ferguson have been divorced for more than two decades, they've spent most of that time either living with each other or near each other. The pair lived together in their official home, Sunninghill Park, while jointly raising their daughters, until 2004. That year, Andrew moved to the Royal Lodge (his grandmother's former home). By 2007, Ferguson had decided to rent a home next door, but when a fire damaged that building, she, too, moved into to the Royal Lodge, in 2008. While she reportedly also has a rental apartment of her own, she still apparently maintains a room in her husband's house. In 2015, the pair also jointly bought a $17 million ski chalet in Switzerland. The duo often make joint appearances together, and are frequently seen on each other's Instagrams. Princess Eugenie herself claims, "They're the best divorced couple I know."
"He's still my handsome prince, he'll always be my handsome prince," Ferguson herself once said, in 2013. "We really believe in being good parents for our girls. In our every day, we really respect each other and we honour each other."
According to the gossip, Philip can't stand the odd situation. "He cannot understand why she's living under the same roof as Andrew after all these years," a royal source once told The Sun.
Some British tabloids have taken this to suggest that the pair would get remarried if not for Philip's longstanding hatred of Ferguson, with the implication that the situation could change when he passes.
Fergie's Return to Balmoral
Royal watchers were thrown for a loop in 2013, when Ferguson was officially invited back to Balmoral, the scene of her exile 21 years earlier, alongside her ex-husband and their daughters—though only on the condition that she leave once Prince Philip arrived.
"She was pictured, hand luggage in tow, being driven there from Aberdeen airport. No news yet on whether she and the Duke shared a bedroom, but as rapprochements go, this is something special," wrote The Telegraph at the time.
"It's perhaps notable that the Duke of Edinburgh, now fully recovered from his abdominal surgery, delayed his arrival at Balmoral until after she had left—he's no fan of Fergie's," added the paper.
According to some accounts, however, Ferguson did return to Balmoral previously, back in 2005, when Philip was present, but it didn't go quite well. "He avoided her like the plague," one of Ferguson's friends told the press. "I don't think they spoke a single word all week." Whatever the timeline, the game has played itself out several times since: Ferguson gets the invite, but is then expected to leave early so as not to upset Philip. The latest go-around occurred just this summer.
"Sarah Ferguson: Prince Andrew ex makes 'sharp exit' when Prince Philip arrives at Balmoral," blared a headline in The Express just weeks ago.
"Her Majesty often has the Duchess for a few days at Balmoral early in her annual summer holiday there, but Prince Philip does not like being in the same building as her," added a source.
Indeed, the incidents echo other recent episodes in which Ferguson came close once again to the inner circle of the royals, only to have to dodge Prince Philip. In 2015, Ferguson appeared at the Royal Ascot, a horse-racing festival, but was greeted with a sneer when she came within Philip's line of sight.
A Vow to Play Nice
After having been snubbed at Prince William's wedding, Ferguson was an invited guest to the wedding of Prince Harry to Meghan Markle (reportedly at Harry's insistence). Despite reports that she wasn't invited to an intimate reception held by Prince Charles, a somewhat spurious rumor soon emerged that not only did she attend at least one of the receptions but she turned down an offer to dance with George Clooney.
According to reports, Prince Philip adores Princess Eugenie, and his decision to attend or not has little to do with her, and the royal family has agreed to put on a happy face for the day regardless of the past drama. Still, at 97 years old, it doesn't seem that Philip will ever completely forgive Ferguson for more than an afternoon.
Update: A Thaw?
With Eugenie's wedding in the books (and plenty of Fergie's famous friends, including Naomi Campbell and Demi Moore, in attendance), we may have a slight glimpse into the current status of the Fergie/Philip relations. Not only do Prince Philip end up attending the event after all, but in the official family wedding portrait, Philip and Fergie are positioned directly next to each other (Prince Andrew, is tellingly, also directly at Ferguson's side). It's the first time time the pair have been photographed together in about 26 years. Nothing to mend old feuds like a family wedding, we suppose.
Related: Is Fergie Ready for Her Royal Comeback?
Reliving Sarah Ferguson's 1986 Royal Wedding to Prince Andrew in 15 Photos
Andrew and Sarah, the Duke and Duchess of York, return to Buckingham Palace in a carriage after their wedding on July 23, 1986 in London, England.. Photo courtesy of Getty Images.
The Prince and Princess of Wales leaving Westminster Abbey, London, for Buckingham Palace after attending the wedding of Prince Andrew to Sarah Ferguson on July 23, 1986 in London, England. Photo courtesy of Getty Images.
Queen Elizabeth II and the Duke of Edinburgh on their way to Westminster Abbey for the wedding of their son, the Duke of York, to Sarah Ferguson on July 23, 1986 in London, England. Photo courtesy of Getty Images.
Prince William sits in Westmister Abbey for the wedding of Prince Andrew, Duke of York to Sarah Ferguson, Duchess of York on July 23, 1986 in London, England. Photo courtesy of Getty Images.
Sarah Ferguson on the arm of her father Major Ronald Ferguson, traversing the royal blue carpet in Westminster Abbey. Photo courtesy of Getty Images.
The wax work model of Royal bride, Sarah Ferguson, The Duchess of York, at London's famous tourist attraction Madame Tussauds on July 23, 1986 in London, England. Photo courtesy of Getty Images.

Michael Crabtree – PA Images
The newly created Duke of York and his bride, the Duchess of York, walk past members of the Royal family as they leave Westminster Abbey. Photo courtesy of Getty Images.
The royal couple, the Duke and Duchess of York leave Westminster Abbey after their marriage. Photo courtesy of Getty Images.

PA Images
The Duke of York seals his marriage to Sarah Ferguson with a kiss on the balcony of Buckingham Palace on July 23, 1986 in London, England. Photo courtesy of Getty Images.
Sarah Ferguson, Duchess of York and Prince Andrew, Duke of York stand on the balcony of Buckingham Palace and wave at their wedding on July 23, 1986 in London, England. Photo courtesy of Getty Images.

Anwar Hussein
A thoughtful Prince William, with bridesmaid Laura Fellowes, at Westminster Abbey for the marriage of Sarah Ferguson to his uncle Prince Andrew. Photo courtesy of Getty Images.
Estrella Martinez, Stuart Aston, and Pillar Martinez keeping warm outside Buckingham Palace before the wedding of Prince Andrew and Sarah Ferguson. Photo courtesy of Getty Images.
A fan of the Royal Family in London for the wedding of Andrew and Sarah, the Duke and Duchess of York. Photo courtesy of Getty Images.

Hulton Deutsch
The Duke and Duchess of York(Andrew and Sarah) kiss after their wedding surrounded by fellow members of the British Royal family on July 23, 1986 in London, England. Photo courtesy of Getty Images.
The Duke And Duchess Of York in a carriage with union jack flags, balloons and a teddy bear On their wedding day on July 23, 1986 in London, England. Photo courtesy of Getty Images.