The Most Surprising Facts About Princess Eugenie and Fiancé Jack Brooksbank
The couple, whose wedding is later this week, turns out to already be related.
---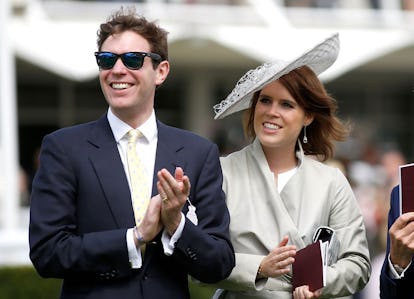 Tristan Fewings/Getty Image
After seven years of dating, Princess Eugenie and her fiancé, Jack Brooksbank, are set to wed this Friday, October 12, making it a landmark year for royal weddings: The princess will walk down the same aisle, in St. George's Chapel at Windsor Castle, that Meghan Markle did to marry Prince Harry this past May, just a few weeks after the first-ever gay royal wedding.
The 28-year-old daughter of Prince Andrew and Sarah Ferguson, who's ninth in line to the throne, first met 32-year-old Brooksbank, whose background is in the hospitality industry, while on a family ski trip to the Swiss village of Verbier. (Or, as the princess put it to the BBC this past January, "We met when I was 20 and Jack was 24 and fell in love.") Still—reportedly in large part because Prince Harry and Meghan Markle beat them to the game—it was only this past January, while on a trip to Nicaragua, that they got engaged. As their wedding fast approaches, so too have more and more details been revealed, ranging from the minute (like the fact that their wedding cake will be appropriately autumnal, "covered with detailed sugar work including ivy"), to the rather revelatory (like the fact that they're distant cousins). Ahead of their official union this Friday, get acquainted with a few more of the couple's surprises, here.
They're related.
The couple already share a special bond thanks to the fact that they're actually blood relatives, sharing a connection to the 19th-century aristocrat the second Earl of Leicester Thomas William Coke that makes them third cousins once removed. (See this handy chart for more exact familial details.) While it's been making headlines as of late, the news isn't exactly a shocker: Queen Elizabeth II and Prince Philip are in fact even more closely related, with their shared connection to Queen Victoria making them third cousins.
He isn't the only Jack in the family.
While detailing a day in her life for Harper's Bazaar in 2016, the princess mentioned in passing that her boyfriend and her "doggie" have the same name, which she described as a "total accident!" According to her mother, Fergie, though, the coincidence had led to instances like Brooksbank jumping up in alarm when her husband once yelled at the dog to get off of a chair.
They both hold down surprisingly normal jobs.
The princess recently spent two years working as a specialist at the online auction house Paddle8 in New York—and Skyping her then-long-distance boyfriend—before moving on to London, where she's spent the past couple of years as first an associate director and now a director of the contemporary and modern art gallery Hauser & Wirth. Brooksbank, for his part, recently left his job as a waiter behind to become a manager of Mahiki, a tiki-themed nightclub in London beloved by royals like Prince William and Prince Harry (not to mention Paris Hilton and Rihanna). From there, his connection to Guy Pelly, a businessman who's now the godfather of newborn Prince Louis, led him to help launch another London hot spot, the Mexican-themed club Tonteria.
In fact, according to an important family insider, they're both perfectly "ordinary."
"I would call him ordinary—I wouldn't say there is anything special about him," Brooksbank's then 91-year-old grandmother, Joanna Newton, told the Sun shortly after news broke about the couple's engagement, explaining why she "would never have thought" that her grandson, whom she also described as "a charming boy and all that but not the most intelligent," would end up marrying a royal. "I think it says a lot about Eugenie that it's him she wants, and it's lovely," Newton added of the princess, while taking care to note her plainness too: "I have just met her the once, when I went up to London with them for lunch, and she was just a very nice, ordinary girl—nothing pompous about her or even royal about her."
The princess has indeed proven surprisingly ordinary—at least for a royal. She joined Instagram, for example, this past May, and has since gotten "in trouble" for revealing a bit too much on her account. She's also actually been logged on for quite a bit: In her first-ever media interview, which she gave when she was 18 and newly braces-free, the princess discussed her love of Facebook and her iPod, which she presumably used to listen to one of her favorite bands, Death Cab for Cutie. (In other Royals, they're just like us! News: the princess, like her grandmother, the queen, has "no problems traveling by Tube" and once got into a "screaming argument" with her sister, Princess Beatrice, about who got to take ownership of a beloved pair of Converse.)
They'd both like to keep coverage of George Clooney out of this, please.
Brooksbank launched his own alcohol enterprise, Jack Brooksbank Ltd., last year, but his relationship to the industry goes back a bit further: Since 2016, he's also been the U.K. brand ambassador of Casamigos, the tequila company cofounded by George Clooney and Rande Gerber. Brooksbank has already promised that they'll be "serving Casamigos" at the wedding—and, practically in the same breath, added that he "can't say if George Clooney is coming."
As it turns out, the actor won't be able to attend, though the Beckhams, Elton John, and Ellie Goulding are still among the guests rumored to attend—and therefore among those who later this week may end up having to bring along not one but two forms of identification as well as surrender their cell phones and cameras in ordinance with the couple's strict set of rules for their wedding. At least one person, though, isn't likely to mind: "The good news is Jack also works as the European manager for Casamigos Tequila, so I am perfect," Fergie told the BBC over the summer. "He'll just hand me the tequila and say, 'Come on, mother-in-law, down it.'"
Related: A Complete History of All the Mishaps and Oddities to Befall British Royal Weddings
25 Intimate Portraits Of the British Royal Family, From King George VI to Young Prince George
The Royal Family on the balcony at Buckingham Palace after the coronation of King George VI of England. Photo by Hulton-Deutsch Collection/CORBIS/Corbis via Getty Images.

Hulton Deutsch
King George VI with his daughters Princess Elizabeth and Princess Margaret in the grounds of Windsor Castle in Windsor, England on July 08, 1946. Photo by Lisa Sheridan/Studio Lisa/Getty Images.

Lisa Sheridan
Princess Elizabeth working on her studies at a desk in Windsor Castle. Photo by Lisa Sheridan/Studio Lisa/Getty Images.

Lisa Sheridan
Princess Margaret and Antony Armstrong-Jones in the grounds of Royal Lodge on the day they announced their engagement. Photo by Hulton Archive/Getty Images.

Hulton Archive
Princess Margaret walks with her husband Earl of Snowdon on a pontoon in the Bahamas. Photo by DALMAS/AFP/Getty Images.

DALMAS
Queen Elizabeth II with a group of local children during her state visit to Mexico, 1975. Photo by Serge Lemoine/Getty Images.

Serge Lemoine
Queen Elizabeth II and Prince Philip on safari during their state visit to Zambia, 1979. Photo by Serge Lemoine/Getty Images.

Serge Lemoine
Prince Andrew in the 1980's. Photo by Keystone-France/Gamma-Keystone via Getty Images.

Keystone-France
Diana, Princess of Wales with Sarah Ferguson at the Guard's Polo Club, Windsor, 1983. Photo by Georges De Keerle/Getty Images.

Georges De Keerle
Princess Diana with the Duchess of York during a skiing holiday in Klosters, Switzerland, 1988. Photo by James Andanson/Sygma via Getty Images.

James Andanson
Prince Charles and Lady Diana Spencer with Queen Elizabeth II and Prince Philip on the balcony at Buckingham Palace after their marriage ceremony at St Paul's Cathedral, 1981. Photo by MSI/Mirrorpix/Getty Images.

Mirrorpix
Prince Charles and Diana, Princess of Wales together during their honeymoon in Balmoral, Scotland, 1981. Photo by Serge Lemoine/Getty Images.

Serge Lemoine
Princess Diana, Princess of Wales poses in a bikini while on holiday in the South of France. Photo by Anwar Hussein/WireImage.

Anwar Hussein
Sarah Ferguson, Duchess of York inspecting The Guard Of Honour at R.A.F. Gaton in Berlin, Germany, 1989. Photo by Georges De Keerle/Getty Images.

Georges De Keerle
Duke and Duchess of York, Prince Andrew and Sarah Ferguson on a boat during their visit to Venice, Italy in 1989. Photo by Georges De Keerle/Getty Images.

Georges De Keerle
The Princess Of Wales with her two sons, Prince William and Prince Harry on a chairlift during a ski holiday in Lech, Austria. Photo by Tim Graham/Getty Images.

Tim Graham
Prince of Wales on the slopes in Klosters, Switzerland, where he is on a skiing holiday with his sons Princes William and Harry. Photo by Tim Ockenden – PA Images/PA Images via Getty Images.

Tim Ockenden – PA Images
Princess Diana arriving at the Serpentine Gallery, London, in a gown by Christina Stambolian, 1994. Photo by Jayne Fincher/Getty Images.

Princess Diana Archive
The Duchess of York attends a charity premiere of 'A Little Princess' in London, with her daughters Beatrice and Eugenie, 1996. Photo by Dave Benett/Getty Images.

Dave Benett
Kanye West shares a joke with Prince Harry and Prince William at Wembley Arena in London, 2007. Photo by CARL DE SOUZA/AFP/Getty Images.

CARL DE SOUZA
Prince William, Duke of Cambridge and Catherine, Duchess of Cambridge drive from Buckingham Palace in a decorated sports car on April 29, 2011 after their wedding ceremony in London, England. Photo by Jeff J Mitchell/Getty Images.

Jeff J Mitchell
Catherine, Duchess of Cambridge and Prince William, Duke of Cambridge watch a rodeo demonstration at a Government Reception at the BMO Centre on July 7, 2011 in Calgary, Canada. Photo by Chris Jackson/Getty Images.

Chris Jackson
Princess Beatrice and Princess Eugenie attend the 8th annual charity: ball Gala at the Duggal Greenhouse on December 16, 2013 in New York City. Photo by Michael Stewart/WireImage.

Michael Stewart
Catherine, Duchess of Cambride and Prince William, Duke of Cambridge ride in an open-air jeep on safari around the National Park at Kaziranga National Park on April 13, 2016 in Guwahati, India. Photo by Samir Hussein/Pool/WireImage.

Samir Hussein