Jack Brooksbank Is "Terrified" About His Upcoming Wedding to Princess Eugenie
The groom-to-be gave a rare interview.
---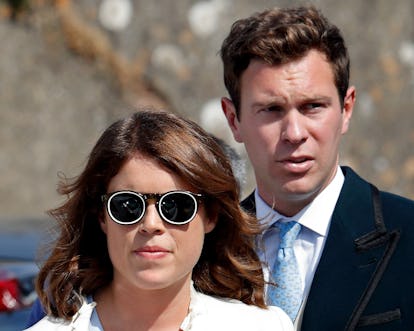 Max Mumby/Indigo/Getty Images
The last thing any bride wants to hear is that her groom is terrified before their wedding—but to be fair, most grooms don't have to get married with the whole world watching. In a new interview with Daily Mail, Jack Brooksbank used the "T" word to describe his state of mind ahead of his upcoming royal wedding to Princess Eugenie.
"I'll need to take a few minutes for myself before the speeches because I'm terrified," he said. "It's very exciting but I'm a little bit nervous."
Makes sense, considering the wedding, which will take place at St. George's Chapel, will be attended by a whopping 850 guests, including the most high-profile members of the royal family. Celebrity guests like Victoria and David Beckham, Sir Elton John, Ellie Goulding, and James Blunt will all reportedly be in attendance as well. It has also been confirmed that the wedding will be televised, with the exclusive U.S. rights going to TLC. The wedding will also be televised across the pond, in a live special edition of ITV's This Morning.
Luckily for Brooksbank, he'll have some reinforcements on hand to help ease his nerves. Brooksbank is the U.K. brand ambassador for Casamigos Tequila, the $1 billion tequila company started by none other than George Clooney, which means there will be a steady stream of tequila throughout the nuptials. "I've not been kept out of all the planning," Brooksbank told the Daily Mail. "I get to decide some things. I'm in charge of drinks and we'll be serving Casamigos."
As for whether Clooney himself will be in attendance—he and his wife, Amal, were guests at Prince Harry and Meghan Markle's wedding in May—Brooksbank wouldn't say. But if there's one thing that sounds scarier than getting married in front of the Queen, it's getting married in front of your boss.
Related: Is Sarah Ferguson Finally Ready for Her Royal Comeback?
All of the Celebrities Who Have Gotten Married In 2018 (So Far)