Queen Rania of Jordan Receives New Title of Most Athleisure Royal
Royals can look good in hoodies, too.
---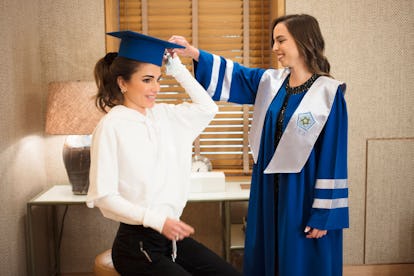 Handout/Getty Images
Royals are required to adhere to very strict dress codes, but every now and then one of them gives in to the occasional casual outfit. Such is the case with the fashion-forward Queen Rania, who recently shared a snap of herself in what could be described as a completely relatable athleisure look just before her daughter's high school graduation from the International Academy in Amman, Jordan. Not only was Queen Rania sporting a cozy white hoodie, but she was lounging in a pair of black sweatpants as well.
Although there is a laundry list of rules that members of the British royal family must follow—for example, Meghan Markle is no longer allowed to have her own social media accounts, while Queen Rania has amassed nearly 5 million followers on her verified Instagram—there does not appear to be any such rule that explicitly outlaws wearing the occasional chic athleisure outfit. Even Kate Middleton has leaned in to the trend before when she stepped out in a particularly "health goth" look at the National Tennis Centre in October 2017.
Still, it can be assumed that there might be some sort of unwritten or unspoken rule that the members of the British royal family can only take the casual-sportswear thing so far, as you would be hard pressed to find photographs of Prince Harry or Prince William looking like a modern hypebeast (even though they do try to bend the rules and shift the protocols where they can).
The young royals of Britain are barely permitted to wear jeans in public, let alone sweatpants and hoodies, but it appears that Queen Rania of Jordan can do whatever she wants to make herself comfortable even if she is being photographed—whether that's wearing a sweatsuit or something else on the formal side. After changing out of her athleisure look and into a blue gown for the ceremony, Queen Rania shared photographs of the Jordan royal family celebrating her daughter Princess Salma's special day on Instagram.
Related: Kate Middleton Goes Health Goth in Black Athleisure Look at the National Tennis Centre