Quvenzhané Wallis, 14-Year-Old Oscar Nominee-Turned-Author, Is Into Both Eminem and The Phantom Tollbooth
She's already published four books since becoming the youngest nominee ever for the Best Actress Academy Award.
---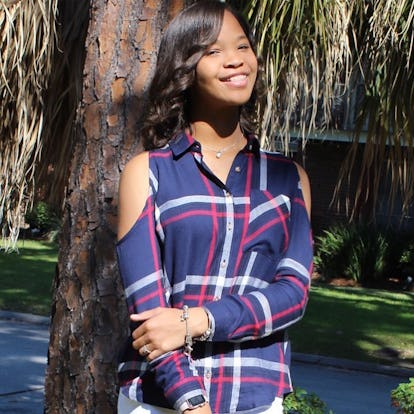 Courtesy of @iamquvenzhane
Just six years after Quvenzhané Wallis became the youngest nominee ever for the Best Actress Academy Award after starring in Beasts of the Southern Wild, the now 14-year-old actress , who was also nominated for a Golden Globe for her starring role in the 2014 Annie remake, has started thinking even bigger: She's harnessed her love of reading and is now a published author of multiple books. Next week, Wallis, who's in ninth grade, will already be up to her fourth book published with Simon & Schuster with the publication of Shai & Emmie Star in Dancy Pants!, the latest in her series centered on two best friends that she's hoping you'll find entirely relatable.
In a move that's much more calculated rather than childish, Wallis's books, like those of her favorite writers, Roald Dahl and Dr. Seuss, are illustrated: "Usually chapter books don't have pictures, but I wanted pictures in my books," Wallis explained matter-of-factly. Rest assured, she hasn't given up on acting just yet: Wallis is still on the lookout for roles as memorable as her appearances throughout Beyoncé's Lemonade. Here, she shares what else she's been into and up to since hanging with Blue Ivy in her culture diet.
What's the first thing you read in the morning? My Instagram notifications and my alarm.
What books are on your bedside table right now? The Phantom Tollbooth by Norton Juster and Ruined by Paula Morris.
What TV shows have been keeping you up at night? I like watching Netflix, though I don't have a show in particular I'm watching right now.
What's the last movie you saw in theaters? Pitch Perfect 3.
What's the last piece of art you saw and loved? Frida Kahlo's artwork.
What's the last museum show you went to that you loved? When I was filming Annie, we went to several museums for parts of scavenger hunts. I like that they capture and document history.
What's the last song you had on repeat? "Walk on Water" by Eminem, featuring Beyoncé
What's your favorite Beyoncé song? All of them! Especially "Sandcastles" from Lemonade.
What's your favorite memory from working on Lemonade? Standing under the tree holding hands and playing with Blue, while the women were surrounding the tree. To be around so many powerful and positive women was amazing.
What's the last concert you went to? Ariana Grande's Dangerous Woman tour.
How do you get your news? News Feed on my phone.
What's the last thing you Googled? How to make homemade ramen.
What are your favorite social media accounts to follow? Artistic ones with calligraphy and things like that.
What's the last thing you do before you go to bed? Talk on the phone.
Related: The 10 Best Memoirs of 2017 Were All Written By Women
See W's most popular videos: