70 Years After Inventing the Bikini, Réard Is Still Making Must Have Swimwear
The brand associated with the creation of the bikini relaunched earlier this year.
---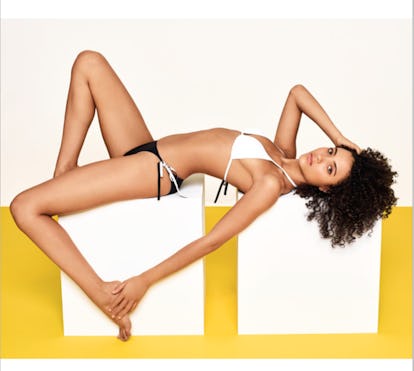 71 years after Louis Réard debuted the bikini, Réard, the brand named for the designer, re-launched this year, appointing Celine Adler—a former Chloe designer—as their creative director. In 1946 post-war Europe, Réard not only created a garment that embodied independence and freedom to women, but also a historical milestone in women's fashion and lifestyle. Today, Adler is infusing new life to the historical brand with her skill for designing to accentuate the female from through simplicity as her goal to re-establishing Réard's legacy through timeless design for today's woman. The swimsuits are clean, modern and feminine with a magical French touch. Adler tells us where she vacations, what she is reading, and her absolute don't at the beach.
What is your favorite beach?
Lombok, a little island near Bali just perfect for diving, or Cala Rossa near Porto Vecchio in Corsica, which has the most perfect beach restaurant, Le Cabanon Bleu.
What is your favorite thing to go pre and post beach?
First I always choose my swimsuits. I change at least twice a day and always mix and match my bikinis. After, I have a full post beach routine as I love to spend time to prepare for evenings out. Usually I begin by taking a long shower to nourish my skin and hair before choosing my outfit for the night. Do you prefer the pool or the beach and why? Definitely the beach, because I love to go diving. I prefer to be active during my holidays as it's definitely hard for me to just sit on a beach chair and do nothing.
What do you always bring to the beach? Very good sunscreen, protection spray for my hair, a book, magazines and my phone: if I am not diving I'm looking for new inspirations for Réard. How does your favorite beach inspire your work? When I go to Corsica I see the same Parisian girls who inspire me in the city but in a more relaxed environment. Parisian girls tend to have a specific style so I imagine if they can embody the collection and wear the pieces on their holidays and go from there. How would you style your swimsuit from the beach to a night out? A black statement one-piece swimsuit with high-waisted light blue denim and very minimal black sandals. High heels for dinner and flats to dance! What is your ultimate do and don't at the beach? Dare to wear strong statement swimsuits! Unlike ready to wear, you can't play with layering and shapes with swimwear, so be bold in with the colors and details on your swimsuit. Pieces like a high-waisted bikini or a one shoulder swimsuit with a strong detail are amazing options. Don't try to be too sexy! You can find a balance between being creative and daring while keeping clear from being provocative and too suggestive. But maybe this is my personal aesthetic because I am French!
Which swimsuit reference has influenced you most? I'm lucky that I have such a large archive from the original Louis Réard collections. As these were from 1946 though to 1980 our current work continues the vintage feel from his original designs. I am also influenced by the poolside work of Helmut Newton and Guy Bourdin, for me they are both playful and iconic photographers. Not too serious which I like showing strong and independent women having fun! What is your favorite memory at the beach? Two years ago, I visited Mykonos with my 3-year-old son. We sat looking at a sunset, with no one around us. It was so peaceful, the noise of the waves and the deserted beach. What are you reading this summer? At the moment, I'm reading the biography of Angelica Huston. It's set in a period of time that I would love to live in.
Related: Meet the Sisters Behind Instagram Beloved Swimwear Line Mikoh
See W's top videos, here: