Meet the Sisters Behind Instagram Beloved Swimwear Line Mikoh
Oleema and Kalani Miller talk their biggest bikini do's and don'ts.
---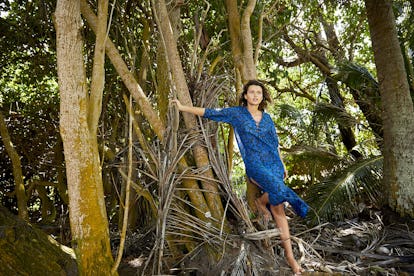 Sisters Oleema and Kalani Miller grew up in Orange County, California in a family of surfers, making launching their own swimwear line something of a no-brainer. Today Oleema, a former professional surfer herself, handles the creative and design of the brand, while Kalani oversees the business. The name of the brand is derived from their last name Miller as well as from the first initital of Kalani and Oleema, and their younger sister's name Hana. The word Miko in Japanese once meant "female prophecy"—an apt description for the brand's pieces. Mikoh's swimwear is feminine and easy; their designs are seamless and free of hardware, and all styles can be mixed and match as the two-pieces are not sold in sets. The Miller sisters brand has expanded into ready to wear, surf pieces and eyewear. Read about their favorite beaches, summer memories, and more, here.
What is your favorite beach?
Kalani: My favorite beach is in Tavarua, Fiji. Tavarua is a little heart-shaped island in the middle of the Pacific. It only takes about 25 minutes to walk around the entire island. Somehow when you go there, you feel every stress or worry melt away. The sand is bright white, the shells are like no other, and the water is bathtub warm. It is paradise.
Oleema: Definitely the beaches on the tiny island of Tavarua, a tiny island in the Fijian island chain. The beach is always sprinkled in the most incredible shells, the water is crystal clear, and on the right tide, the waves are perfect just steps off of the sand. Definitely hard to beat.
What is your insider secret?
Kalani: You never know how long you are going to be at the beach, so always make sure you are fully prepared. Snacks, a full jug of water, and an umbrella are always my go to. I always have a Mikoh cover up on hand too in case the sun gets a little intense.
Oleema: When going to a new beach, I always go to either the left or to the right of the crowd. People are so funny and always kind of clump together on the beach. If you walk a few yards down you can usually find your own little oasis which can feel like you're on your own private beach.
What is your favorite thing to go pre- and post- beach?
Kalani: Beforehand, i apply sunscreen and pack my bag for the day. I love to have a Kindle in case I get a free moment to kick back and read my favorite book. It is always fun to gather a group of friends before you head to the beach, too. After a long salty day in the sun, the best thing to do is have a BBQ with friends and family. Make sure you hang around long enough to watch the sun dip into the Pacific.
Oleema: I live on the North Shore of Oahu now so going to the beach is a daily ritual. Applying sunscreen, grabbing my beach essentials, and lathering my hair in coconut oil is always a must. Coconut oil in your hair is pure magic – give it a try. Post beach, there is nothing more that I love than a long, cool shower complete with my favorite Herbivore Botanicals Coco Rose body scrub and sometimes even a leisurely glass of rosé in the shower.
What do you always bring to the beach?
Kalani: My favorite beach buddy is my dog, Action. She is a little rescue dog that loves the beach more than I do.
Oleema: A ginormous hat to shade myself from the sun, oversized sunnies, a giant bottle of water in my Hydroflask, and a Mikoh oversized beach blanket. If I'm spending hours on the sand, I always bring some snacks, a few magazines, and my pomeranian pup Panda.
How does your favorite beach inspire your work?
Kalani: I mentioned this before but there is something calming about the beach and ocean. We are lucky enough to work remotely, and that means you can jump into the ocean for a quick dip between work!
Oleema: The textures, scents, colors, and overall feeling while at the beach are constantly inspiring me. When designing each season, I am always drawing inspiration from my travels all around the world and reminiscing of not just literal colors of the beaches but the culture, people, and ambience of those destinations.
How would you style your swimsuit from the beach to a night out?
Kalani: I love a lot of our one pieces as body suits. I love the Africa One Piece right now and the low-v detail is perfect for a night out.
Oleema: Mikoh is designed to be worn from beach to bar, sand to street, and to be worn in every different type of setting. Our pieces range from very sleek and basic, to very detailed and ornate. The Belize Top is my favorite and I literally wear it every day as a bralette instead of a classic bra. Other pieces, like the Alapio Top look beautiful under a open back top or dress – the detail is so subtle yet is sure to make a statement. Our one pieces, like the Alapio or Athens look amazing as body suits worn with anything from a pair of high waisted vintage Levi's or slouchy harem pants.
Which swimsuit reference has influenced you most?
Kalani: Growing up in a small beach town, swim inspiration has been everywhere. Also, being a part of Roxy and Quiksilver ever since we were a young age has been amazing and so influential. Getting a behind the scenes look at how the industry worked since I was 12 gave us knowledge without us even realizing at the time.
Oleema: The surfing and beach culture is the core of the inspiration for each collection. Every season, I draw influence from various aspects of not just what surfer's have worn or wear, but the attitude they have and the destinations they travel.
What is your favorite memory at the beach?
Kalani: It is hard to pick one. About five years ago in France, my boyfriend and I packed a bag with fresh picked plums off the tree, snacks, and some pastries from the local patisserie. We watched the sunset and spent the day living the French leisurely lifestyle.
Oleema: Definitely the memories I have from when I was young and with my mom, dad and siblings. We were like the modern day Brady Bunch and spent every second we had at the beach in front of our house in San Clemente or piling in our big rusty white Suburban with surfboards, coolers full of food, tents and driving up the coast to camp for the weekend. We had the best childhood I could have ever asked for and those surf trips and beach days shaped me in to the person I am today and was the inspiration to start Mikoh.
Related: An Insta-Girl's Guide to the Hamptons and Summer Beauty
Willow Smith Spent Her Birthday Chilling on the Beach with Friends