An Insta-Girl's Guide to the Hamptons and Summer Beauty
Negin Mirsalehi talks her favorite Hamptons hotspots, travel tips, and summer beauty routine.
---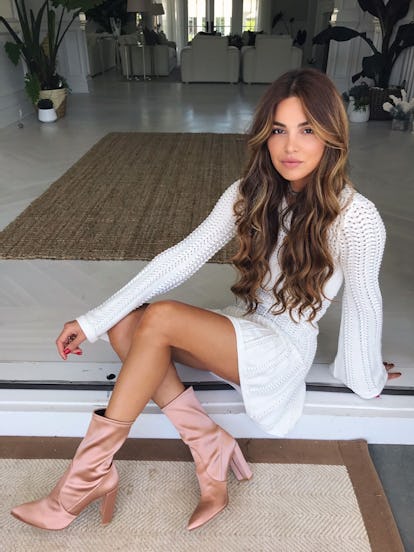 If you are scrolling through Instagram on any given weekend during the summer, than invariably you will stumble across more than a few snaps of Hamptons. And if that pictures just so happens to picture a tan brunette with tumbling waves and ever-so-trendy wardrobe, you may have landed upon Negin Mirsalehi's page. Mirsalehi started posted on the social media platform back in 2012, leading her to launch her own website. Today, the Amsterdam native boasts over 4 million Instagram follows, her own brand of hair oil, Gisou, and an online platform all her own, called Negin360, which features a world map following her many, many travels. Most recently, Mirsalehi has been decamped Out East, where last weekend she helped to kick of #clubREVOLVE, the online retailer's new late night party. Here, Mirsalehi talks shopping in the Hamptons, her go-to summer beauty routine, and what's next on her travel bucket list.
Do you remember your first trip to the Hamptons?
Of course! My first trip to the Hamptons was three summers ago and it was the first time REVOLVE was in the Hamptons. They had one beautiful house that I shared with some of my best blogger girlfriends. I remember being completely in awe of this other world outside the crazy city. My favorite moment from that trip was spending time with everyone by the pool and having the most yummy dinners. I love the Hamptons vibe.
What are your favorite places to eat in the Hamptons?
The Surf Lodge in Montauk is the best place to have dinner, drinks, and do a little dancing. Last year, we went to a new restaurant called Arbor and they had delicious seafood. We also stopped by this cute spot called Lunch where I had the best lobster roll of my life. You can't have a trip to the Hamptons without having a lobster roll, or two.
What are your favorite places to shop in the Hamptons?
There's a great shopping area in East Hampton with stores like Zimmermann and Kirna Zabete, where I like to grab some pieces right off the runway. Of course, I also like to stop by Citarella market to stock up on some healthy and yummy snacks.
What is your go-to summer outfit?
REVOLVE always has the best selection for all occasions. My go-to poolside outfit would be my favorite swim brand Tularosa, with GRLFRND denim shorts and Raye sandals. When we're going out to dinner, I like to wear either an LPA dress or anything from Majorelle—the designers, Pia and Rachel, also happen to be very close friends of mine.
What is your go-to summer beauty routine?
When it's hot out, I like to keep my makeup routine very simple and low maintenance. I always want to look natural so a good moisturizer and SPF first, always, some blush, a little mascara, then a pinky-nude lipstick is my go-to. For my hair, all I need is Gisou, and I'm so excited to launch my newest product the Propolis Infused Texturizing Wave Spray, which is a spray to get instant beach waves.
Where is next on your travel bucket list?
My ultimate goal is to experience a real African safari. Maurits [Stibbe, Mirsalehi's partner] and I both love animals so much and neither of us have ever been to Africa. Backpacking in Australia is also on my bucket list! Many of my friends have told me about their travels around Australia so it would be a dream to experience it myself!
What are your packing tips when preparing for a trip?
Four things I always keep in mind when I start packing for a trip: 1. Do a little research on the city to understand the vibe and culture, and to make sure that my outfits fit right in! 2. Check the weather! 3. Review my itinerary. If there's a schedule of events that I have to dress up for, I make sure that I have an outfit picked for each event, and, most importantly, I take pictures of every outfit so I don't forget while I'm getting dressed. 4. Versatility is key. I try not to overpack, to picking items that I can wear multiple ways always really helps me with packing efficiently.
What are your must-haves for a long flight?
For a long flight, I have to make sure I have all the things to keep me comfortable. Airplanes always dry out my skin, so I like to bring moisturizer and face mist to refresh myself every couple hours. Sanitizer is so important too because you never know who sat in your seat right before you. Because I don't get Wifi on these long flights, this is the perfect time for me to plug in my flash drive to work on my vlog. But, when I get tired, my favorite thing to do is watch Sex and the City to put me to sleep, then put on my eye mask.
Do you have any pre- or post- flight rituals?
I always stop by the little gift shop at the airport terminal to buy some necessities: ear plugs, pressure socks, and some healthy snacks because airplane food isn't always all that healthy. If I know I have to be somewhere straight off the flight, I like to put on under eye masks so that I look fresh and awake and ready to go.
What is your go-to travel uniform?
The three most important things about my airport outfit: it must be comfortable, layered well just in case it gets too hot or cold on the plane, and, of course, it must be cute enough for the 'gram!
What has been your craziest travel experience or story?
Because we've traveled so much, anything that could ever go wrong has happened to us, from missing flights to losing luggage. But once, when we landed from the flight, everyone was held on the plane with these guys in quarantine masks came aboard and took one passenger with them without an explanation. Everyone was so confused, I was scared, and to this day, we still have no idea what happened.
Watch all of W's top videos, here:
The Ultimate Guide to Summer's Best Swimsuits