Reese Witherspoon and Eva Longoria Will Walk the 2018 Golden Globes Red Carpet Together in Protest
It's for the anti-harassment Time's Up initiative.
---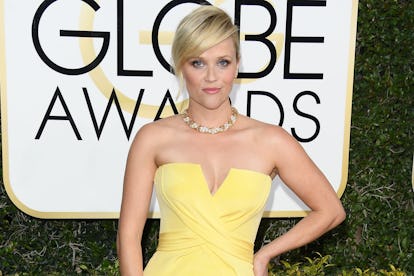 George Pimentel/WireImage/Getty Images
At the Golden Globes 2018, Hollywood's leading actresses will be making a statement in more ways than one. On Friday, E! News reported that Reese Witherspoon and Eva Longoria will be walking together down the red carpet at this Sunday's awards as part of an anti–workplace harassment initiative. The initiative, called Time's Up, was launched on Monday with an open letter from 300 powerful Hollywood women, including Longoria and Witherspoon.
Although the women who formed Time's Up work in the entertainment industry, the movement includes solidarity and a legal defense fund for women in less privileged workplaces. Specifically, the open letter gave a shout-out to Alianza Nacional de Campesinas (the National Farmworker Women's Alliance), who sent a letter of solidarity from 700,000 women farmworkers in November to those in Hollywood's anti-harassment movement.
"To the members of Alianza and farmworker women across the country, we see you, we thank you, and we acknowledge the heavy weight of our common experience of being preyed upon, harassed, and exploited by those who abuse their power and threaten our physical and economic security," the letter read. "We have similarly suppressed the violence and demeaning harassment for fear that we will be attacked and ruined in the process of speaking out. We share your feelings of anger and shame. We harbor fear that no one will believe us, that we will look weak or that we will be dismissed; and we are terrified that we will be fired or never hired again in retaliation."
The Time's Up initiative is also why you'll be seeing a lot of black-clad red carpet–goers on Sunday. According to The New York Times, the Time's Up movement is urging women to wear black at the Golden Globes in protest against sexual harassment and gender and racial inequality, plus to raise awareness about the initiative and its legal fund.
"This is a moment of solidarity, not a fashion moment," Longoria told the Times. "For years, we've sold these awards shows as women, with our gowns and colors and our beautiful faces and our glamour. This time the industry can't expect us to go up and twirl around. That's not what this moment is about." Hopefully publications will take note and focus less on the fashion and more on the message behind it.