The Search For the Perfect Retro Bathing Suit Is Over, Thanks to Up-And-Coming Swimwear Brand Solarium
Designers Amelia Lindquist and Mason Dent take inspiration from nostalgic American beach towns.
---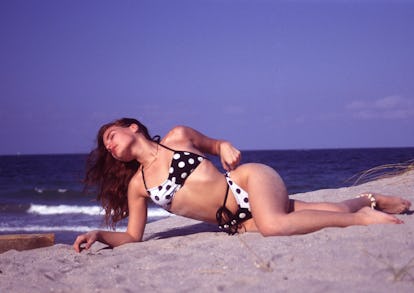 Mason Dent
Solarium came to be when Amelia Lindquist and Mason Dent were working on kitschy swimsuit photos in Florida with the intention of putting the images on lighters. They found that the vintage swimsuits that they had bought were not quite right, so Lindquist bought a stretch machine and began to make their own. Soon, the popularity of the suits on set compelled them to launch Solarium, which now makes the ultimate retro swimsuits to live in all summer. Here, the duo share their beach tips and more.
What is your favorite beach?
We love shooting around Malibu. La Piedra State Beach has a small hike through wildflowers down the bluff and right onto a beautiful secluded strip of beach. We love places that are off of the beaten path. The extra effort is always worth it for an empty beach!
What is your insider beach secret?
Go early and stay late, and give yourself time to actually relax!
What is your favorite thing to do pre- and post- beach?
An early morning drive to the water can't be beat. The Malibu canyon roads on a foggy morning are incredible and you can stop off buy strawberries and fresh fruit. At the end of the day we usually find some ice cream and people watch while the sun sets.
Do you prefer the pool or the beach?
The beach is best, but who can refuse a cool pool on a hot day?
What do you always bring to the beach?
Sunblock, blankets and rope for building a beach fort, a six pack, and sunglasses.
How does your favorite beach inspire your work?
Our work is informed by the nostalgia of the American beach town. They are wholesome at first glance but there is always something rough about the good ones. We take trips to little beach towns with names like Briny Breezes. We get inspiration from other places as well: race cars, cowboys, old magazines.
What is your ultimate do and don't at the beach?
We love building forts out of driftwood and blankets. It protects you from the sun and gives you a nice private space to relax. Don't litter! Keep our beaches and water clean! Pack it in, pack it out.
Which swimsuit reference has influenced you most?
We watched a lot of Miami Vice and just about every low budget beach movie of the 80's.
What is your favorite memory at the beach?Y
We were shooting in the parking lot of a state beach in Malibu with Dana Boulos and our favorite stylist, Ashley Munns, as a crew filmed an episode of The Real Housewives of Beverly Hills. We couldn't believe it! They were shooting at an empty parking lot with no permit just like us. They had a gold Bentley convertible, and we had a kite surfers AMC and a Toyota MR2 from Craigslist.
Irina Shayk Took a Birthday Night Swim in the Indian Ocean
The Ultimate Guide to Summer's Best Swimsuits