Rihanna May Have Just Teased Her Next Fenty Beauty Launch
The white eyeliner she wore to Virgil Abloh's Louis Vuitton debut is the ideal summer look.
---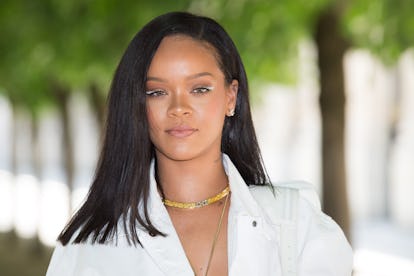 Stephane Cardinale – Corbis
Since she launched Fenty Beauty in September, Rihanna has often test-driven products from her eponymous makeup line on the red carpet before releasing them to the public. This has prompted keen-eyed fans to scrutinize her every public outing, examining her look to find clues for the next big Fenty Beauty drop. And, if Rihanna's recent appearance at Virgil Abloh's Louis Vuitton debut this week is any indicator, there is a new Fenty Beauty eyeliner on the horizon.
On Thursday, the musician and fashion and beauty mogul was seated in the front row at the Louis Vuitton Spring 2019 menswear show, the first collection by newly minted artistic director Virgil Abloh. For the occasion, she wore an oversize white boiler suit by Abloh's own brand Off-White ("witnessed black history in off white," she captioned) paired with a small, transparent Louis Vuitton duffel bag and an ivory fanny pack and backpack. (Women's fashion might frequently lack sufficient pocket space, but Rihanna made a strong case for other storage options.)
She also, naturally, had a face full of Fenty Beauty—as per usual, the brand's Instagram broke down all the details of the products that went into the look. Notably absent, though, was any mention of her eyeliner—a subtle white wing that made the perfect accent to her monochromatic look. Of course, the comments section of the post immediately turned to speculation about the product: "Sis what's that white liner?" one wrote. "WHEN R U COMIN OUT W MASCARA," another commented. One fan noted the similarity between the look and an eyeliner Rihanna wore to perform with Kendrick Lamar at the annual Top Dog Entertainment holiday concert, which might indicate the eyeliner has been in development for many months now. So it's only logical that it should be widely available any day now. It's after Memorial Day, so it's time for white eyeliner.