Rihanna Helped Create Her Ocean's 8 Character, Who Is Based on Herself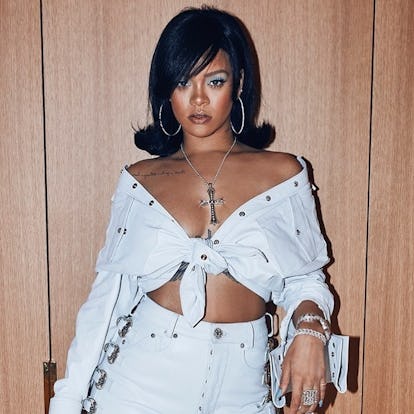 Should it surprise any of us that Rihanna's character in Ocean's 8 is based on, well, Rihanna?
The highly anticipated summer release—which will follow a ragtag team of hackers, pickpockets, and jewelers assembled by Debbie Ocean (played by Sandra Bullock) as they attempt to pull off a heist at the Met Gala—also features performances from an A-list ensemble consisting of Cate Blanchett, Sarah Paulson, Mindy Kaling, Helena Bonham Carter, Anne Hathaway, and Awkwafina. What makes Rihanna's character even cooler is that at this year's actual Met Gala, the real Rihanna will co-host the event with Amal Clooney and Donatella Versace. And that's not the only way art will imitate life. Apparently, Rihanna had a hand in creating her role.
For her cover story in the June issue of Vogue, it was revealed that Rihanna's Ocean's 8 character—a hacker named Nine Ball—was inspired, in part, by Rihanna's roots. The story goes that late one night in 2016, Ocean's 8 director Gary Ross and Rihanna were tossing around a few ideas for her character after a concert in Sweden, and settled on keeping Nine Ball Bajan (the term Barbados natives often use to refer to themselves), just like the actress who plays her. "Rihanna is so bravely authentic," Ross told Vogue. "She doesn't care what people think of her; she's fully invested in being herself."
In the interview, the icon also opened up about getting older ("OK, so now that I'm 30, are there things I'm supposed to do? Should I be worried? Should I be freezing my eggs? What do you do at 30?!" she asked), being in a relationship (she doesn't exactly confirm her ties to Saudi billionaire Hassan Jameel, but she does confirm that she is not single), the excitement of starting her new Savage x Fenty lingerie line, and flipping the script on men any chance she gets (there's a reason she goes by @badgalriri on Instagram).
Rihanna also finally revealed what she was thinking during that awkward moment at the 2016 MTV VMAs when she swerved away from Drake as he tried to kiss her onstage. "Waiting through that speech was probably the most uncomfortable part. I don't like too many compliments; I don't like to be put on blast," she admitted. "We don't have a friendship now, but we're not enemies either. It is what it is."
And don't worry about waiting much longer for new music; the singer also told Vogue she is working to produce a reggae album, inspired, of course, by her favorite reggae artist, Bob Marley, and potentially featuring collaborations with Supa Dups. With a potential blockbuster movie on the horizon, a highly anticipated lingerie line, and new music on the way, one thing remains clear: It's Rihanna's world; we're all just living in it.
Related: The 26 Best Met Gala Beauty Moments of All Time, From Jackie Kennedy to Rihanna