Rihanna Says Having a "Thicc" Body "Comes With a Price"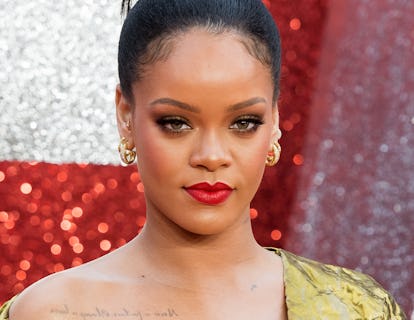 Samir Hussein/Getty Images
Rihanna has never been one to shy away from discussing (or joking about) her "fluctuating body type." And in her history-making cover interview for the September 2018 issue of British Vogue, she spoke to editor in chief Edward Enninful about having the type of curves that make other women jealous.
At one point during the conversation, Enninful reportedly asked Rihanna what it's like to be the woman other women "fancy," E! News reports. "Okay, you're asking the wrong person," she replied. "I don't know, maybe it's because I'm 'thicc' now. I don't know." RiRi went on to discuss her worries about how quickly that "thicc" figure can disappear. "I'm about to get back into the gym and stuff, and I hope I don't lose my butt or my hips or all of my thighs. I'll lose some, but not all," she said. "And I think of my boobs, like, 'Imma lose everything, everything goes!' But, you know, it comes with a price. You want to have a butt, then you have a gut."
These sage comments come almost exactly a year after the Fenty Beauty founder opened up to The Cut about learning to dress and flatter her ever-changing body type. "I actually have had the pleasure of a fluctuating body type, where one day I can literally fit into something that is bodycon, and then the next day—the next week—I need something oversize; I need a little crop here and a high-waist there to hide that part, you know?" she said. "I really pay attention every day when I go into the closet about what's working for my body that morning. I feel like that's how everyone should go after fashion, because it's an individual thing. And then, if you take it further, it's like: What week are you having? You having a skinny week? You having a fat week? Are we doing arms this week? We doing legs this week? We doing oversize?"
Rihanna also spoke to British Vogue about how, beyond being a queen of body-positivity, she also makes an effort to surround herself with only the most equally positive people. "I'm very picky about friends. I don't like to open myself up to everyone, and so when you find people who are great and loyal, you don't want to let go of that," the 30-year-old said. "I've been out here on my own since I was a teenager, so these people become like your family."
The September 2018 issue of British Vogue—featuring Rihanna's already-iconic cover images and the rest of her interview—hits newsstands this Friday, August 3.
Related: Who Doesn't Have a Crush on Rihanna?