Rita Ora Has Been Too Busy Working on Her Second Album to See A Star Is Born
Ahead of the release of Phoenix, her sophomore album, the 27-year-old pop culture chameleon revealed she has tastes as eclectic as her résumé.
---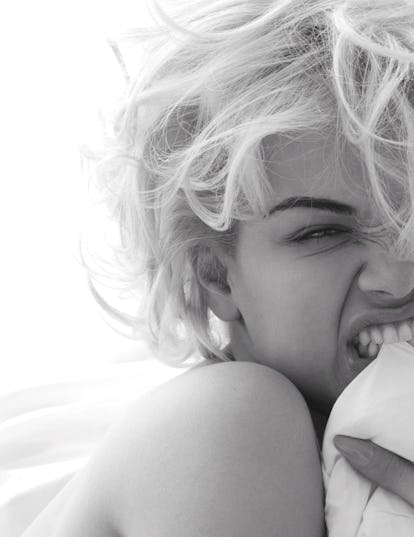 Mert Alas and Marcus Pigott
If it seems like Rita Ora is everywhere you look, you're not going crazy. In the past year alone, the 27-year-old pop star has presented and performed at a handful of prestigious awards shows, turned up in bold looks at nearly every event, signed on to model for Kate Moss's agency, dressed up in convincing Post Malone drag for Halloween, performed at the Victoria's Secret Fashion Show, and announced that she will star in a yet-to-be-disclosed role in the upcoming Pokémon: Detective Pikachu movie.
But, of course, the reason she became famous in the first place is her music. Following a slew of Top 40–friendly radio hits, appearances in the Fifty Shades films, and record label legal battles, six whole years later, Ora's sophomore album has finally arrived. Titled Phoenix, the album comes after quite a long waiting period—and Ora knows better than anyone that the delay has been "annoying" for her fans. She sees this album as a vehicle for reinvention, or an opportunity to finally premiere what other people may see as a "new" Rita, but who the Ritabots (that's what her fan base is called) have known was there under the surface all along.
What does one of the biggest pop stars in the U.K. watch, read, and listen to when she's not cultivating her own image as the superstar shapeshifter who managed to reinvent herself just in time for the release of her second studio album? Ora, who seems to jet all over the world day in and out, called W just after her plane touched down in Los Angeles to discuss those interests of hers. If you've ever wondered what Rita Ora is up to when she's not in the studio, she's a bit of an idiosyncratic, fun-loving pop star who has eclectic tastes that mix high and low culture to a tee.
Your fans have waited six years for Phoenix, the follow-up to your debut platinum album, Ora. What's on your mind in these days before the release of your album?
I am so excited! It's beyond. I've been so overwhelmed with the response that I've been getting to my songs so far. I know it's been a long time coming, you know, with my first album coming out in 2012. I've definitely evolved since then. I'm really happy, I felt like this was a new me. That's why I called my album Phoenix; I really felt like I was becoming myself, and growing, evolving, and writing my own songs. I learned a lot about myself and I feel like this album couldn't have come at a better time. I'm very grateful for the patience that all my fans have had over the years because I know it's been annoying. I was fucking annoyed myself, you know. It's so cool to be able to put an album out.
At this point in your career, while working on this album you've also been involved in so many other projects, like the Fifty Shades series and now Pokémon Detective Pikachu. How do you balance those projects with your music?
Doing movies, for me, because my album has been so important to me, I've basically been dipping and diving into films. Rob Letterman, the director of Pokémon, who I've known for a while, is really awesome and asked me to do a favor, and I really love Pokémon, so I said yes! I've also brought some of my other friends on board, too, so it's just going to be a party.
Are you allowed to tell us which character you play in the film?
I don't think I am. It's a surprise!
Speaking of playing "characters," this Halloween you dressed up as Post Malone, and your attention to detail with this costume was impressive. What inspired you?
[Laughs.] Oh, my God, I was just like, I love Post Malone, I love how he looks, I love his music, and it's Halloween, and I have to just commit. I wanted to pay homage to how much I loved him, really! It really blew up like next level, so I'm really happy. I think it's my favorite Halloween costume yet!
Getting into these Culture Diet questions, I think a lot of people would be interested to know what you're up to, so what's the first thing you read in the morning?
Probably the newspaper. The newspaper that I get delivered to my house every morning.
Which newspaper do you read?
In the U.K. it's the Evening Standard, that's about it.
Any good books on your bedside table?
I just started reading Billion Dollar Whale: The Man Who Fooled Wall Street, Hollywood, and the World, by Tom Wright. It's about a man who basically, I think, stole hundreds of millions of pounds—that's the accusation, I don't know if it's true or not—and I think it's just a journey of him. My friend recommended it to me. It's really interesting, and now he apparently is hiding away somewhere and no one can find him.
That seems to fit nicely with the influx of stories about scammers that popped up all over the place this year!
I feel like you're gonna love this one. This guy, he funded loads of movies and stole the money, apparently. He got everyone lots of diamonds and things, he would spend ridiculous amounts of money and jet from L.A. to Australia, and have jumbo jets with like every actor you could possibly imagine, and nobody knew where this money was coming from! Dude, if you like this stuff like I do, you have to fucking read this book. It's next level.
What are your favorite social media accounts to follow?
I love IDEA Books Ltd. It's @idea.ltd.
What's the last thing you Googled on your phone?
The trailer for Detective Pikachu!
What's the last song you had on repeat?
Let's have a look. Okay, this song by Khalid called "Saturday Nights."
What's the last concert you went to? Besides your own.
I went to a Blood Orange concert! Dev Hynes. I saw him in London, at the Shepherds Bush Empire, which is a great venue for us, especially for West London kids, which is where I'm from. It was cool for him to perform in our hood, you know. Dev's from London, so it was like a big family vibe!
What TV shows have been keeping you up all night?
Shark Tank! I love Shark Tank. I've been watching it back to back.
Speaking of television, I heard that you're also going to be a guest judge on the upcoming season of RuPaul's Drag Race. What was that like?
Oh, my gosh, yeah! Finally! Is that announced? Yes. I had the best time. My dreams were coming true. It was unbelievable with the All Stars, I was living!
What's the last movie you saw in theaters?
Do you know what? I haven't been to the theater in so long, I can't even answer that. I'm so sorry.
That's okay, you're very busy!
I am! I still haven't even seen A Star Is Born and I want to see it. I have to catch up on lots of movies.
What podcasts have you been into lately?
I listen to The Joe Rogan Experience. I think he's good. I listen to any kind of relaxing, talking-about-psychology type of podcasts that deal with stress and things.
Your birthday is coming up very soon, are you into astrology at all?
Yeah! I don't really know that much about it, but I'm a Sagittarius. I should look into it more, to be honest with you, but I do think I fit the attributes of a Sag.
I hear they're the positive, optimistic sign of the zodiac.
Yeah, we like smiling! I try.
What's the last thing you do before you go to bed?
I brush my teeth, and I put a 150 face products on my face to the point where it's absolutely abnormal. I feel like I've tried every single face mask known to mankind. If you have something you want to test, give it to me! I'll test it.
Related: Rita Ora Channeled Lady Gaga in an Oversize Marc Jacobs Suit