Rosie Huntington-Whiteley's Advice for Not Looking Like a Hot Mess at Coachella
The model, actress, and new mom shares her beauty and style tips
---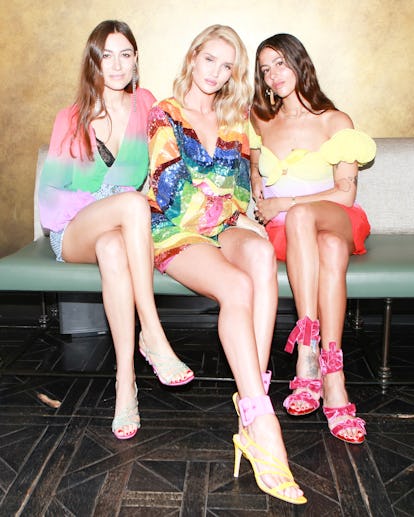 Sansho Scott/BFA.com
On Tuesday afternoon, the English model, actress, and new mom Rosie Huntington-Whiteley was at Gjelina, the hot spot in Venice, California, where a who's who of fashion bloggers and influencers were enjoying a brunch to celebrate Attico's exclusive, festival-inspired collection with FWRD. With Coachella around the corner, the crowd of ladies were dressed in their brightest, most summery looks as the sun blazed down on Abbot Kinney Boulevard. Yet unsurprisingly, Huntington-Whiteley, who is days away from turning 31, naturally stood out in her rainbow-like shimmery number by the Italian brand.
Here, she shares skincare advice and her experience as a new mom, and discusses the abundance of "questionable" festival outfit choices that are sure to take over your Instagram feed this weekend.
What made you want to cohost this FWRD x Attico event?
I've been an Attico fan since they first launched. I've been following [designers] Giorgia [Tordini] and Gilda [Ambrosio] since the beginning. They're my style icons. I love buying pieces, and seeing what they do each season. So when I heard they were here, I asked if I could be a host.
What makes you a fan?
It feels glamorous, colorful, bright, fun, sexy—but with a twist. It doesn't take itself too seriously. For me, the dresses and outfits are what I want to go out in in the evening. They're glamorous, but cool.
Is this dress you're wearing Attico?
Yes. It's kind of unfair that I can't wear this out dancing right now—although I might just stay in it all day and go out tonight.
Where's your favorite place to shop online? And where do you go here in L.A.?
I shop on FWRD, Revolve, and then if I'm going to stores, I tend to go to the actual designer. I'm a big fan of Isabel Marant, so I always like to go to the store here in Los Angeles every season. Saint Laurent is one of my favorites. There's a beautiful home store called [Shoppe Amber Interiors by] Amber Lewis, which I really love. And they actually just opened a store in the [Pacific] Palisades. One of my other favorites is Gallery Half, a really beautiful home shop, really inspiring. There's also [The Apartment by] the Line. I think Vanessa Traina does an amazing job at that store. Violet Grey for my beauty.
What are some beauty products that you have on you at all times?
I always have a lip balm on me. I always have a lip-to-cheek, a blush stain. I have a line of makeup in the U.K., and we have a lip-to-cheek color stick. It's a lip color, and you can wear it on your cheeks as well. And then powder…I can't bear it when you need to powder and you've left it at home, so powder is always in my bag.
Has your beauty routine changed since becoming a mom?
Luckily, with my skin, it's one of those things that has been better since having a baby, which is kind of cool. I don't know if anything has changed. I definitely have less time to myself now that I'm a mom. I've always been really diligent about my skincare, and making sure that I look after my skin is really important. It's the canvas of everything I do for work. So I try to stay out of the sun and use the best products that I can. And, you know, see great facialists. Otherwise I break out a lot from the traveling and working.
Is there a particular facialist who's your go-to in L.A.?
I see a woman called Shani Darden here in L.A. She's been my facialist now for maybe seven years. She's great. She has a quick and easy, no-nonsense approach. I bet you half the women in here see her. And she's a good girlfriend of mine actually. We have a good time whilst she does my facial. And she lets me sleep if I want to during the facial.
That's ideal.
Yes, now I fall asleep. Before, I didn't fall asleep, but now that I'm a mom, free sleep.
What advice would you give someone who's expecting?
I don't feel like I could give any advice. I've been a mom for nine and a half months, and I would feel really uncomfortable giving any advice. Well, I will tell you, the best piece of advice that I've been given since being a mom was that there are many great ways of raising a child. That stuck with me.
What is something that you own that you hold dear?
Does it have to be a material thing or sentimental?
Could be both.…
Well, my engagement ring is very special and means a lot, so that would be my material thing. And a piece of jewelry my mom gave me. It has no value to it at all, but it's very meaningful to me because she bought it for me when I was young.
How do you think your personal style has evolved?
It's funny, I saw an old school friend the other day, and she was like, "Your style hasn't really changed." I'm not sure if it's a good thing or a bad thing. I'm drawn to great basics, day-to-day. I want to feel great and on the go. I want to feel comfortable, a great blazer, jacket, T-shirt, jeans. And then in the evenings, I want to throw something on that feels fun and sexy but with a twist.
Coachella is in a couple of days. What style tips would you give a festivalgoer?
It's so hot, first of all. It's so hot in the desert, unbelievably hot. So, you're battling being comfortable and feeling cool. My opinion is, there's a lot of—how do I put this politely? There's a lot of questionable outfits that go on at Coachella. I also feel like, if festival style is not your style 365 days of the year, it looks like you're going to a costume party. So for me, if I go to a festival or Coachella, I would keep it very simple, like denim cutoffs, a cool T-shirt or slip top, something kind of sexy and easy that you'll feel cool in—temperature wise. And then a boot, maybe with a little heel—a little wedge bootie or flat boot—a bag that can hold all your crap in it for the whole day, maybe a side bag, some good jewelry. But keep it easy, don't try too hard. It's so worth going to Coachella just for the people watching, I will say.
How should one avoid looking like a hot mess—makeup-wise—in that heat?
I don't know if it's avoidable. By the way, you should look like a hot mess at a music festival! That's the point of going to a music festival, to be carefree and not give a s**t about how you look, to be listening to music and having fun with your friends and be sweaty. To me, that's how I think of a music festival. But having said that, I think things like blotting papers are a great thing to take, a tinted powder, so you can touch up and make sure to keep those areas powdered. A great blusher—and sunglasses hide a multitude of sins.