Halleloo! RuPaul's Drag Race All Stars Is Returning in January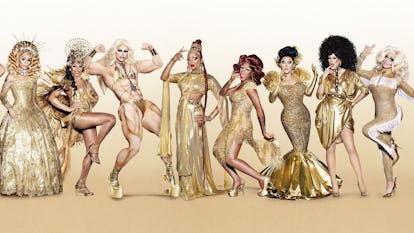 We all threw a drink in 2017's face long ago while screaming "You'll never be glamour!" This year's fishnets were ripped all over the place. Thankfully, our cautious and relative optimism for 2018 will receive a jolt first thing, as RuPaul's Drag Race All Stars 3 premieres on Thursday, January 25th. In a word: "Halleloo!"
While collectively we may not have had a great 2017, at least Drag Race did. It made the move from Logo to the more mainstream (and better carried by cable providers) VH1, and walked away with two prime-time Emmy awards out of a record six nominations. Along the way, it also crowned Sasha Velour as the ninth winner of its primary competition series.
The All Stars offshoot, of course, focuses on past-contestants, although this time with a twist: the contestants are all standouts from their season who missed the coveted top three. Undoubtedly, they've all become even fiercer in the years sense, as evidenced by the official teaser trailer:
The cast this time around will include former Marc Jacobs campaign star Milk, current GQ obsession Trixie Mattel, cabaret superstar BenDeLaCreme, two Brooklyn queens in the form of Thorgy Thor and Aja, Southern sweetheart Chi Chi DeVayne, Southern not-quite-sweetheart Kennedy Davenport, blast from the past Morgan McMichaels, and the third return of Shangela. That last contestant, in particular, has made quite the name for herself since being portrayed as a relatively unpolished queen in season two and three. She's made appearances on shows like The X-Files, Bones, Glee and 2 Broke Girls, and already has a role booked in the upcoming Lady Gaga-starring remake of A Star is Born. Not to necessarily assume that she's the odds-on favorite, but, perhaps, that wouldn't be the worst assumption.
Though, Drag Race has also continued to grow its relevance in fashion. Marc Jacobs is a huge fan (in addition to casting Milk in a campaign, he also co-hosted a fashion week party with Ru earlier this year and received a special Drag Race Queen-starring digital greeting card as a very public Christmas present form his boyfriend last year). British Vogue editor Edward Edward Enninful named his dog after RuPaul (and cast her in this year's Pirelli calendar). Designers like Jacobs, Jeremy Scott, Isaac Mizrahi and Bob Mackie have guest judged the show before, as have models like Gigi Hadid, Joan Smalls, Chanel Iman, and Paulina Porizkova.
Who from the fashion world could turn up this season? Well, we all know that RuPaul and Naomi Campbell have a mutual appreciation society, and have discussed the possibility of Campbell guesting before, though it hasn't worked out schedule-wise. We can only hope it might for All Stars 3.
Related: Sasha Velour Explains That Flower Stunt and the Inspiration Behind Her Eyebrows