Samara Weaving, Star of SMILF and Three Billboards Outside Ebbing, Missouri, Relishes Being the Girl You Love to Hate
Meet the 25-year-old Australian actress who's everywhere right now.
---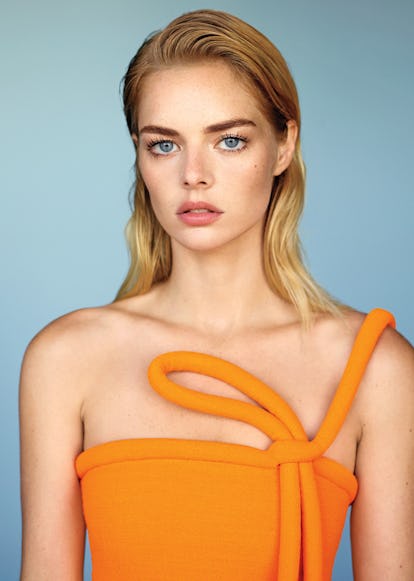 Photograph by Thomas Whiteside, Styled by Deborah Afshani; Hair by Ramsell Martinez for R+Co at Lowe & Co; Makeup by Lottie for Chanel at Lowe & Co; Manicure by Marisa Carmichael for Chanel at Lowe & Co
"I'm normally the psychopath," the actress Samara Weaving declared with an impish grin one morning in Los Angeles not too long ago. Belying the beach-blonde guise that first landed her on The O.C.-like teen TV dramas in her native Australia, the 25-five-year-old arrived to this shoot in jeans slashed to reveal fishnets, her freckled nose punctuated by a septum piercing. Her burned-out T-shirt read: SOMETHING LIKE THIS BUT NOT THIS. It could be Weaving's tagline: She may look like the girl next door, but she has a tendency to take on the kind of off-kilter characters that audiences love to hate—or hate to love.
Born in Adelaide, Weaving, who can currently be seen on the big screen (in the Oscar contender Three Billboards Outside Ebbing, Missouri) and on the small (in the buzzy Showtime comedy SMILF), had an unconventional childhood. She was raised by Ph.D-wielding parents all over Asia and Europe. "In Florence, they tried to homeschool us for six months but then they gave up," she recalled. "So my mum said, 'If you just do a painting a day, we'll call it even.' Thanks parents!" Weaving still paints almost daily; one can often find her covered in paint. Her arms and hands, meanwhile, are a jumble of blocky, minimal tattoos: a black cat on her wrist, a dainty moon on a finger, an elephant on the inside of a wrist. "My body is a jungle!" she exclaimed.
Weaving is quick to smile and converse with her hands, but she first got into acting as a child to battle her shyness (although she does come from acting stock—her uncle is Hugo Weaving, of The Matrix and Avengers fame). After returning to Australia as a teenager, she quickly landed roles on several hit teen dramas. In the U.S., she has been cast in a number of horror projects, from the TV series Ash vs. Evil Dead to the upcoming Mayhem as well as the mystery miniseries Picnic at Hanging Rock. "People seem to like having me covered in blood all the time," she said. "It has nothing to do with me! I am actually terrified of horror films."
(To that end, Weaving was even embroiled in a fake news scandal last year: in a hoax, a conservative outlet printed a photo of her covered in blood, claiming she was beaten for expressing support for Donald Trump. The photo was actually of Weaving in makeup for a shoot: "I'd be fighting on the other side, but I can't because I'm not American and I can't vote!" she said.)
These days, Weaving can be spotted in a number of idiosyncratic roles outside of the horror genre, particularly as comic relief. She appears as the annoyingly Instagram-perfect Nelson Rose–the new girlfriend of the ex of Bridgette, the heroine of the single mom comedy SMILF, which just premiered on Showtime. And in Martin McDonagh's ensemble-cast Oscar bait, Three Billboards Outside Ebbing, Missouri, in theaters now, she again plays—this time opposite Frances McDormand, Woody Harrelson, Peter ­Dinklage, and John Hawkes—the endearing-but-hateable new girlfriend of the heroine's ex. "I played the blonde bimbo and Martin was like, 'It's too much! We need to dye your hair.' I agreed with him. It's funnier with brown hair."
See W's most popular videos: