Sandra Bullock Will Play Filibustering Lawmaker and "Wearer of Pink Tennis Shoes" Wendy Davis In New Movie
Bullock won the Oscar in 2010 for The Bright Side—and she could be back on the Academy Awards stage for this one.
---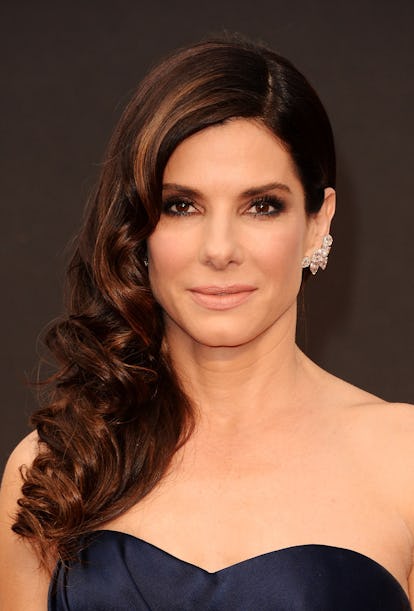 Photo by Getty.
Well, it looks like Sandra Bullock is about to be in the running for an Oscar again. Deadline reported Thursday that the 53-year-old Best Actress winner (for 2009's The Blind Side) and nominee (for 2013's Gravity) will play Texas senator Wendy Davis in Let Her Speak, a cinematic retelling of Davis's 11-hour-long filibuster that felled a proposed anti-abortion law in 2013. And naturally, given its true-to-life heroics and political relevance, as well as Bullock's existing accolades, it's certain to command Academy attention (and the ire of far-right-wing blogs, as it has already done). Let Her Speak was scripted by Mario Correa, a novice screenwriter with numerous theater and radio credits; a director has not yet been attached to the film.
For context: Four years ago, on June 25, 2013, Davis stepped onto the floor of the Texas Capitol building and began to speak—and she didn't stop for 11 hours, far longer than you will presumably be sitting in a movie theater watching Let Her Speak. Republican lawmakers had put forward a draconian anti-abortion bill that proposed to limit access to abortions and close all abortion clinics in the state; it was the last day of the legislative session and, if Davis could stall the vote till after midnight, it would delay and maybe even stall the proposed law. Though she was little-known in national politics at the time, the now-54-year-old lawmaker would emerge almost immediately as a figurehead for resistance against attempts to limit women's reproductive autonomy. That same year, Bullock won the "Favorite Humanitarian Award" at the People's Choice Awards; she has also donated substantial amounts to the Red Cross.
Davis's filibuster—which recounted the stories of countless women who would be affected by the proposed law—ground to a halt after nearly 11 hours, just two hours before midnight, due to a three-strike rule based on objections from her opposition (the first, because a colleague helped her put on a back brace, and the next two because, they argued, she veered off topic in her filibuster). Thus too, presumably, the title: Let Her Speak. Ensuing chaos and protests after Davis's filibuster was ended pushed the vote, and the bill's signing, past midnight, making it, ultimately, a success. (The bill was subsequently struck down by the Supreme Court.)
Though Davis herself has not yet weighed in on the matter (it's surely only a matter of time; she runs a quite vocal Twitter account), Bullock will have a strong archive of references to inform her performance when production begins, given the coverage of the event at the time. For example, Davis's filibuster footwear became an instant meme when she stepped onto the floor: She wore a pair of pink Mizuno Wave Rider 16 sneakers, which, according to the Guardian, became a bestseller on Amazon shortly after, the comments and reviews filling up with references to Davis's filibuster and even the details of the proposed law itself. ("I'm very glad I didn't have to drive 13 hours to buy these shoes, and then return again the next day after the 24-hour waiting period. The transvaginal ultrasound would have been rather uncomfortable," one reviewer wrote.) Davis's Twitter bio now echoes that of one-time Democratic presidential candidate Hillary Clinton: "wearer of pink tennis shoes," Davis's reads, while Clinton's describes her as a "pantsuit aficionado." (Sandra Bullock does not have a public Twitter account.)
Bullock is next slated to appear in the Ocean's Eleven prequel Ocean's Eight as Danny Ocean's estranged sister Debbie alongside a cast that includes Rihanna, Cate Blanchett, Helena Bonham Carter, Anne Hathaway, and others. One can only hope the Texas senate is similarly stacked.
Related: Sandra Bullock Will Contend with Monsters and the End Of the World in Her New Netflix Project
"Women's Rights Are Human Rights": 62 Fashion Insiders Speak Out in a Powerful Video for International Women's Day