Sarah Paulson Continues to Not Care What People Think About Her Relationship With Holland Taylor
The two celebs share a 32-year age gap.
---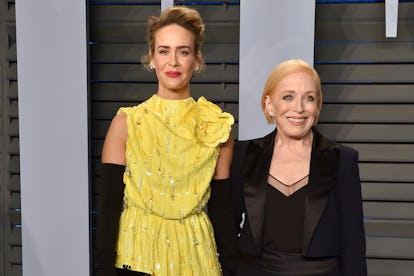 Axelle/Bauer-Griffin/Getty Images
If you have an opinion about why Sarah Paulson, who is 43, is dating Holland Taylor, who is 75, save it, because it doesn't concern you—or Sarah Paulson, as it turns out. In the newest issues of various local editions of Modern Luxury magazine, the American Horror Story star appeared to be supremely uninterested in what people have to say about the couple's three-years-strong relationship.
"If anyone wants to spend any time thinking I'm strange for loving the most spectacular person on the planet, then that's their problem," Paulson told Modern Luxury, per People. "I'm doing just fine."
This is far from the first time the actress has spoken about how much she doesn't care what people think. "I do not want to be defined by who I share my bed, my home, my soul with," she told Town & Country in January. "My choices in life have been unconventional, and that's my business. But I do want to live responsibly and truthfully without hiding. It's complicated, because there is a lot of hate in this world, and a lot of good can come from quote-unquote normalizing something for people who don't see it as normal. Our relationship represents a certain amount of hope and risk. Maybe there's something brave in it. Maybe it encourages others to make brave choices. What else can I say? We love each other."
Before that, in December 2017, she revealed that she was warned to keep the relationship on the down-low. "Early on, when people found out I was with Holland, some said: 'I think you have to be careful, I'm afraid it's going to affect your career negatively.' I was like, what? It never occurred to me at all," she told The Edit at the time. "My life choices are, um, unconventional. I'm with a much older person and people find that totally fascinating and odd, and, to me, it's the least interesting thing," she added.
Elsewhere in the Modern Luxury piece, Paulson revealed her lack of concern toward aging in general. "If being older means all the roles I'm getting to play now because of all the ups and downs and hills and valleys proceeding it, I say bring it on," she said in the interview, per People. "Every once in a while I'll go, 'Wow. [43.] That's seven years shy of 50.' That's the big 5-0. But then I go, 'Stop running seven years down the road. You have no idea what your life will look like and where you'll be.' And that's just what makes life so sweet. You cross your fingers, take a deep breath and jump. And that's really all you can do."
Related: Sarah Paulson Couldn't Stop Embarrassing Herself in Front of Rihanna
Photos: Sarah Paulson Won't Be Typecast, On Screen or Off
Sarah Paulson wears an Alexander McQueen bra.
Photo by Mona Kuhn, styled by Patrick Mackie. Hair by Dennis Gots for Kerastase at The Wall Group; Makeup by Jo StrettelL for Lancome at Tracey Mattingly.
Sarah Paulson. Photo by Mona Kuhn, styled by Patrick Mackie.

Mona Kuhn
Sarah Paulson wears an Alexander McQueen dress and bra.
Photo by Mona Kuhn, styled by Patrick Mackie.
Sarah Paulson in Altuzarra at the 2016 CFDA Fashion Awards in New York, New York, June 2016. Photo by Getty Images.
Sarah Paulson with Holland Taylor in New York, New York, December 2015. Photo by Getty Images.
Sarah Paulson with Holland Taylor in New York, New York, October 2015. Photo by Bruce Glikas/FilmMagic.
Sarah Paulson and Cherry Jones during Cherry Jones Reception Hosted by Paula Wagner at CAMPANILE restaurant in Los Angeles, CA, United States. (Photo by E. Charbonneau/WireImage for CW Productions)
Cherry Jones, Christian Slater, Sarah Paulson and Jessica Lange