Sarah Paulson Says Her Relationship With Holland Taylor 'Represents Hope and Risk'
"What else can I say? We love each other."
---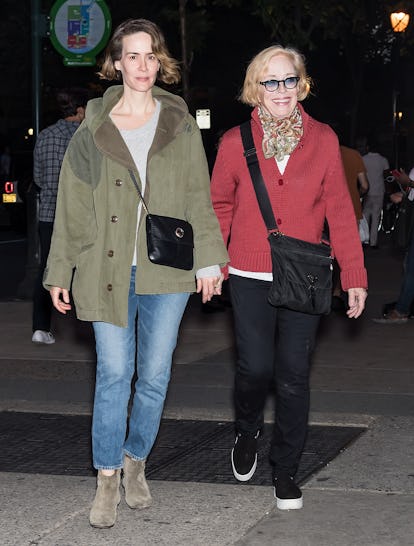 Gilbert Carrasquillo/GC Images
For Sarah Paulson and Holland Taylor, age really is just a number. The pair's relationship, with 30 years in between them, has been the focal point of conversations surrounding Paulson's personal life — which Paulson has dismissed before. "My life choices are, um, unconventional. I'm with a much older person and people find that totally fascinating and odd, and, to me, it's the least interesting thing," she told The Edit earlier this month. Now, in a cover story with Town & Country, Paulson has offered a longer breakdown of her relationship and how, more than anything else, it's empowering.
"I do not want to be defined by who I share my bed, my home, my soul with," she said. "My choices in life have been unconventional, and that's my business. But I do want to live responsibly and truthfully without hiding. It's complicated, because there is a lot of hate in this world, and a lot of good can come from quote-unquote normalizing something for people who don't see it as normal. Our relationship represents a certain amount of hope and risk. Maybe there's something brave in it. Maybe it encourages others to make brave choices. What else can I say? We love each other."
Perhaps more interestingly, Paulson also opened up about how she's been soaking up the spotlight over the past few years thanks in part to American Horror Story and the much-lauded The People v. O.J. Simpson. "Five years ago I was a disappointed actress," she says. "I was a benched player. I wanted a shot, and I felt I wasn't getting a shot… Going to the next level means that you're at the bottom of the next rung."
Paulson also talked about competing against other A-list stars in Hollywood now that her career has been receiving much more attention. "Look, many of them have won Academy Awards. I don't expect to get offered the roles before them, but I still want them." she said. "All it means is that I have to keep working the way I always have, leaving my ego at home and trying to just think about what is true… But part of me is scared. I've got a window, as a woman of 43. Right now it's cracked this big and I'm trying to keep it open with both hands, as wide as possible, for as long as possible."
Related: Sarah Paulson Has Been Doing Perfect Celebrity Impressions on Late Night All Week