Scarlett Johansson and Colin Jost Made Their Red Carpet Debut as a Couple at the "Avengers: Infinity War" Premiere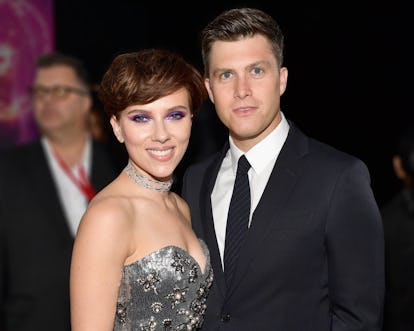 Matt Winkelmeyer/Getty Images
Though Scarlett Johansson and Saturday Night Live star Colin Jost have reportedly been seeing each other since May 2017, the couple seems to have kept their relationship relatively low key. Save for one appearance at the same gala (where they walked the red carpet separately), the two have yet to take their love before the glare of red carpet cameras. Well, until now.
On Monday night, Johansson, 33, took Jost, 35, to the Los Angeles premiere of her new movie, Avengers: Infinity Wars. For their red carpet debut, Johansson and Jost looked very much an item, holding hands and staring into each other's eyes. Johansson wore a silver metallic strapless dress with star embroidery, black strappy heels, and a silver chain choker necklace. Her ever-changing hair was worn in a dark brown long pixie cut, and she finished it all off with a dark purple and magenta smokey eye. For his part, Jost wore a classic black suit with a black- and silver-striped tie.
Earlier in the day, trouble-making Ellen DeGeneres tried to drive a wedge between the couple with a throwback photo of the comedian. "He's adorable, he's funny. I'm happy for you," DeGeneres said of Jost during an episode of The Ellen DeGeneres Show, airing on Tuesday. "There's a picture that John Mulaney, who was fantastic hosting Saturday Night Live, he posted a picture, a throwback of Colin with a beard." With the picture projected for all to see, DeGeneres continued, "I thought this was a disguise but that's really what he looked like. Had you seen that?" Johansson looked wide-eyed at the photo. She said, "I mean, I can't unsee it now. Oh my god, it is. Wow. I can't say that that's an image that I'll ever forget." And when asked if she has a favorite host of SNL's famous "Weekend Update" segment, a slot Jost currently fills with co-star Michael Che, Johansson wasn't shy about showing her affection. "No, it's not that hard to pick," the actress said. "I guess I'm a Colin fan, I have to say." We're sure Norm Macdonald will understand.
Related: Scarlett Johansson Has Some Very French Ideas About Monogamy